Fighting crime with data: BART Police using new tools to enhance public safety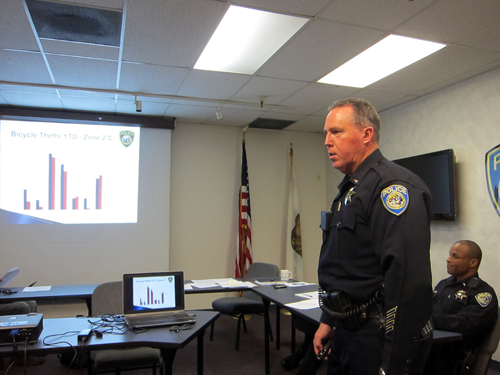 Lt. Mike Hayes gives a CompStat presentation on the zone he commands.

By Melissa Jordan
BART Senior Web Producer
The community-oriented policing philosophy known as COPPS, a new geographic zone structure and focus on data-driven decisions are bringing BART Police into a new era, one in which many crimes are being reduced even as ridership spikes to record levels.

With so many factors that affect crime, it would be oversimplifying to say that Community Oriented Policing & Problem Solving (COPPS), geographic zones and CompStat (the computer statistics system emphasizing data) are the direct cause or only factors.
When crime goes down in one area it often pops up in another -- a phenomenon even scholarly papers refer to as "whack-a-mole," pushing the problem elsewhere.

However, in interviews with crime experts, community members and police personnel at all levels from chief to patrol cop, one thing is clear: There are important changes underway in how BART Police business gets done. And these new techniques are one piece of the puzzle.
COPPS, ZONES AND COMPSTAT
The COPPS philosophy and the geographical zone structure goes hand in hand with CompStat, which emphasizes accountability of zone commanders for their areas. CompStat as it's known today began in the mid-1990s in New York City and has spread to most police departments nationwide. It seeped into popular culture with the television series "The Wire," which portrays meetings where zone commanders are grilled by top brass in front of peers for the statistics in their zones, and publicly chastised if they don't turn poor numbers around.
"Good police work has always involved being close to the community and keeping track of statistics, but these techniques take it to a higher level."

-- BART Police Chief Kenton Rainey
"Good police work has always involved being close to the community and keeping track of statistics, but these techniques take it to a higher level," said BART Police Chief Kenton Rainey, who brought the vision for COPPS, a new geographic zone structure and CompStat program when he took over as chief in 2010. "These tools help us because they bring increased accountability and bring us closer to the people we serve."

Deputy Chief Ben Fairow was charged to implement the Chief's vision and things began to take their new shape in 2012, with increased attention to community policing in smaller geographical zones and more advanced statistical analysis.

An actual CompStat meeting at BART is more pragmatic and less dramatic than the TV version. Fairow sees the greatest value in collaboration rather than competition.

"The real power of CompStat is that it informs everybody," he said. "It encourages people to be innovative. And it pushes the authority to redeploy resources down to a lower level."
"The real power of CompStat is that it informs everybody. It encourages people to be innovative.

-- Deputy Chief Ben Fairow
At one recent CompStat meeting, Lt. Gil Lopez, commander for Zone 1 (central Oakland, described as one of the "most active" zones), went over some encouraging numbers such as declines in property crimes and robberies at MacArthur Station, along with some theories about why (perhaps from more eyes and ears in the area due to ongoing construction.)
Lopez believes "geographic zones" and "community policing" are really just good policing, and common sense, as is using the data you have at hand. "It's what the cop walking the beat in the neighborhood did in the old days," he said. "We just have more information and more tools than ever now."
"It's what the cop walking the beat in the neighborhood did in the old days. We just have more information and more tools than ever now."

-- Lt. Gil Lopez

SPRAWLING JURISDICTIONS
BART Police face particular challenges from operating in a geographically large and sprawling, demographically diverse, jurisdictionally split region that spans four counties and with populations that are, by definition, constantly on the move within a transit system.
While such a region could be organized by various types of structures, and has been over the years, Chief Rainey in 2012 announced the current new zone structure, each with a lieutenant in charge as zone commander and a team of patrol sergeants, police officers and community service officers (non-sworn personnel) serving under the commander.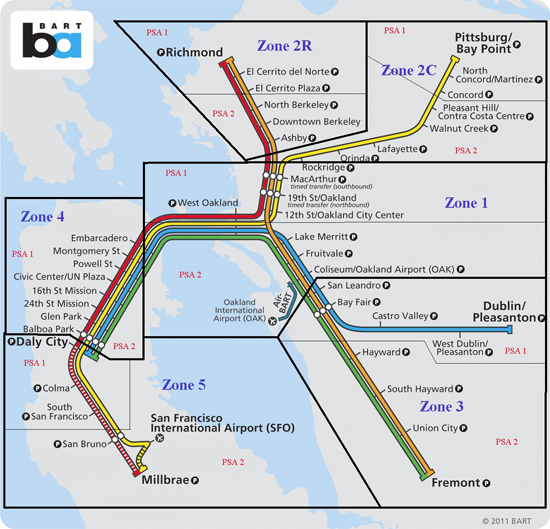 The BART Police Zone System map

This system was recommended in an audit that the National Organization of Black Law Enforcement Executives conducted following the Jan. 1, 2009, fatal officer-involved shooting of rider Oscar Grant on a BART platform, dramatized in 2013's widely acclaimed film Fruitvale Station.
The new zone structure is intended to help police identify problems and be proactive and encourage and better support the COPPS philosophy. When police are closer to the populations they serve, they are more able to promote partnerships and collaboration. CompStat is the system used to hold commanders accountable and create a greater sense of ownership and investment.
ZONE 4: DOWNTOWN SAN FRANCISCO
Zone 4 is one of the most compact of the BART Police zones, but one with some of the highest-ridership stations. It begins with Embarcadero, the first station after crossing the Transbay Tube from the East Bay, past each of the downtown San Francisco stations and on through Balboa Park and it has some particular challenges.

Zones tend to reflect their surrounding communities. Zone 4, perhaps more than others, has a significant population of homeless persons. That population requires specialized training for officers -- most have gone through Crisis Intervention Training or CIT, learning how to assess individuals and determine, for example, when it may be more effective to connect them with services to address long-term problems than have revolving-door jail visits.
"It is a big concern for many of our patrons because there may be panhanders or homeless persons sleeping in the stations, blocking entrances..."

-- Zone 4 Commander Lt. Tyrone Forte
"It is a big concern for many of our patrons because there may be panhanders or homeless persons sleeping in the stations, blocking entrances, using them as restrooms, especially as it gets colder," -- Zone 4 Commander Lt. Tyrone Forte.

Zone 4 Sgt. Tanzanika Carter, who reports to Forte, said the zone system and CompStat have been useful policing tools.
"We look at the data and figure out what the hot spots are," she said. "It puts us under the heat somewhat. We are expected to be proactive and bring ideas. The chief expects us to have solutions to problems in our zone.
"We are expected to be proactive and bring ideas. The chief expects us to have solutions to problems in our zone.''

-- Zone 4 Sgt. Tanzanika Carter
WALKALONG WITH A PATROL OFFICER
One recent day on patrol, Zone 4 Officer Peter Rodriguez assisted with a check of a man lying on the ground in Powell Station, within sight of the crowded Starbucks at the entrance to Westfield San Francisco Centre mall. The man, in soiled clothing and appearing sleepy or disoriented, was checked and asked about his condition, and for his identity, which revealed a felony warrant for his arrest. He reported that he thought he might have suffered a seizure, so paramedics were called, and he was transported to a hospital before being taken on to jail. It was a typical Zone 4 interaction.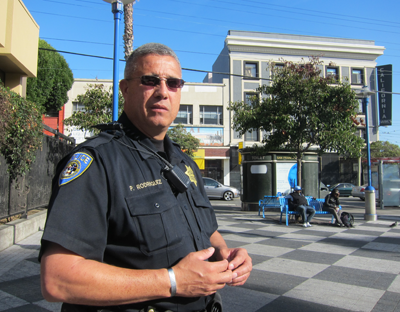 Officer Rodriguez in front of a cleaned-up 16th Mission Station

The next stop for Rodriguez was 16th Mission Street Station, where a lot of effort has gone into cleaning up the plaza aboveground the station. There are environmental design factors -- such as benches under the signature palm trees -- that reflect the delicate balancing act these officers face in the modern urban crimefighting environment. On the one hand this place could be an oasis, a gathering spot, and it is, for poetry slams, impromptu musical performances, dancing and free speech. Yet, it is not uncommon to see people selling or using drugs and to encounter the odors of urine and marijuana.

On the walkalong with Rodriguez, however, the plaza had recently been pressure-washed and practically sparkled in the midday sun. No one slept on benches. Partly, that reflected the collaboration with other departments that is another hallmark of the COPPS philosophy, zone structure and CompStat. Rodriguez stepped up to say hello to two San Francisco PD officers who were assigned in a "fixed-post" position, one where they basically stay in one place to provide visibility and deterrence and to be on hand if something should occur. BART PD also has integrated a focus on community policing, getting to know the neighborhoods better where police patrol; meeting people, and going to public events.
It was clear that Rodriguez knew his "regulars," and had established a rapport based on treating them with dignity and respect yet being firm in enforcing rules. He patiently waited on a man sleeping inside Civic Center Station to gather his belongings and exit.
Then, above ground, he served as tour guide giving directions to a vacationing couple looking for Land's End, and helped another patron contact SFPD to file a report he had been hit by a woman with a cane. Rodriguez said CompStat is not as directly felt at his level on street patrol, but he emphasized that knowing what's going on has always been part of good police work. "You just try to find out how you can fix things in your area," he said. "What's going to help you get things done."
"You just try to find out how you can fix things in your area -- what's going to help you get things done.''
-- Officer Peter Rodriguez

DATA-DRIVEN POLICING
Researchers from the George Mason University Center for Justice Leadership and Management suggest that benefits can be maximized by integrating elements from both CompStat and community policing.

"All kinds of new and interesting stuff is going on" with police reforms, said Stephen D. Mastrofski, professor at George Mason and a coauthor of several reports on related topics. He said the scientific evidence may be lacking for a cause-and-effect on crime reduction -- but that the importance should not be diminished nonetheless.

"Department leaders want their middle managers to be more accountable, to pay attention to crime, and to show that they are on it," he said. "Whether crime goes down may be less important than that they that are trying to do something about it."

As to the criticism of CompStat, that it may lead to temporary drops whereever increased resources are placed, Mastrofski said: "I don't think anyone would complain about an intervention that reduces crime, even it is in the short term. And we are looking at more sophisticated policing, full-blown data mining, that is going to be very interesting to follow."

Ken Dam is the BART Police Department's crime analyst, and he is passionate about the power of data.

He scans reams of reports, looking for patterns, not only using computerized programs but also from his experience as a patrol officer and knowledge of all of BART's zones, having worked almost everywhere. He does hotspot analysis and M.O., or modus operandi, pattern detection, knowing how certain methods are repeated so they can be more easily watched for. "We try to stay one step ahead of the criminals," he explained.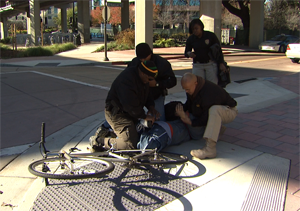 BART Police use data to determine the most effective places to locate bike stings,
to deal with |hot spot issues of increasing bike thefts. This one was at Pleasant Hill Station.

As one example, he used statistical data of past bicycle thefts to come up with some predictions about when, where and how they were likely to happen next -- setting the stage for a bike sting. In addition, he had used past arrest reports to issue a bulletin to officers with the M.O.'s and photographs of known recent bike theft offenders. The result: One of the recent bike theft offenders was nabbed in the sting -- a man who also happened to have a prior conviction under penal code 187, the murder statute.
POSITIVE REACTION FROM PUBLIC
All in all, the reaction from the public to increased data use and geographic zoned policing has been very positive.
At a recent meeting of an Oakland Neighborhood Crime Prevention Council meeting, for the neighborhoods around Rockridge, Council Treasurer Molly Singer said she feels relatively safe in her daily BART travels.
"I walk to BART, walk through BART parking lots, and it always seems like a good thing because there are a lot of people there," she said, noting the youths who play Foursquare in the parking lot and the occasional costume role-plays.

"Even if it seems safe in BART, it's always a good thing to have the data to know where the problem areas are," she said.
Another resident, Travis Ritchie, who was at his first council meeting, said he also felt safe on BART, more so than elsewhere in the area. However, he acknowledged that there is a spillover effect so that BART Police and other jurisdictions must work together to be sure they're not just pushing crime from one area into another.
The Oakland PD captain addressing the meeting, in fact, also stressed cooperation among agencies, and the kind of data collection and community policing BART Police are doing.
One of his latest sources of good cooperation for sharing resources: teaming up with those policing middle schools in the area. Similiarly, BART Zone 1 patrols have helped OPD with some extra eyes along 40th when in the area of MacArthur Station.
While crime on BART is relatively low in comparison, Police Department officials want to use every tool in their toolbox to make BART even safer for riders as well as neighborhoods and communities where we operate.
In the first quarter of Fiscal Year 2014, crimes against persons on BART (homicide, rape, robbery and aggravated assault) are down from the last quarter, and down from the corresponding quarter of the prior fiscal year, to just over 2 per million trips taken. Auto thefts and burglaries are down as well from the last quarter and the corresponding quarter of the prior fiscal year, fewer than six per 1,000 parking spaces.
"No matter how much good progress you make, you have to always keep your guard up and stay ahead of things," Chief Rainey said. "That's where we count on help from the community since we cannot be everywhere at one time. We depend on the public to follow the advice of 'If you see something, say something,' and to be willing to stay behind to file reports if they see a crime in action."
If you would like to find out more about your zone, consult the zone map and contact your zone commander. Zone commander info can be found at http://www.bart.gov/about/police/contact
MORE NEW TECHNOLOGY ON THE HORIZON
Meanwhile, even greater use of new technology is on the horizon. BART Police are working on an application that would allow crimes or suspicious actions to be reported by smartphone. That issue is on tap to be considered at the Board of Directors meeting on the evening of Thursday, Feb. 27.
Tips:
For emergencies call 911.
Contact a train operator using the intercom at the end of each car. Move to another car if you do not wish to be heard by others on the car.
For non emergency reports call BART Police at 510-464-7000. Program it into your phone.
For more safety tips go to www.bart.gov/police.