Woman whose bike was stolen at BART station helps in sting to recover it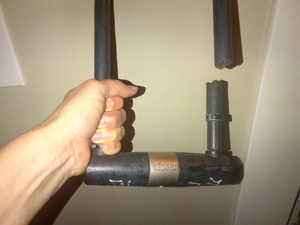 A 44-year-old Oakland woman wasn't going to sit back and let her $900 bike get stolen without striking back. So she enlisted the help of BART Police in a sting operation that not only recovered the bike, stolen from MacArthur station last weekend, but put the suspected thief in jail.
She spotted her bike for sale on CraigsList and, after coordinating with BART Police, made arrangements to meet him to "buy" her own bike. "The BART Police were awesome, so helpful," said the woman, a daily BART rider who did not want to give her name because of concern the man may have been working in connection with a bigger bike theft ring and that she could face retribution.
"I have a U-Lock and I have the Pinhead lock system for the wheels and seat and they still cut the U-Lock," she said, noting the lengths that bike thieves will go to. In fact, BART recommends locking your bike with two U-Locks if possible (see flyer below).
The woman credited Officer Poindexter of BART Police for coaching her through the process, on how to disguise herself and remain calm when she would give him a hand signal that it was time to move in. The suspect was arrested without incident for possession of stolen property.
The victim positively identified the bicycle as belonging to her, and used a key to successfully unlock her bike equipment. The suspect was also arrested for possession of narcotics, an outstanding warrant out of Reno for $25,000.00, probation violation, and possession of forged identification. A sergeant approved the arrest and interviewed the suspect, who confessed to knowing the bicycle was stolen and was taken to jail.
If you experience theft on BART property, please report the incident and enlist the help of BART Police before undertaking any recovery effort on your own, for your personal safety. BART Police contacts are here or program 510-464-7000 into your phone. If you are leaving your bike at a BART station make sure it is locked well. Whether you're taking your bike on board or parking it at a station, make sure you record your bike's serial number (or photograph the serial number) along with a description of the bike. This will greatly increase your chance of recovery if it is stolen.

Image of proper bike locking technique: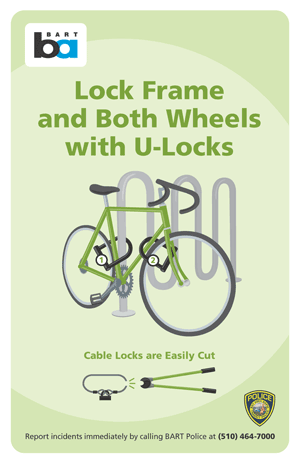 Also, here's a video with more tips on bike theft prevention.