BART begins evaluating digital displays for advertising and news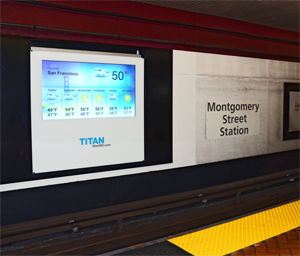 BART turned on its first digital advertising and news display at the Montgomery Station platform today as part of a pilot program that will include getting feedback from riders. The 82-inch LCD display replaces two advertising posters across from the platform and will rotate a mix of advertising, news, weather and BART messages.
The screen does not make any sound and the graphics have limited motion. BART will survey riders and present results to the BART Board of Directors in May to seek authority to move forward with installing six screens each at Embarcadero, Montgomery, and Powell Street stations.

"The digital displays will add modern technology to our stations, provide useful information, and help brighten up the underground platforms," said Aaron Weinstein, Chief Marketing Officer at BART. "They will also bring in new revenue to help reinvest into our aging system, at no cost to our riders."

Fully implemented, the plan would eventually increase revenue by $1 million a year.