BART mechanics and electricians compete at rail rodeo to improve skills for safety, reliability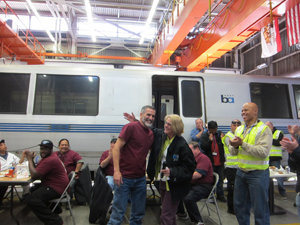 By Melissa Jordan
BART Senior Web Producer
The mechanics and electricians who maintain BART trains rank top in their field. With aging equipment and limited resources, they're use to thinking on their feet and dealing with surprises.
Each year, the rail industry holds local "rodeo" events where individuals compete against one another in different mechanical and electrical skill categories. At BART, the three top individual winners join together to compete as a team at the international competition, this year in Montreal, Canada, in June.
The rodeo is about pride in one's craftsmanship and about teamwork but, above all, about keeping BART the best at safety and reliability. BART has won more international Rail Rodeo maintenance events where it has competed than any other transit system in the nation. These crews are, hands-down, the best -- and they need to be, keeping a 42-year-old fleet, the oldest on average of any transit system in America, running safely and smoothly until new trains come on line in 2017.
It's a little like the National Spelling Bee, with proctors, timekeepers, rule-readers, score-talliers and judges. But also with axles, circuit boards, train doors, dexterity plates, and precision measurements. "It's where you get to prove your skills," said Ted Christian, a multiple Rail Rodeo winner and mainline Transit Vehicle Electronics Technician, who would go on to take the top honor, overall winner, at this year's local event, held at the Hayward Maintenance Yard on April 3. Quiet, focused, with the confidence of a champion and the white beard of a veteran, Christian wasn't focused on interviews, although he did throw in a "This is not my first rodeo" quip after a little friendly goading. He checked his card for the next event; they rotated every 15 minutes and with more competitors than events, some would go into a "green room" to wait their turn and talk about strategy.
"I just have a blast doing this," said Lino Rodrigues, a Transit Vehicle Mechanic from Concord Shop who went on to win second place in the Electrical category. "It helps keep your skills sharp."
The competition is a no-frills affair, just a set of booths behind curtains to keep the element of the surprise, for the contestants don't know what challenge they will face until the timekeeper calls that it's time to rotate. There are lots of tricks and red herrings thrown in, to lead them off track. But this group would not be deterred.
"The rodeo is a chance to be sure I'm up on what I should be doing properly," said Gary Crandell, a Quality Team Leader at Concord Shop who went on to be top winner in Electrical and part of the three-man team going to Montreal. "I get little insights so that I can improve my methods and skills ... it's a great time and a great way to test your skills and see how good you are. You have to read the instructions step by step very meticulously because there are a lot of traps and pitfalls they write into these things. You have to be very thorough about it."
"I consider it kind of an honor to do this work," Crandell said. "It's great to contribute to society in a constructive way. The Bay Area really needs BART; it's an indispensable part of the our transportation infrastructure and I pride myself in my work that I do ... We need to keep the Bay Area at the forefront of transportation so we can keep our economy going well and to ensure we have good quality of living for our children and grandchildren and transportation is key. We have to meet that challenge and BART is at the forefront of that challenge."
There is not much "rodeo" to the rodeo, unless you count the maroon T-shirts with a steer logo, the contestant who wore a cowboy hat and another who showed off his custom cowbell stamped with the BART logo. Oh, and hot dogs and hamburgers, potato salad and cole slaw to be shared when all was said and done, with some Johnny Cash on the sound system. The cowboy-hat contestant was in his first BART rodeo, and as a tough-as-nails former nuclear submarine Navy guy, he vowed to be back.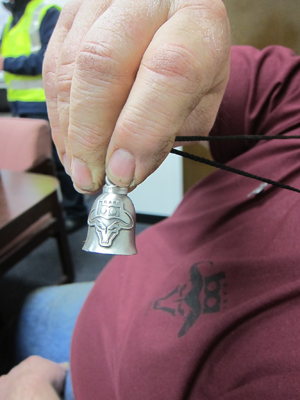 BART mechanics and electricians come from a variety of backgrounds; the aviation industry; automotives; the military; other transit systems. They must go through extensive training to make the cut at BART. For information on jobs, go to www.bart.gov/jobs.
Mark Stowers is rolling stock and shop superintendent at Concord, as well as chairman of the International Rail Rodeo. "I honestly believe that at Bay Area Rapid Transit we have some of the most skilled technicians in the industry," he said. "It has been a real honor to be part of the rodeo. I'm very proud to represent the district." Stowers himself competed 19 years ago, but hung up his competition hat to run the show. "I never won -- I'm nervous all the time," he said. "For me it was just fun and the best part was that you got to de-stress a little bit. I'm in the twilight of my career now, and I'm going to turn rodeo over to someone else."
Byron May, the manager of the rolling stock and shops training group, beamed with pride watching the contestants smoothly rotate from one event to another -- there were no snafus, everything ran on time, with lots of good cheer. These are men who work with their hands, and a handshake lets you feel the grooves and lines that prove it. (Full disclosure: This author's late father worked as a mechanic, and the smell of grease from a shop is, to me, as lovely as the finest cologne.)
The contestants are also smart, worldly, and good conversationalists; ask about tax strategy, or parenting techniques, the latest documentary film, or demographic trends, or Pi, or the London Tube, the missing 777, and someone knows something about it. Or used to work on that type of aircraft. They work long days under difficult conditions (responsible for the safety of hundreds of thousands of people a day) but they have remarkable good humor and camaraderie.
And how does the rodeo help? It's a relatively tiny training expense to send the winning team to the international competition, where they learn skills not only for BART cars but by competing on other system's equipment to test their ingenuity even more.
"It celebrates excellence," Chief Mechanical Officer Tamar Allen said. "We're benchmarking how others do to make sure we're doing the best work we can."

The full list of event winners is below:
First Place:
Overall High Score: Ted Christian - TVET Mainline
Electrical: Gary Crandell - QTL Concord Shop
Mechanical: Dan Parris - TVM Hayward Shop
Second Place:
Overall: Carl Ambrose - TVM Hayward Shop
Electrical: Mike O'Dorney - TVET Mainline
Mechanical: Lino Rodrigues - TVM Concord Shop
Third Place:
Overall: Jay Clemons - TVET Concord Shop
Electrical: Arnold Paragas - TVET Daly City Shop
Mechanical: Mark Casey - TVM Richmond Shop