Free BART Rides for School Field Trips program launched with octopus train wraps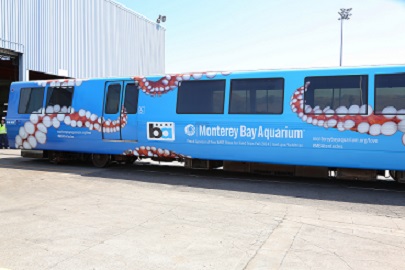 BART is partnering with Monterey Bay Aquarium to provide Free BART Rides for School Field Trips to Bay Area students this coming school year.
Approximately 40,000 students (up to age 18), teachers and chaperones will have the opportunity to ride BART free for educational field trips during the 2014-2015 school year.
Five BART train cars are wrapped with what looks like an octopus engulfing the train as part of the partnership to help publicize the program.
Beginning in August, Bay Area schools may apply for free BART rides for educational field trips online on a first-come, first-served basis.
If you would like to be notified when we begin accepting applications, please provide your contact information here. You will receive an email from bartable@bart.gov with information on how and when you can apply for your school's free BART rides for field trips.
"Partnering on 'Free BART Rides for School Field Trips' is a natural extension of our commitment to a making sure children in the region have a rich educational experience," said Mimi Hahn, vice president of marketing and communications for the nonprofit aquarium.
See more at www.bart.gov/fieldtrips.