Project Touchdown: BART employees help at-risk students get into college
Once a week at church in Berkeley, about two dozen disadvantaged students with the drive to beat the odds gather to receive individualized college prep tutoring in math and science from volunteer BART employees looking to make a difference in their community.
It's all the work of Antoine Golden, a Senior Construction Engineer with BART, and his wife, Catherine Golden (pictured at right), who are the driving force behind "Project Touchdown," a free tutoring and college prep program that owes its roots to work that Antoine's mother started decades ago with a Saturday study program.
For five years, the focus of Project Touchdown has been helping disadvantaged students with math and the sciences.
They meet weekly at the St. Paul AME Church in Berkeley where 25 or so students will get help from mentors on their homework as well as improving study skills and, really, anything necessary to encourage academic success.
BART Employees Pitch In
Antoine has recruited a number of fellow BART employees to help with the project through volunteer time and chipping in for equipment and supplies.
Together with an enthusiastic team of UC Berkeley graduate and undergraduate students, these volunteers review math worksheets and practice exams to prepare the students for the High School exit exam and SAT. All the volunteers are living examples of how the work the students put in now will pay off for them in the future.
Student Success Story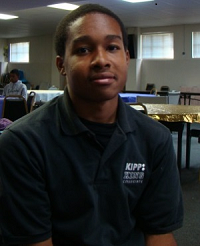 Kenneth Cason (pictured at right) is just one of the latest success stories for the program. He is a charming, well-spoken young man who will be heading off to San Francisco State in the fall to study History.
He credits Project Touchdown with giving him the skills he needed to get into SF State. "My regular teachers don't have the time for one-on-one help," said Cason, "here, I could get that attention." He went on to praise the SAT prep he received and the fact that he could bring any homework assignment into the tutoring session for help.
Cal Students Give Time
The tutors generally work with one to two students at a time. The UC Berkeley students found out about this volunteer opportunity through online newsletters and email lists.
Golden says, "We were amazed by the number of students interested in supporting us. These Cal students have connected well with our students and are excited about returning and continuing to support the program."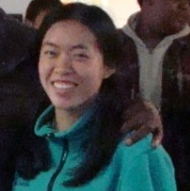 One such volunteer is Vivian Shen (pictured at right). She is a third-year student in Bioengineering (a relatively new discipline that applies engineering principles to biological systems). She says that she enjoys working with the students and opening their minds to new possible areas of study.
William Tarpeh (pictured at right below), a graduate student in Environmental Engineering (he was an undergraduate at Stanford) says that growing up in Virginia, he didn't understand what was possible for him until he participated in a similar program.
He feels strongly in the idea of "paying it forward" and that working with these students is a calling for him. He says he appreciates the opportunity to talk about life skills and to demystify the idea of college for students who don't come from families with a history of going to college.
Golden says, "Our students are encouraged and motivated through the bonds that have been forged with these Cal students."
Former Participants Give Back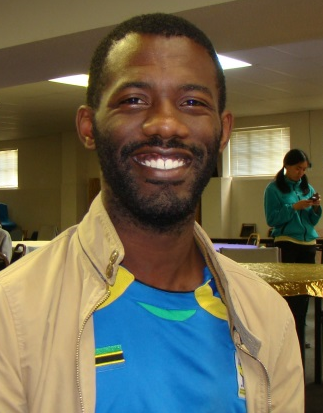 Several former Project Touchdown students are now in college themselves. They return on their college breaks and speak with the students about their experiences and encourage them to reach for their goals. They carry on the tradition of volunteering into their new communities as well.
The Goldens and their volunteers and students would like to see Project Touchdown continue to grow and thrive.
They are a 501c3 non-profit and are actively seeking donations. Anyone interested in volunteering, offering financial support or providing school supplies can contact the program at (510) 734-9361