Junior engineer program builds pipeline of skilled workers to serve public
By MELISSA JORDAN
BART Senior Web Producer
With 47% of current employees at retirement age, BART needs an influx of engineers as surely as it needs a new fleet to replace its oldest-in-the-nation train cars.
Fortunately for BART riders and the Bay Area as a whole, a program is underway to recruit and retain those new engineers. And if early signals are any indication, BART will benefit from their fresh ideas and outlooks as much as they will learn from their jobs at the agency. It all began with a summer engineering internship that morphed into a two-year junior engineer program, designed to offer mentoring and support as well as exposure to the many different career paths in engineering at BART.
"We are making an investment in them, but they have so much to offer us, too," said BART Chief Engineer Don Allen. "They look at the world differently, both from an engineering perspective and also in ways to make improvements in business practices." He said the summer internships and two-year intensive junior engineer program bring in employees with diversity not only of cultural and educational backgrounds but in technical skills and life experiences as well.
Take Aron Rice, a CSU-Chico graduate who was in the first class of junior engineers that started two years ago and recently finished the program, funneling into a regular job focusing on civil engineering.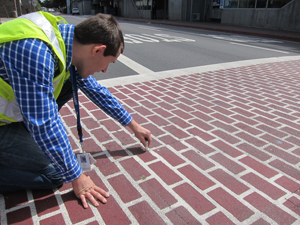 Monday morning, Rice traveled to Daly City Station, where he had led a project to replace old crosswalks with more attractive and safer, slip-resistant ones using sheets of textured red brick material.
He was measuring (see image at right) whether any of the new material showed signs of small cracks, using a tool that could check for tiny cracks down to fractions of an inch.
"I'm interested in making things more efficient and safer, and in problem-solving," Rice said. He's also looking out for taxpayer interests -- for example, working on a pilot project that will use recycled tires for an asphalt surfacing material that has a longer useful lifespan that traditional surfaces, as well as helping the environment by keeping tires out of landfills. "Often it costs less to extend the useful life of the existing infrastructure, and enhances safety, more than starting new," he said.
Then there's Akira Zamudio, a San Francisco State graduate who is in the second class of junior engineers and is focusing on electrical engineering. One of his projects is a plan for a urine detection system for elevators, which involves 21 sensors that will set off a siren if a person uses them as a latrine. "It's definitely something that the customers can relate to," he said, "because they care that we develop ways to keep the system clean."
It's tempting to think that new engineers might set their sights on working for the latest start-up, but interviews with several of BART's recent recruits show that's not necessarily the case.
"You can have more of a balanced life here," Zamudio said. "Also you get a lot of guidance and see your results directly. Every time I ride BART I know I am contributing to the safety of hundreds of thousands of people a day."
Debra Zepeda, a UC-Berkeley graduate who was an intern and also in the first junior engineer class with Rice, majored in civil engineering but interned in BART's train control system and has remained there, working on projects such as new train control components that had to be tested on non-passenger trains during the "blanket" when BART is not running, roughly midnight - 4 am.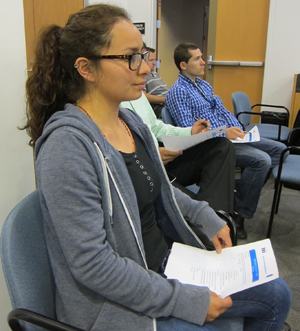 "It was interesting to work the graveyard shift," Zepeda said. "There are so many opportunities to learn. We were testing for a cutover from an old system to a new system to make sure there were no glitches, and make sure it would be safe for passenger service. You are always learning on the job here, and you're making a difference."
She recently gave back helping current interns by providing feedback as they honed their final project presentations (see image at right with Zepeda, foreground, and Rice, background).
Zepeda grew up in Southern California and is impressed by the public transportation network in the Bay Area. "It is rewarding to be a part of that, to know how important BART is to transportation here," she said.
Larry Stein, Zepeda's supervisor and a mentor, said when she's working on a project like the new train control system her ideas are as important as anyone else's.
"We very much consider it a team effort when we're out there testing," he said. "We're all in it together. They are not just a junior engineer; they're a part of our group." He and Ken Beebe, who was Zepeda's mentor during her internship, both praised her ability to adapt to something new -- and they've encouraged her to go back to school for her professional engineering license, which she's doing.
"She has a very good attitude and she absorbs everything," Beebe said. "In our line of work you learn by being hands-on, and she adapts very easily."
All of the interns and junior engineers interviewed expressed a commitment to public service, as well as a recognition that BART offers job stability and a more balanced work environment than, say, many of the more flashy private-sector start-ups that hired some of their recent graduate friends.
"I want to be able to have a life outside work," Zepeda said. Others in the program talked about hobbies and interests from skiing to weightlifting to music, and about having time to spend with family members.
Intern Ferdinand Changco, a San Francisco State graduate working on traction power in electrical engineering, agreed. "It's been a really cool experience," he said. "I've been able to network with a lot of other engineers and work on different projects. There's always a new challenge."
BART Chief Engineer Allen, who began the internship program six years ago, said it will play a key role in transition planning as BART prepares for the succession of new engineers into its workforce. The participants probably learn about 80% - 85% "hard" skills in their field, but another 15% - 20% "soft" skills around leadership, presentation, interacting with other departments, working in teams, etc., he said. Interns are required to prepare a presentation on their final project (image of a dry run for those presentations by intern Andrew Snyder, in orange shirt, and intern Mitchell Leoung, in maroon shirt, is below).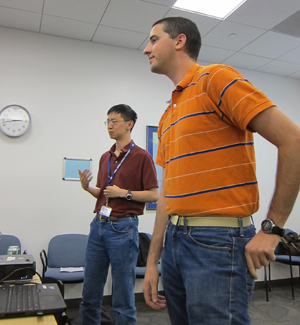 That's important for engineers -- perhaps stereotypically portrayed as loners laser-focused on their own narrow areas of work. Alvin Piano, another SFSU grad in the first class of junior engineers, said his BART experience has helped him to become more confident in speaking up to express his ideas and input. As the son of a U.S. Marine, Piano said he grew up in a "Yes, sir; No, sir" type culture. And while still appreciating the value of respect and deference to elders, he said, he now is more comfortable initiating discussion and proposing ideas.
"I am very proud to work here at BART and I'll take on whatever tasks are needed of me," said Piano, a young man clearly eager to show his work ethic and commitment -- he carries around his first pay stub from a job as a teenager scrubbing toilets at a restaurant for $7.50 an hour where he worked his way up to server.
Allen believes those values will serve BART and its riding public well in the future.
"In the past BART was not always good about mentoring and developing talent," he said. "With the junior engineer program, we have learned how to do better with that, and not just for interns and junior engineers but for all our employees."
Hiring for the next class of junior engineers will occur soon and will be posted at bart.gov.