BART Police Officers honored for child homicide arrests
Two BART Police officers are being honored for their role in capturing two suspects in the death of a Napa three-year-old girl this past February.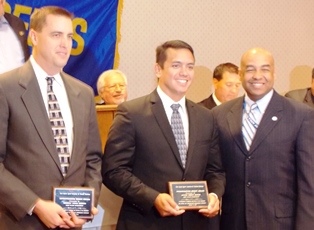 Sergeant Nathan Weissich and Officer Dominic Boutain are the 2014 recipients of the Chief Special Agents Award, The Investigative Merit Awards.

During their regular patrol last February, Officer Boutain and Sgt. Weissich received information from the El Cerrito Police Department that two subjects who were seen walking near a BART station were wanted in questioning in the homicide of three-year-old Kayleigh Slusher of Napa.
Officer Boutain and Sgt. Weissich located two possible suspects near El Cerrito del Norte Station, They were detained, positivity identified as the wanted suspects, and turned over to the Napa Police Department without incident.
Sgt. Weissich and Officer Boutain were among law enforcement honorees at the Chief Special Agents' Association of Northern California, 21th Annual Law Enforcement Appreciation Luncheon which was held on October 15, 2014.