Station Profile Survey running through May will gather vital data
The granddaddy of all BART research surveys -- known as the Station Profile Survey -- is gearing up to begin Feb. 17 and will provide a treasure trove of data to guide the agency and help the public in the future.
It's the largest and oldest of all BART surveys, done approximately every six-to-10 years since 1973, like BART's version of the U.S. Census. The massive compilation of statistics last was conducted in 2008.
"So much has changed since then, from ridership growth to new stations to the economy of the Bay Area," said Maureen Wetter, BART research analyst and manager of the project.
In fact even the survey tools have changed. For the first time in the Station Profile Survey history, contracted survey-takers will use tablet computers (provided by the contractor) to enter the answers from in-person interviews to be conducted mainly on platforms, of randomly selected participants. The survey takes about five minutes. You will know the survey-takers by their blue vests with reflective stripes and ID badges (see image below for example) and "Survey Team" on the back of their vests.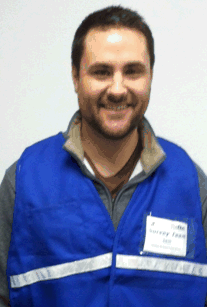 "You can't volunteer or walk up and ask to take the survey, because it's important that results reflect a statistically valid random sampling of BART ridership," Wetter said. "If you are asked to take the survey, we hope you will. This is an important opportunity to ensure you're represented in the results."
Around 30 survey-takers may be in the field at any one time, covering all hours of service, all days of the week, and all stations. The survey also is available in multiple languages and in different formats for people with disabilities.
Another difference this time around: the Metropolitan Transportation Commission, the umbrella organization that oversees Bay Area transportation agencies and issues, is funding the majority of the study and managing the research consultant tasked with collecting the data. MTC is collaborating with other agencies to do the same kind of survey with standardized questions, so results can be used in regional planning and modeling efforts.
The survey results are used in many ways. For example, they show travel patterns such as who drives, walks, bikes and/or takes connecting transit to BART, from how far they come, where they are going, and the purpose of their travel. This information can be used to plan improvements in access where they are needed most. The survey asks for demographic data that in aggregate is submitted as required by federal law for compliance with Title VI civil rights regulations -- for example, to make sure transit decisions are not discriminatory. (Note: personally identifiable information is treated confidentially.)
It also asks questions such as how you paid for your trip, whether you parked a car, are there cars in your household, what time you left on your overall trip, what time you plan to return, and many other factors involved in travel.
The Station Profile Survey aims to collect over 38,000 responses and is expected to continue until the end of May.
(Note: Riders may also see the different, ongoing permanent presence of BART's Passenger Environment Survey, performed by a small group of BART employees who compile information used in quarterly reports.)
For more information on the Station Profile Survey go to www.bart.gov/survey