San Leandro 2nd-graders thank BART; free rides for field trips still available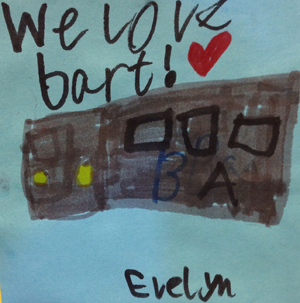 A group of second-graders from San Leandro showed their creativity -- and finesse at etiquette -- in thanking BART for its Free Rides for Field Trips program, funded by the Monterey Bay Aquarium.
Thousands of slots are still available for the program; teachers should visit www.bart.gov/fieldtrips for details on how to make a request.
The second-graders are from James Madison School, and they're experienced public transit riders from taking several field trips on BART. They summed up their experiences with a giant, floor-to-ceiling thank-you poster written in verse and sent to BART Customer Services, which administers the program.
"We love to use BART as our field trip transportation whenever we can," said Mrs. Dale Lew, their teacher. "The parents love it because they can easily drive to the Bay Fair BART Station and not get lost. The students love it because they can sit three or four to a bench seat and chat with their friends. I love it because BART is reliable, clean safe and economical. We could not go on this many field trips without BART."
The program allows each school free tickets for up to six field trips.
The thank-you card had a 26-line poem and drawings by the students showing scenes from their adventures on BART. Their trips have included one to the 12th Street/Oakland City Center Station, where they walked to the Farmers Market to sample fresh fruits and vegetables; and one to Downtown Berkeley BART Station to see a performance by the Peking Acrobats, a troupe of talented tumblers from China whose craft reflects 2,000 years of folk tradition. (Detail from part of card in image above.)
Georgene Norman of BART Customer Services, who handles reservations for the free field trips, reminded teachers to get their requests in early because they are granted on a first-come, first-served basis after all requirements are completed.
The trips are available for students K-12, up to age 18, their teachers and chaperones.
May 26, 2015, is the deadline for registration and field trips must be taken by June 26, 2015. A list of possible destinations nearby BART stations can also be found on the www.bart.gov/fieldtrips page.