The Heart of BART: Electrician Mark Carter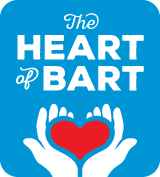 BART Electrician Mark Carter reports for work at 11 pm each weeknight and toils through the wee hours of the morning. He's done it for 33 years. You might imagine that when Mark is not on the job he would spend much of his free time catching up on his sleep. But he doesn't.
He's on a quest: to help people who have served our country but who are struggling with the psychological scars of that service. "They deserve the best treatment we as U.S. citizens can provide," he says, "but especially, they deserve not to be ignored."
Mark is cofounder of an organization called "Operation Wounded Minds," an Oakland-based non-profit whose mission is "… to remove the shame and stigma from Post Traumatic Stress so individuals will be more inclined to seek treatment and society will be more supportive."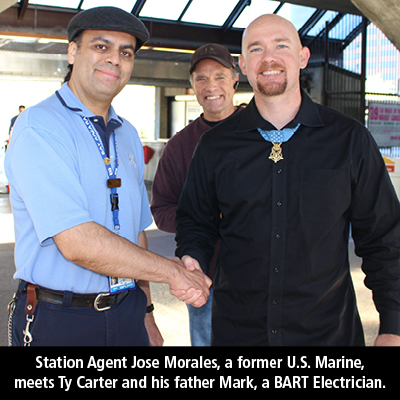 Like many volunteers passionate about a cause, Mark has a direct connection to the issue. "My son is a victim of Post Traumatic Stress. I noticed something was haunting him, bothering him, had changed him."
Mark's son Ty served in the Marine Corps for four years and, after taking a five year break as a civilian, enlisted in the Army. As a soldier, he served two combat tours in Afghanistan. It was only after the heat of the battle that Ty began to recognize the reality of Post Traumatic Stress: flashbacks, nightmares, anxiety, depressoin
"There's a tremendous amount of support available for veterans with visible scars. But few people understand veterans who are suffering invisible scars," Ty says. "There is a stigma wrapped around mental health issues. There's the feeling of being ashamed, that I can't hack it or cut it. "
After one fateful day in Afghanistan, no one has questioned whether Ty can cut it. It was just about dawn on October 3, 2009 when more than 300 enemy fighters launched an intense attack on the remote outpost where Ty and 52 other soldiers had hunkered down. As bullets rained on the outpost, Ty jumped out of bed and into action.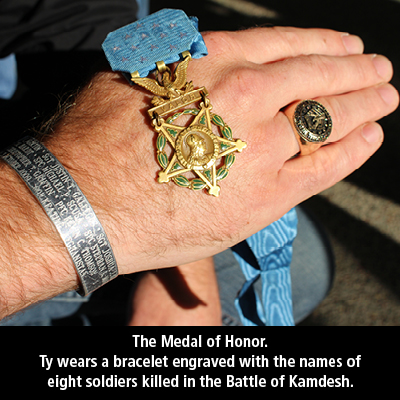 According the Army's official narrative, "With complete disregard for his own safety and in spite of his own wounds, he ran through a hail of enemy rocket propelled grenade and machine gunfire to rescue a critically wounded comrade who had been pinned down in an exposed position. Specialist Carter rendered life-extending first aid and carried the soldier to cover." Despite being wounded in the first 30 minutes of battle, Ty repeatedly resupplied ammunition to fighting positions and "…provided accurate fire under intense pressure to drive back enemy that had infiltrated the camp perimeter."
By nightfall, when reinforcements arrived, almost two-thirds of the Coalition soldiers at the outpost had been killed or wounded. President Barack Obama described Ty as "…representative of exactly the kind of people and the quality of people who are serving us. "
The President awarded the Medal of Honor, the nation's highest military honor, to Ty in an August 2012 ceremony. Mark took time off from his job at BART to attend.
"He was put in a situation that no one would ever want to be in and survived," Mark says. "His response to what he was engulfed in was the response that every person wishes that they would have the guts to do. He has become a much better man than me. It is an honor for me to be his father!"
When Ty was a small child, Mark juggled his graveyard shift schedules with the responsibilities of parenthood. "He was always able to wake up to make sure we made it to swim practice, soccer practice, Cub Scouts," says Ty, recalling one his favorite memories – a pinewood derby, an event in which scouts build and race wooden cars.
"What BART has meant to us was, that as kids, we were always supported." -- Ty Carter
Mark's sense of responsibility to others is part of his profession. "Before and after the overnight maintenance work, it's our job to shut down the electrical system whereever work is being done to ensure the safety of fellow employees as well as outside contractors. When the work is completed for the night, we make sure everything electrically comes back on line for commuters."
Then, shaking off the effects of a sleepless night, Mark often tackles his volunteer duties. "I've recently tried the other shifts available in my department but find that the night shift frees me up to work for our veterans in a schedule that fits them," Mark says.
Mark and "Operation Wounded Minds" founder and executive director Dwayne Jones are looking to expand their good works. They point out that no one is immune from Post Traumatic Stress and are working to remove the word "disorder" from the discussion of the medically-recognized mental health condition.
Ty wholeheartedly supports their efforts. "I've learned it has nothing to do with combat. Post Traumatic Stress is a people thing. My father's been able to see that and that's why his organization doesn't focus on just this war but all wars. It's actually a broad spectrum of people suffering to a point of frustration and what he's trying to do is to fill the gap with whatever they may need. My affiliation is to support him, but this is his task. That organization has their task, I have my own."
After the White House medal ceremony, Ty discovered a natural gift for communicating and public speaking while spending months travelling for the U.S. Army to talk about Post Traumatic Stress. He's left the Army and has embarked on a career of sharing with civilians lessons he learned in the military.
"My job with Ty M. Carter and Associates is to use what I learned in the firefight to teach others about leadership, resiliency and, also, to push the memory of those eight men who lost their lives. Every time I tell the story, it's very painful for me, but I know that by doing that, their actions are remembered.
Note: The eight soldiers who lost their lives in the October 9, 2009 Battle of Kamdesh are: Sgt. Justin T. Gallegos, Sgt. Christopher T. Griffin, Sgt. Joshua Mitchell Hardt, Sgt. Joshua John Kirk, Spc. Stephan Lee Mace, Staff Sgt. Vernon W. Martin, Sgt. Michael P. Scusa, and Pfc. Kevin C. Thomson.
The Heart of BART is a series of stories about ordinary BART employees doing extraordinary things. If you know someone who you think has a Heart of BART story that should be told, please contact James K. Allison at jallis1@bart.gov.