Library book vending machines at Pittsburg/Bay Point and El Cerrito del Norte stations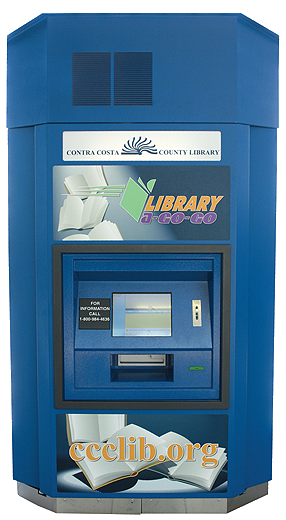 The Contra Costa County Library's book lending machines, known as Library-a-Go-Gos, are now in service at two BART stations.
The machines are located at the El Cerrito del Norte and Pittsburg/Bay Point stations. They contain over 300 books each, including bestsellers and nonfiction.
Use your Contra Costa County Library card to get a book. You can apply for a card online or at any Contra Costa Library. Please see their website for more information: http://ccclib.org
The machines are available to everyone 24 hours a day at El Cerrito del Norte Station and during the hours BART is open at Pittsburg/Bay Point Station.
A touch screen is used to select from approximately 300 books that are delivered through an opening in the front of the unit. Books can be returned through the same slot or to a Contra Costa County library.
Books in the machines are not included in the general library catalog, and therefore cannot be reserved.