Track closure between Fruitvale and Coliseum Saturday 6/13
UPDATE: Tuesday, June 9
The next scheduled closure: All day Saturday, June 13.
This will be the last closure for the work between Fruitvale and Coliseum stations.
On Saturday, June 13, there will be no Green Line service. Which means: unlike typical Saturdays, customers proceeding north from Fremont will have to use a Richmond (Orange Line) train. There will be a transfer at Bay Fair to a Blue Line train and then the bus bridge between Coliseum and Fruitvale stations. There will also be less overall service capacity and frequency. During the closure, passengers should listen to overhead announcements, employee instructions, and follow temporary signs that will be in place.
Spanish (En Español) Chinese (在中文)
| | |
| --- | --- |
| Date | Track Work Times |
| June 13 | All day Saturday |
WHY THE CLOSURE? VITAL REPAIRS NEEDED
Vital repairs are needed to the equipment and tracks between Fruitvale and Coliseum stations. The effort will ensure safer and more reliable service and is done as part of our "Building a Better BART" program. When the work is completed, you will experience a faster and quieter ride.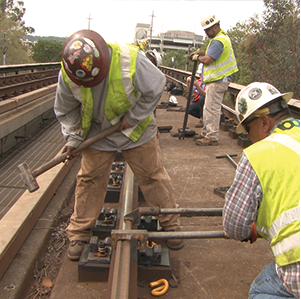 The work requires that the entire track be shut down and that no trains operate between these stations while it is being performed. To cause the least amount of inconvenience, we are scheduling this work mostly on Saturday nights and all day Sunday on some weekends.
A switch (which allows the trains to be guided from one track to another) is in very bad shape, requiring trains currently to reduce speed in the area for safety. In addition, the wooden ties between the tracks are very worn out.
The area where these repairs must be done is part of the elevated track and is difficult to access, which is why a complete shut-down is required. If this work is not done soon, the tracks will become completely unusable—forcing thousands of drivers onto already congested roadways.
BUS BRIDGE BETWEEN FRUITVALE AND COLISEUM
To accommodate your travel while the work is being done, we will have a "bus bridge," provided by AC Transit, providing lifeline service for customers who don't have other options. The buses will carry customers between the two closed stations. There will be no additional charge for the bus. The bus bridge will cause 30-60 minute delays for some customers.
AVOID TRAVEL BETWEEN FRUITVALE AND COLISEUM DURING TRACK WORK IF POSSIBLE
We recommend that you avoid travel between Fruitvale and Coliseum on the designated weekends if possible. If you are driving, we recommend that you park at the station (Fruitvale, Coliseum or Bay Fair) that will allow you to avoid the bus bridge. Click here to see a map of the work area.
REVISED SERVICE IN EFFECT DURING TRACK WORK
• We plan to run trains at 20 minute intervals during this modified service, but there may be unavoidable delays.
• Service will not keep to the published schedules, timed meets, etc.
• Listen carefully to Train Operator and in-station announcements.
• Digital platform signs may not give the correct information.
• Staff will be available to assist you in the station
SERVICE TO OAKLAND INTERNATIONAL AIRPORT (OAK)
The BART to OAK Airport service will be operating to and from Coliseum Station. If you are going to the airport you may go into the station as usual and take the shuttle train. Enter the station through the fare gates and go through the station, up to Platform 3 to catch the shuttle train. From the Airport, you will take the airport shuttle train to Coliseum Station and go through the fare gates and down to street level to access the bus bridge.
CLOSURE DATES AND SCHEDULES
The work will be done over several weekends between April and August. The following dates may be subject to change. BART will work around the Golden State Warriors playoff schedule and will adjust work dates and hours as the playoff games are announced.

CHECK THIS WEBSITE BEFORE TRAVELING FOR UPDATES
We will issue updated notices as necessary. Before traveling, check this website. If you'd like to try AC Transit for your whole trip, go to AC Transit's trip planner page for suggestions for alternative ways to get where you are going.
WE APOLOGIZE FOR THE INCONVENIENCE
We apologize for the inconvenience this will cause you.