BART PD's "Shop With A Cop" brightens needy youngsters' holiday season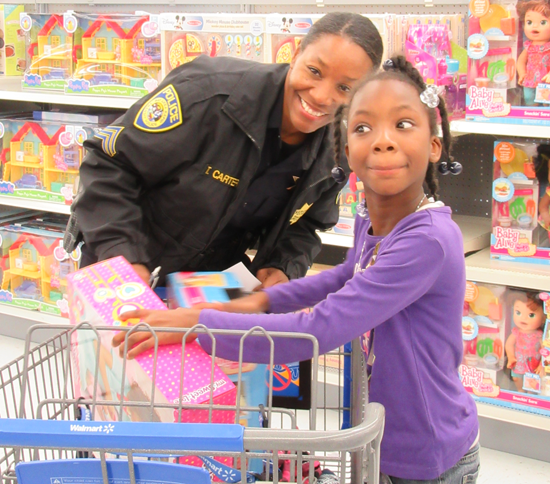 BART PD Sgt. Tanzanika Carter with a young shopper at "Shop With A Cop"
By MELISSA JORDAN
BART Senior Web Producer
"It's the most wonderful time of the year," goes a popular Christmas tune.
But the season is not so wonderful for many children from low-income families, who don't get their hopes up for a stack of gifts because they know money is tight.
On Dec. 16, the BART Police Department (BPD) helped make the holiday a little brighter for about 50 children from around the Bay Area in an event known as "Shop With A Cop."
Each child, selected from community outreach by BPD and the Oakland Police Activities League, received a $100 gift card to spend at Walmart on Edgewater Drive in Oakland. Children needing transportation rode in police vehicles to get to the store, where they spilled out into a staging area, some clutching lists.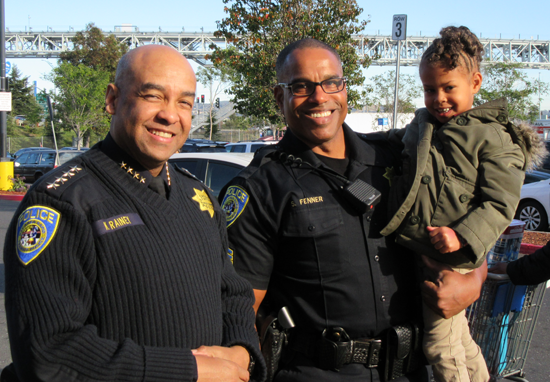 BART PD Chief Kenton Rainey, Sgt. Sean Fenner and a young shopper
"This is such a fantastic event," BPD Community Service Officer Jodi Brunker, one of the organizers, said. "The kids get memories of a positive interaction with an officer, and we all have a lot of fun." Brunker had her hands full setting up hot cocoa and cookies under a tent for parents to keep warm while their kids shopped. (Partly in case kids wanted to buy a surprise present for a parent; partly so parents could not steer the buying toward bare necessities, and the kids could get what they really wanted.)
That was one of the lessons learned from last year, the first year BART participated. Last year about $3,000 was raised to fund 30 kids' shopping sprees; this year, it was around $5,000, much of that donated by individual officers and other BART staff.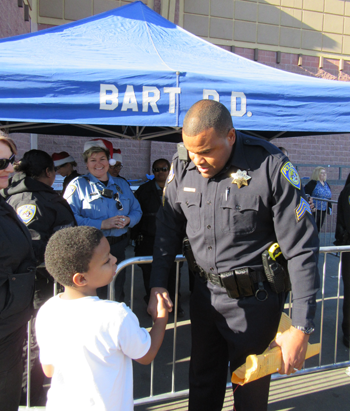 BART Police Chief Kenton Rainey gave credit to Sgt. Ja'Son Scott (image at right) for the idea of BPD joining Shop With A Cop, which is done in other cities around the nation, and said the event fits into BPD's community-oriented policing philosophy and his expectations for his team.
"From those to whom much is given, much is expected," the chief said, a concept that has been shared in sources as diverse as the Bible's Book of Luke; a famous speech by John F. Kennedy; and Spider-Man ("With great power comes great responsibility").
"To be able to be employed in a profession that you dream of is a privilege, and you ought to give back," said Rainey. He said he began dreaming of being in police work from about age 12, when he was a part of community events just like this one.
The rules for Shop With A Cop were simple: minimum of one school supply, one item of clothing, and one toy. The rest could go for more toys for the kids themselves, siblings, parents or others. No violent toys allowed. (Rules had to be interpreted a bit inside: is a wrestling toy violent? a Star Wars Stormtrooper? a Nerf ball blaster?)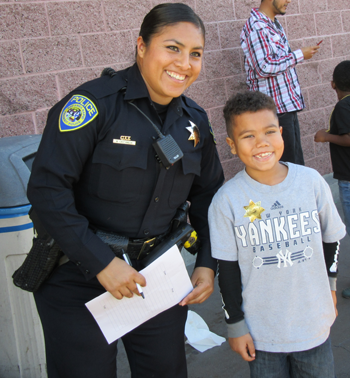 Lined up side by side, exchanging names and small talk until it was time to go, each cop took the hand of a kid. It felt like the start of a NASCAR race as the shopping began.
Some of the kids wanted a big-ticket item like a bicycle, which left them enough left over for a couple of notebooks and a t-shirt. But, as Brunker recalled from last year, "I was with a little girl about 10 years old, and she had never had a bicycle in her life. So that really meant a lot to her." The kids got a reminder about helmets and locks when they heard the rules. At right, image of Officer MarySol Castaneda with her shopping buddy.
Other kids stocked up their carts nearly full. Perennial favorites like baby dolls, Legos and basketballs; along with newer trends like two-wheeled skateboards and themed merchandise from franchises like Monster High and Frozen piled up. The police used a piece of paper with a running tally to let the kids know about what they had spent. If they went over, they'd have to put something back. If they didn't spend it all, the gift card was given back for next year's fund.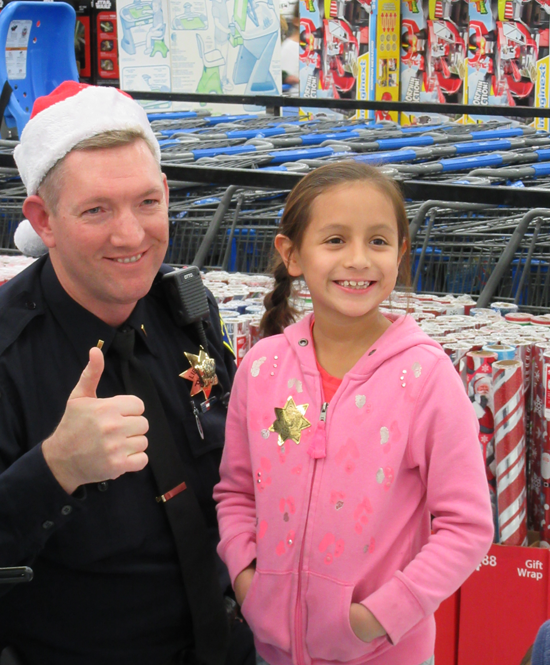 Lt. Kevin Franklin with his savvy shopping buddy, who used her math skills
A little girl dressed in pink with a braided side ponytail came in at $99.83. Her father, beaming from behind the dedicated checkout lane as they watched her purchases ring up, said he was not surprised, because she is good in math, and he is very proud of her. Her shopping buddy, Lt. Kevin Franklin, said she was also a smart shopper for spreading her purchases around. She got multiple clothing items, including a hot pink fleece jacket, a blue shirt with a sparkly heart and a purple ensemble; school supplies including books to read; and one special toy, a "Baby Alive" (with accessories like diapers and "reusable doll food.")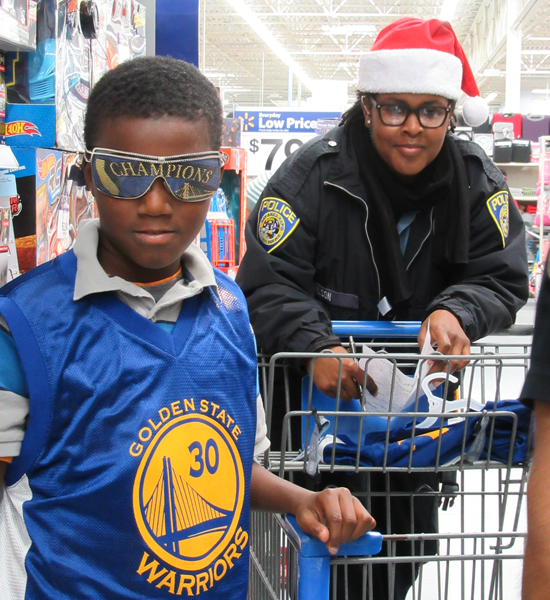 Community Service Officer Destiny Wilson with a young Warriors fan
Community Service Officer Destiny Wilson said she felt like a big kid herself trying out toys with her shopping buddy, Tony, as she sported a Santa Claus hat. "I can put myself in their shoes," she said, recalling growing up in a loving home but without a lot of means for elaborate presents. "Christmas is one of my favorite times of the year, but I can remember what it's like not to get all the things that you see other kids getting." Tony was all smiles with his haul -- which included a Golden State Warriors jersey with "Curry" on the back. Another shopper passing by, unaffiliated with BART, saw Tony posing for a photo and loaned him spectacular reflective Warriors sunglasses to complete the look.
One of the littlest shoppers was Juan, 4 years old, whose mother Maria waited patiently outside. Speaking in Spanish, she explained how much the program meant to her family. "We are very happy, and we appreciate what the BART Police have done very much," she said, as her sister-in-law translated. She said Sgt. Scott in particular had spent time with the family, sharing their Christmas dinner last year. Because another relative once had a negative experience with a different law enforcement agency, she said the children used to be afraid of police. Now because of BART Police and Sgt. Scott, she said, "They know the police are there to help them and protect them." Juan held his PAW Patrol coloring book and giggled uproariously as Scott tousled his hair.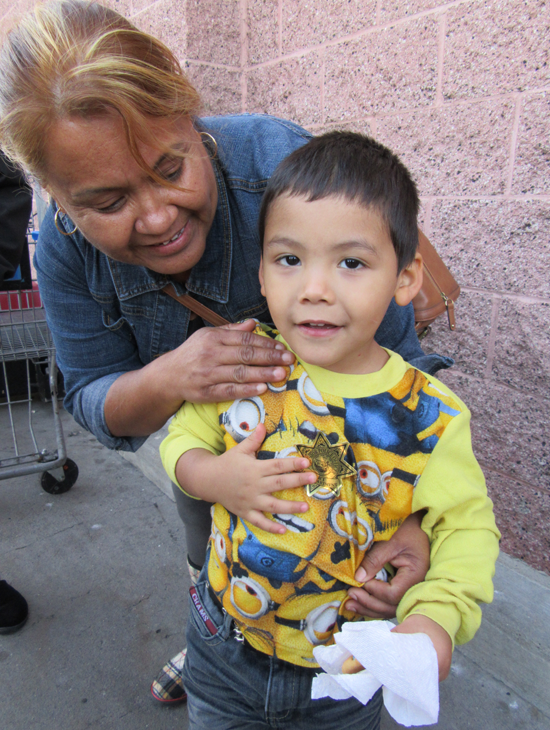 Juan and his mother, Maria
Bringing up the end of the event was a young boy, Jay, whose mother Lauren said he sometimes had trouble making up his mind. She was pacing and peering inside to make sure he was all right. "This really came at a good time for us," she said. She hadn't had much time to prepare her son because she only got the call the previous night telling her he was included. Fundraising exceeded expectations, thanks in part also to local businesses who donated cupcakes for sale at BART headquarters, so more kids could be invited.
"We wouldn't have had many presents without this," she said. "I was crying last night when I put down the phone. We are so grateful to the BART Police."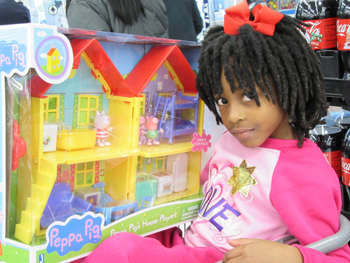 A happy young shopper with her new dollhouse
Photos by Denisse Gonzalez, BART Public Information Officer
*******************************************************************************************************************************

BART also provided hundreds of toys for needy children through its annual toy drive, which works each year with a different charity to distribute the toys.