Bus Bridge between San Leandro-Bay Fair to end at 3pm on Monday for Warriors
UPDATED: 5/29/2016
*NEW: Regular service will be restored by 3pm on Monday, May 30 for the Warriors game. There will be no bus bridge after 3pm on Monday. The track work between San Leandro and Bay Fair will stop to provide regular service for fans and others.
This is the final track closure.
---
The work scheduled for June 17 & 18 has been cancelled.
---
There will be no train service Memorial Day Weekend as BART crews perform vital repairs to the equipment and tracks between San Leandro and Bay Fair stations. This work is part of our "Building a Better BART" program. BART crews cannot complete these critical trackway repairs during the overnight hours when we are normally closed for maintenance, which is why we require this extra time. Once the job is complete, you will experience a safer, quieter and more reliable ride.
Free Bus Bridge between San Leandro and Bay Fair Stations provided by AC Transit
We will have a free "bus bridge" during our normal service hours. The bus bridge will cause 30 min to 1 hour delays for some customers. Customers travelling between Fremont to Richmond will have to transfer to the bus bridge at Bay Fair, back to a train at San Leandro and then transfer to a Richmond-bound train (we recommend Lake Merritt Station).
There will be extra staff in our stations to assist you. Follow signs and listen to announcements for important information.
Travel tips
• Consider using a station not affected by the bus bridge if you are able.
• Lock your bike at our stations rather than bringing them on crowded buses.
• Check www.bart.gov for the most up-to-day information about the closure.
Click here for a map of the work area.
Closure Dates and Schedule
| | |
| --- | --- |
| Date | Track Work Times |
| May 28-30 | From end of service Friday and all day Saturday, Sunday & Monday (regular service resumes at 3pm for Warriors game) |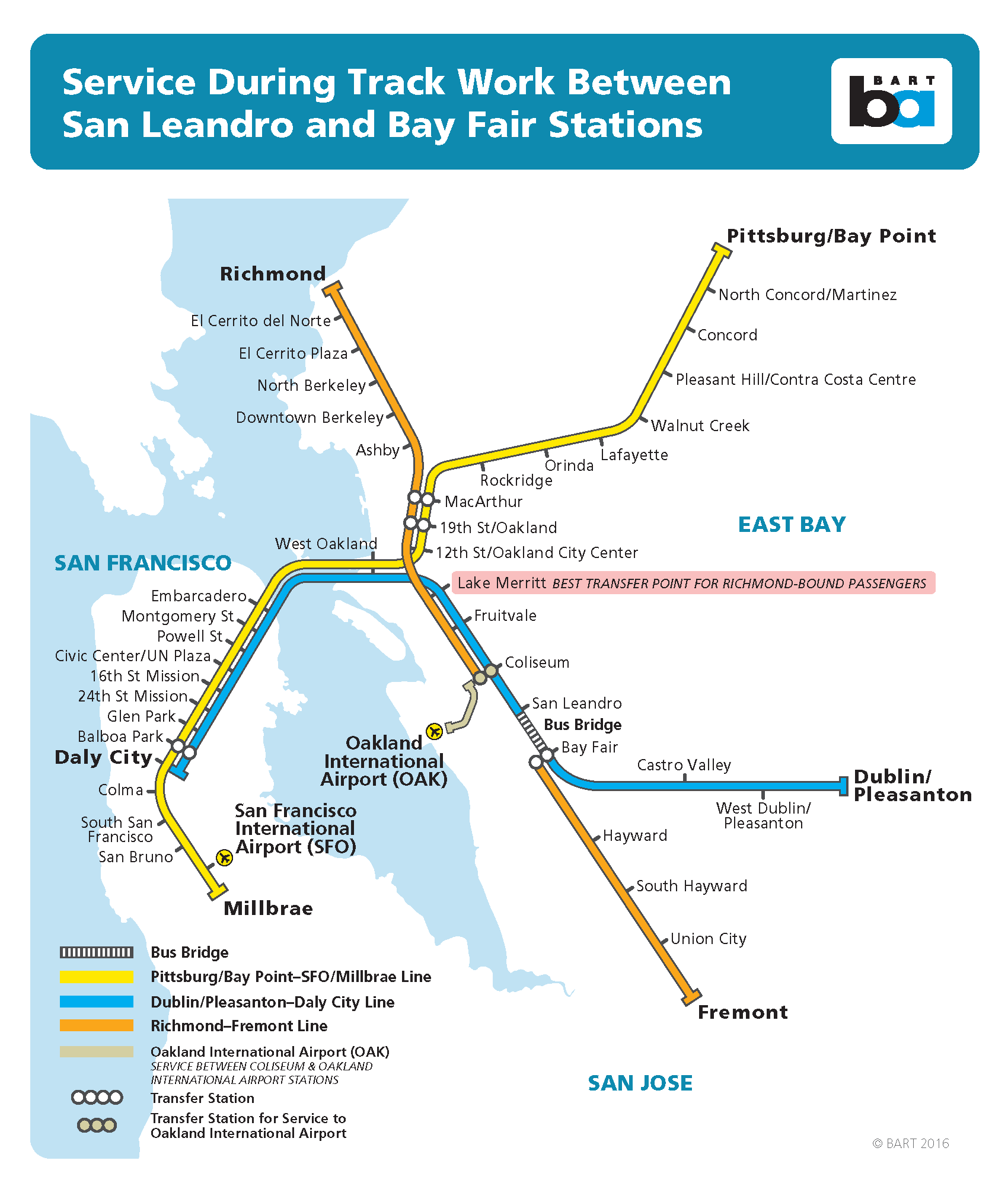 Before traveling, check our website and look for updated bulletins for new or updated information.
We apologize for the inconvenience this will cause you.
.pdfs of bulletin: