Investigation of spikes in voltage on Pittsburg/Bay Point line continues
*Updated 11 am, April 15th, 2016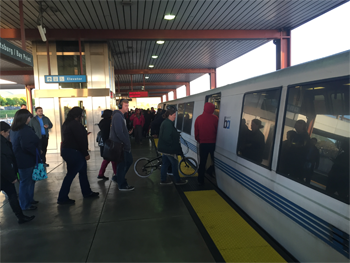 NORMAL SERVICE RESUMES
On April 2nd, normal train service resumed between Pittsburg/Bay Point and North Concord/Martinez.
After swapping out the generation of train cars most prone to damage (our "C" cars) to help establish regular service again, the spikes in voltage along the track has gone away. So we have since moved the C cars back to add more cars to the line, and the problem has not reoccurred.
"The problem has gone away," said Paul Oversier, Assistant General Manager of Operations, "but we need to get to the bottom of this. We don't want our customers to suffer through another round of this so we need to get to the root cause."
INVESTIGATION INTO ROOT CAUSE CONTINUES
The team looking into the cause of the spikes in voltage in this area is methodically identifying all possibilities and then testing each theory during service as a process of elimination. This is in addition to nationally recognized outside experts who have been using state-of-the art instrumentation to diagnose what technical experts term "extreme voltage transients."
"We've instrumented a car to measure the voltage at different locations and even put cameras underneath the car body to focus on the collector shoe to see if we are getting inordinate amounts of arcing as the collector shoes go through gaps," Oversier explains. "We are also focusing on the propulsion box to see whether the arcing was originating there. We have another theory of ionized air which is a conductor," Oversier said. "If you have ionized air, it could be a possible source of the arcing we were seeing. So, we have been doing air sampling alongside of a moving train to see if there is ionized air.
NEW EXPERTS JOIN INVESTIGATION
BART now has a company coming in from the outside that aren't so much technical experts on electrical systems or cars as we have already engaged expertise in those areas. These are process experts on problem-solving. They are going to take our data and look at it from yet another angle with a different set of eyes.
NO SAFETY CONCERN FOR RIDERS
There's no safety risk or concern for riders traveling over an area that is being assessed for voltage spikes, because the voltage spikes may not even be noticeable to them.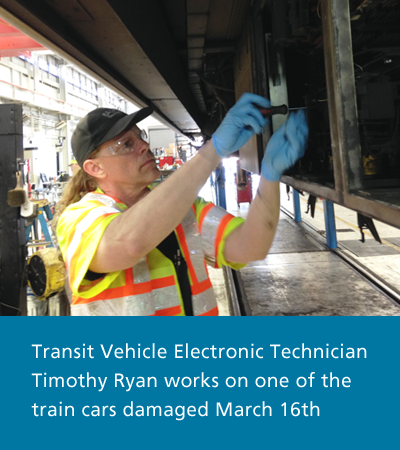 REPAIRING DAMAGED CARS
While one team focuses on finding and fixing the electrical problems, technicians in BART shops are working round the clock to repair the damaged cars as quickly as safely possible.
"The car count has improved" as crews repair more and more cars, Trost said.
(See infographic below from archive, outlining numbers in our fleet, as they stood before this latest electrical issue.)
"We are also exploring alternate suppliers of the parts we need," Trost said. "We are cautiously optimistic that the car availability will be on an upward trajectory toward improvement."
A new Fleet of the Future is on the way to bring some relief to crowded cars (more info at www.bart.gov/cars), however, other infrastucture needs such as replacing old rails, updating train control equipment, expanding maintenance facilities and rebuilding other parts of the system must be dealt with as well.
You can also keep track of train lengths and train times with our real time departure information.
We apologize for this inconvenience and we are working around the clock to identify the problem and fix it. We would like to thank our riders for their patience.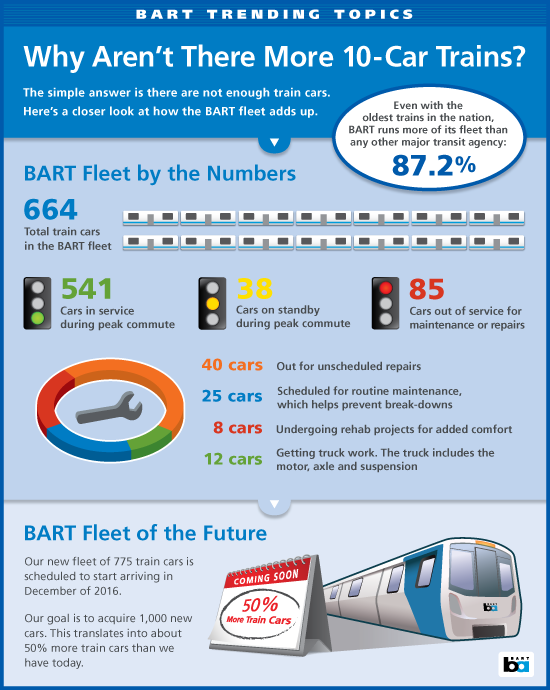 NOTE: ARCHIVED INFOGRAPHIC FROM 2015/DOES NOT SHOW IMPACT OF LATEST ELECTRICAL ISSUES
---
If you need language assistance services, please call BART's Transit Information Center at (510) 465-2278.
如需語言援助服務,請致電 BART 公共交通資訊中心,電話號碼為 (510) 465-2278.
통역이 필요하시면, BART 수송 정보 센터 (510) 465-2278로 전화해 주십시오.
Si necesita servicios de asistencia de idioma, llame al centro de información de tránsito del BART al (510) 465-2278.
Nếu quý vị cần các dịch vụ trợ giúp ngôn ngữ, xin gọi cho Trung Tâm Thông Tin Chuyên Chở Công Cộng của BART tại số (510) 465-2278.
Kung kailangan mo ang tulong ng mga serbisyo ng wika, paki tawagan ang BART Transit Information Center na (510) 465-2278.