BART offers chance to throw out first A's pitch; moves sports fans throughout the Bay Area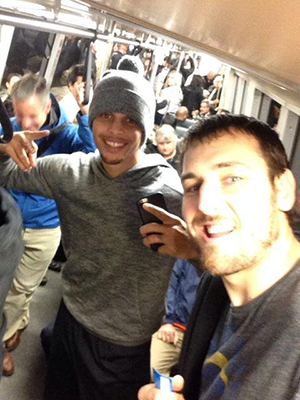 Here at BART we love all our Bay Area sports teams, win or lose, professional, college, pee-wee league and more.
And we're proud of moving the fans (and sometimes the players) to their destinations.
This year, we're doing something new with regard to the Oakland Athletics, one of our longtime sponsorship partners (you may recall with fondness, or heartburn, the BART-sponsored $2 hot dog and $2 ticket days of the past).
In a contest ending Friday that's one of many sponsored by @SFBARTable, one lucky winner will get the chance to throw out the ceremonial first pitch at the game on Wednesday, April 6, at 7:05 pm -- along with four tickets to that game.
Enter here at the SFBARTable contests section.
In addition, this season, we're teaming up with the A's to offer $5 tickets to select games – one of the best deals in all of professional sports. Buy your $5 Rapid Deal Days tickets online. You can find out more about lots of sports deals and contests at SFBARTable.
The ride to the A's at O.co Coliseum is one of the easiest to any sporting event, with the BART train stopping at Coliseum/Oakland Airport Station just a short walk over the bridge to the venue.
The same stop gets you right to Oracle Arena, home to ourreigning NBA World Champion Golden State Warriors, who are currently leading the Western Conference.
Photo above courtesy of Stephen Curry's Twitter account, where he posted the photo of himself and teammate Andrew Bogut in 2014 with the caption: Real Life #AskBogey RT@andrewbogut: Catching Bart home from SF with my PG @StephenCurry30 #rushhour #packed ​
We've also carried record-setting numbers of fans safely to the two recent World Series victory parades for our San Francisco Giants.
And Cal football Saturdays (with parking at a premium around the campus stadium) we get Bears backers to Berkeley quickly and easily.
Around 15% of Cal home football game attendees get there by BART, according to the latest ridership analyses.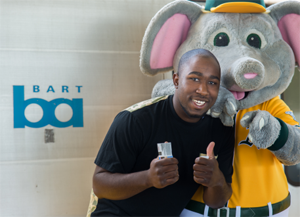 Sports fan riders are a not-insignificant part of our ridership (thankfully often during non-commute hours).
Ridership statistics show that in 2015 A's fans alone made up an estimated nearly half a million extra riders during the baseball season. (Photo at right of mascot Stomper with an A's fan who won tickets.)
So whether you're taking your kids to a play in a soccer match, meeting friends to shoot hoops, or going to cheer on our world-class pro teams, you can count on BART to get you there.
Watch an archived video from BARTtv about how easy it is to take BART to our baseball stadiums.