Sharp-eyed BART customer and Station Agents foil bike thieves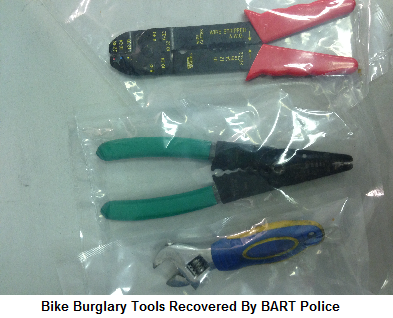 A customer reported suspicious activity to the Station Agents at MacArthur Station Monday, April 11th at 11am. It appeared that some men were using tools to cut the locks on bikes parked there. When the men saw that they'd been spotted, they tried to get rid of their tools in a nearby garbage can.
BART Police were called and they were able to take the suspects into custody and recover the tools from the garbage can. One suspect was a juvenile and was released to his parents' custody. The other suspect has been booked into Glenn Dyer Jail for burglary and possession of burglary tools. One of the suspects gave a statement admitting to the attempted theft.
We are grateful to the customer and our alert Station Agents, Jesse Androtti and Theerapone Karnthong, for their quick action to keep the bicycles safe.