Accessibility innovation is the focus at June 8 BART conference in Berkeley
By MELISSA JORDAN
BART Senior Web Producer
Around 175 attendees are signed up for a June 8 conference BART is sponsoring that will bring together technologists, accessibility advocates and people with sensory and mobility challenges to brainstorm ideas for making BART more accessible to all.
The one-day event at Berkeley City College, called AccessTech, is being organized by BART's Customer Access and Accessibility Department, under the leadership of department manager Bob Franklin.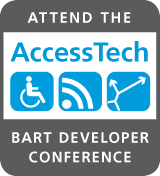 IMPROVING ACCESSIBILIITY
"By coming to the conference, you can get up to speed on the latest technologies and examples of recent projects that strive to raise the bar on incorporating accessibility from the ground up," Franklin said, "including a discussion of the many ways technology and thoughtful design can improve transit accessibility."
Erin Lauridsen, assistive technology educator with the Independent Living Resource Center of San Francisco, will be the keynote speaker at the conference. She's also a daily BART commuter who is visually impaired.
"This is an area where there is a lot of room for innovation," said Lauridsen, who already uses different apps on her smartphone, such as one that can receive BART delay information and relay it to her device in Braille.
"We're in the Bay Area and Silicon Valley, with a lot of innovation going on, so to tap into that potential is really important," said Lauridsen.
ALL ABOUT INNOVATION
Great ideas can come out of an event like AccessTech that benefit not only riders with disabilities, but all riders as well, she said.
"The best ideas can become universally useful," Lauridsen said, using the story of curb cuts as an example. The city of Berkeley played a pivotal role in the history of curb cuts, when in the early 1970s, with the support of advocates for accessibility, the first planned, wheelchair accessible route in the United States was built along Telegraph and Shattuck avenues. Berkeley became a nationwide leader in disability rights and has a widely renowned access resource center in the Ed Roberts Campus, by Ashby BART.
The eventual curb design benefited not only those using wheelchairs, but also those pushing strollers, children on tricycles, people using walkers or canes, or those pulling rolling backpacks, luggage or pushcarts.
CHANGES THAT BENEFIT EVERYONE
"What will be the next curb cut...?" Lauridsen asked, "... something that changes the landscape for everyone."
In Washington, D.C., the Washington Metropolitan Area Transit Authority (WMATA) is testing one type of innovation in partnerhship with Columbia Lighthouse for the Blind and ClickandGo Wayfinding Maps. (Video of the project is here: https://www.youtube.com/watch?v=2DR0eGyTqbY )
"We're using audio maps that help a customer travel to an entrance or along the platform," said Christiaan P. Blake, director of WMATA's Office of ADA Policy and Planning. "It's basically a map you can listen to."
Blake noted, however, that the maps are static and not rapidly changeable in real time, so, for example, they would not be able to indicate a newly erected barrier, such as what might be placed around an obstruction in the path. He said even with a clear path, users are always encouraged to "be very attentive to the environment around you."
Blake said WMATA is going a step further in some of the pilot stations by adding beacon technology. "If you have a smartphone and you turn your Bluetooth on," you can get information to help you navigate in real time and keep up with dynamic information changes such as announcements in an emergency.
Beacon technology (also being used in a pilot at Terminal 2 of the San Francisco International Airport) may not be the next, best thing, but as Blake said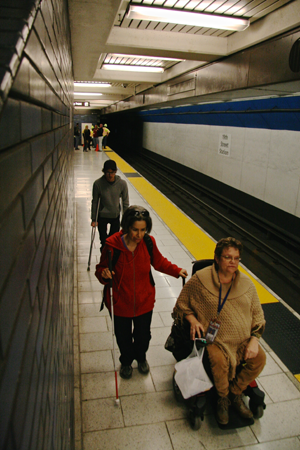 , "You've got to keep it moving forward. We're excited about these developments, because we believe they can enhance what we are already using," he said.
Franklin feels the same way about BART's steps toward access improvements and hopes the AccessTech conference will be part of a continuing conversation.
The event is June 8 at Berkeley City College, 2050 Center Street, one half block west of the Downtown Berkeley BART Station. It will be an interactive learning experience where riders, accessibility advocates and technology developers -groups that are not mutually exclusive -- explore ways to improve the transit ridership experience for passengers with sensory and mobility challenges.
A panel of industry experts will share innovations in tech for accessibility from around the world. Curated breakout sessions will provide a forum to discuss mapping the latest in mobile, wearable, and beacon development to improvements in the door-to-door Bay Area transit experience.
At right and above, an image from a different event that BART conducted to help familliarize persons with disabilities with different aspects of the train and tracks for safety and awareness.
For more information or to register for the free event, go to www.bart.gov/accesstech