BART PD's National Night Out effort focusing on community ties at a pivotal time
By RAQUEL CRITES
BART Communications Intern
As the lull of late summer transforms to the buzz of back-to-school, BART ridership increases and with it, comes the annual ritual of National Night Out -- a community crime prevention and safety event that has been going strong for 32 years.
BART Police have been involved with National Night Out officially as an organization for the past six years, fanning out to different stations to provide information, host activities and interact with community members.
Lt. Ed Alvarez, left, and Community Service Officer Jodi Brunker, two of the lead organizers for this year's BART participation in National Night Out
"In light of all the recent police related tragic events which have occurred throughout the country, this year's National Night Out celebration gives even more significance to the idea that 'the people are the police and the police are the people,' " said BART Police Chief Kenton Rainey, who has emphasized a Community-Oriented Policing and Problem-Solving (COPPS) approach since he became chief in 2010. "We recognize and accept it is impossible for us to be successful without support from all the diverse communities we serve."
BART PD Chief Kenton Rainey, Sgt. Sean Fenner and a young shopper, at a Shop With a Cop charitable event during the 2015 holiday season, one of many outreach projects BART police sponsor.
Lt. Ed Alvarez, who heads BART PD Support Services, has been working to set up this year's event. "It's an opportunity for us as law enforcement to connect with the community," he said, noting how important it is for officers and other personnel to work hand-in-hand with the people they serve, and to be seen at collaborative events, not only in times of crisis.
BART's National Night Out presence in 2016 will be Tuesday, Aug. 2, from 4 pm to 6 pm at six BART stations: Ashby, Castro Valley, Montgomery, Pittsburg/Bay Point, Rockridge and San Bruno.

Each year, BART PD chooses different stations based on department crime statistics and in an effort to spread the participation throughout the BART system.
Community Service Officers from each of the BART Police zones will be posted at stations with activities and giveaways such as informational bookmarks, stickers for kids, and other handy items with the department's information, in case of emergency.
The goal of BART's National Night Out presence is to educate the public on the most common safety issues at the stations that are participating, which can be things like bike thefts, autos burglaries, and one of the most common crimes -- grab-and-go thefts of electronic devices.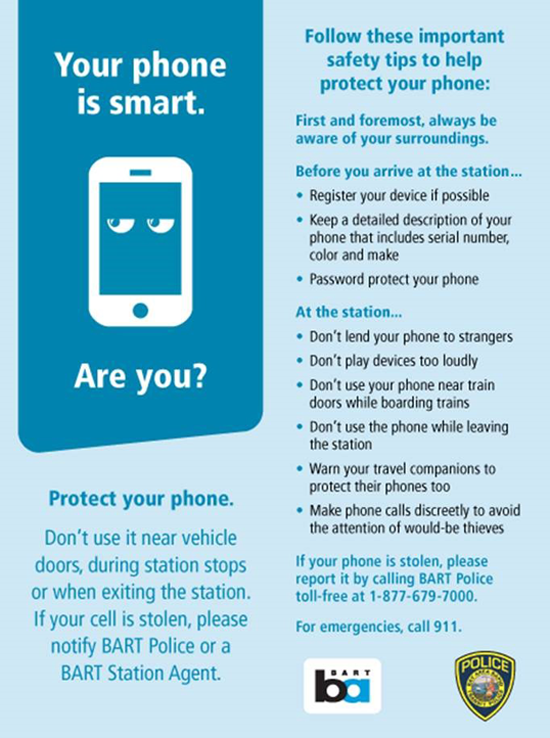 Armando Sandoval, BART PD's Crisis Intervention Training and homeless outreach coordinator, said National Night Out builds upon all the work that officers do, that may go without recognition, whether it's reading to school children, volunteering on charitable missions or intervening to help a homeless veteran find shelter.

"This year there is a tremendous opportunity" for progress to be made, leading to concrete actions in the wake of the tensions nationwide, Sandoval said. "It could be very profound in its impact."
Alvarez said patrol officers, administrators and even K-9 unit handlers and their dogs will be out as part of the event, for a chance to interact in a neighborhood setting.
"Last year, the community really interacted with us; there was pure joy and pure connection, and this year people are already coming together," said Community Service Officer Jodi Brunker, who participated the past two years in the event at Bay Fair and Fremont stations.
"If we can make that connection, both the community and the officers are kept safe, and that's what it's all about," she said.
In past years, Castro Valley Station's event included a raffle for free haircut cards and BART tickets, while other stations have raffled away Kryptonite locks for bicycles, and vouchers from local businesses. This year, Ashby Station will feature t-shirts spray-painted by a local artist as one of its raffle giveaways.

The position of Community Service Officer is an important one in BART PD, and takes the lead on events such as National Night Out, said Lance Haight, Acting Deputy Chief assigned to Professional Standards and Training.

CSOs wear a uniform but they are a civilian classification within the PD. They are not sworn peace officers and as such, do not carry firearms. CSOs have a presence in parking lots, stations, and trains and liaison with sworn officers; and they provide service to BART customers in many other ways: accompanying them to vehicles if they feel unsafe; giving directions; and providing safety education.

A full description of the job can be found here: http://www.bart.gov/about/jobs/descriptions

When a recent pool opening was posted for CSO jobs, nearly 400 people applied, Haight said. While those CSO positions are in the process of being filled and are not currently open; others are currently open for police officers and police dispatchers; apply at www.bart.gov/jobs

"Members of our BART community have recognized the significant challenges facing law enforcement and the community today, and many are hoping to actively become a part of the solution," Haight said. "Just last weekend we held the testing process for CSO, and the testing center was filled to capacity. As we recruit and hire, we are bringing our community into BART. The passion to serve from our new and veteran BART officers is what will help bring healing in these troubled times."

If you're at one of the participating stations on Aug. 2, stop by the National Night Out booth to meet your local BART PD officers for useful information and the chance to win prizes -- or just to say hello and ask any questions you may have.

Also, keep in mind Lt. Alvarez's No. 1 tip for BART riders to help prevent theft: "Be the eyes and ears in your surroundings and be vigilant. If you see something, say something."

For more information on the National Night Out program visit: https://natw.org/

For more information on the BART Police event, see the flyer below.