A (courteous) biker's guide to BART: New straps can be part of the solution
By RAQUEL CRITES
BART Communications Intern
More than 20,000 people a day are expected to be accessing BART by bike in 2022 -- thanks in no small part to efforts by the BART Bike Program to increase bike access. And BART ridership overall, at record highs already, is predicted to in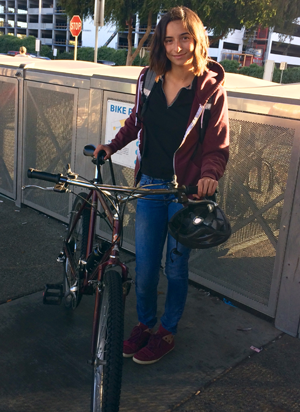 crease also as new train cars with built-in bike racks arrive.
On a typical weekday morning I am a proud part of the bike-to-BART population, pedaling to San Leandro station and back from my home, and taking BART to 19th St. Oakland to work. (Crites at right, with her bike at San Leandro Station.)
Biking and using BART as my primary form of transit, I've learned some safety, convenience, and courtesy tips that over the last few years have kept me, as well as others around me, safe and comfortable on BART.
Mine is just one person's experience, but it illustrates many of the topics raised in the BART Bicycle Plan, and some of the issues recently presented in a bike program update to the BART Board of Directors, including a great new idea of bike straps.
SECURE PARKING
Like many cyclists, my biggest concern is the security of my bike.
As a BART intern, I had the chance to interview BART Police Lt. Ed Alvarez about bike safety messaging. He knows the statistics inside and out and says the top tip to deter bike theft is "to ditch cable locks for U-locks." Thieves go for the quickest, easiest target, and a cable lock is an eye-catcher for many, Alvarez said.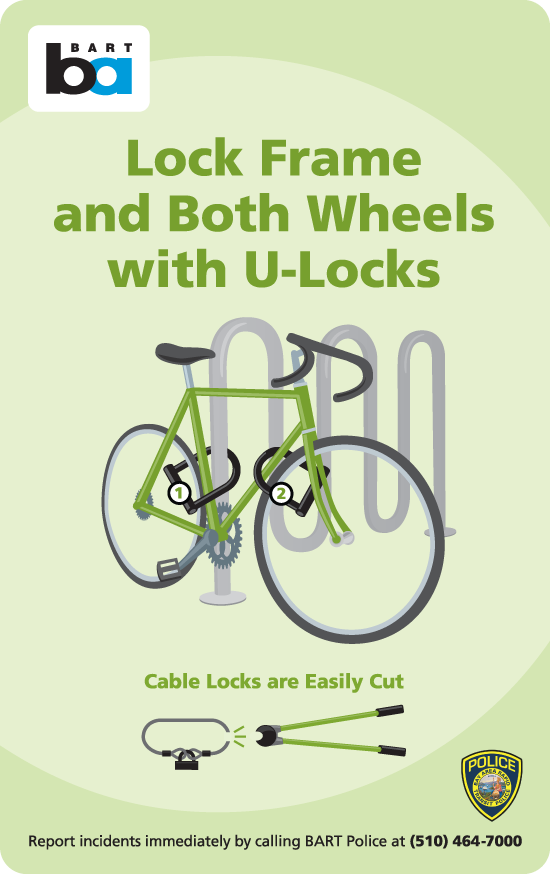 For example, in some fairly typical recent incidents:
* On Aug. 24, 2016, a victim reported the theft of their Kent men's 21-speed street bicycle from Fremont Station, where it had been cable locked in the free area bicycle racks.
* On Aug. 13, 2016, a victim reported the theft of their silver, black and red Specialized Stump Jumper Pro from the bike racks at 19th St./Oakland Station, where it was secured with a cable lock.
* On Aug. 11, 2016, a victim reported that their Trek men's bicycle, valued at $70, was stolen while cable locked at Lafayette Station. The same day, a victim reported that their Trek 4000 21-speed men's bicycle was stolen from racks at East Dublin Station, where it had been cable locked.
BART Police include checks of bike areas in their regular patrols, as well as using specialized tools such as "bait bike" or sting operations to target thieves. But there are not enough of them to be in every station at all times, so they count on the public for help. Secure your bike as well as you can and remember the advice, "If you see something, say something," to help be the eyes and ears that protect fellow riders.
It's also helpful to keep a copy of your bike's serial number, make, model, and color for BART Police in the event of a theft, (a handy identification form can be found here) but prevention is the department's main goal.
Cable locks, although lightweight and flexible, are a weak defense against theft. I've used a U-lock my whole life, and never had a bike stolen (yet). Locking one tire (preferably both) to the frame of your bike is the best way to go if you choose to lock your bike at a station or outside your workplace.
Other options for parking your bike at BART include electronic lockers, available at 34 stations, that also protect your bike from some elements, and my favorite option, bike stations. BART's bike stations are a free valet parking and BikeLink access control system that is easy and safe. So far, bike stations are present at Ashby, Downtown Berkeley, Embarcadero, Fruitvale, 19th St. Oakland, and Civic Center stations, but the program is looking to expand and service more bikers in the coming years. Here's a video on securing your bike at BART.
BIKES ON BART
Another concern many cyclists have is being a positive part of the BART rider community -- being courteous now that bike rules have been loosened to allow bikes at all times, with a few exceptions.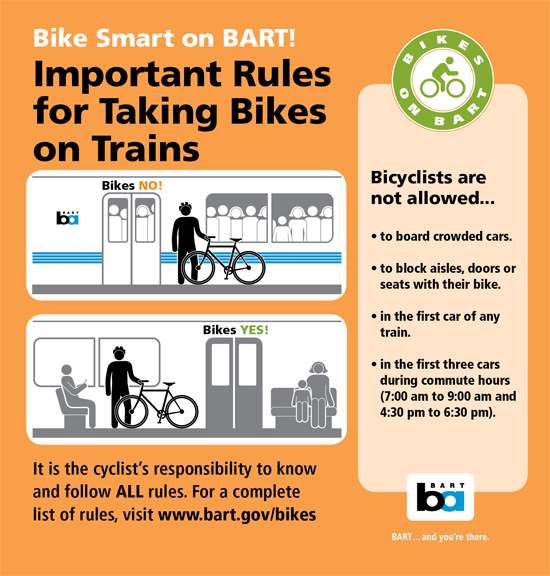 COLLABORATING WITH A STUDENT RIDER
BART Bike Program Manager Steve Beroldo worked with UC-Berkeley student Jaelen Loche (below, at right, with his bike) on one idea to help address the issue of keeping bikes safe and stable for everyone on the train.
"I feel like people are intimidated by bringing their bikes on BART because the car space seems like a hassle to deal with" said 20-year-old Loche, a Civil Engineering major at Cal, who helped create a simple solution to a common problem for bikers on BART.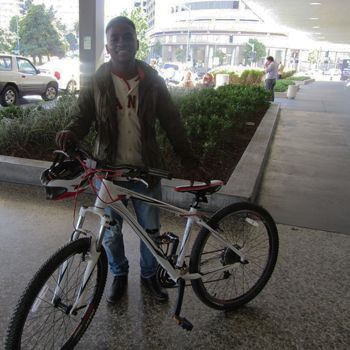 Loche takes his bike on BART from his home in Hayward to school almost everyday.
The straps Loche helped design could help with what some riders call "lean rail frustration."

Lean rail frustration is caused by having to keep one's bicycle free-standing in the allotted bike space without falling over onto passengers -- a consequence no one wants. Bikers without a bungee cord handy will sacrifice a possible seat and hold their bike the entire trip.
Loche, in collaboration with Beroldo, designed two types of straps that are being installed on cars that can be used to attach bikes to the bike-space rails inside cars, and even adjust to fit multiple bikes. "I just wanted to make things more efficient and increase bike riders in general. I definitely think BART could take more from students' brains to introduce new ideas" Loche added.
A SIMPLE, BUT HELPFUL, IDEA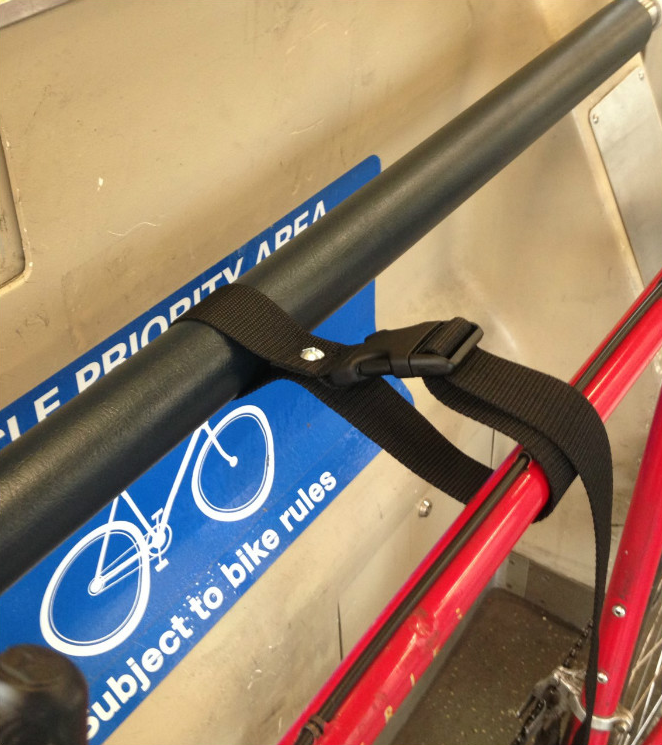 I can see myself using this handy feature. A couple of different versions are in the process of being installed on 60 bike spaces on cars throughout the BART system, with two straps per bike space, for 120 straps total when finished. There's a buckle version and a Velcro version. You can provide feedback on them at this survey link. I'm also eager to use the dedicated bike racks on new trains coming to BART in the future.
One of my family members who commutes from San Leandro station to 16th/Mission on a regular basis with his bike believes the straps "would be useful for most people, especially when stacking bikes on one car" and reminded me of another helpful tip: when stacking bikes, be sure to switch the direction of the handlebars with each new placement of a bike like a Tetris game to save space and ensure a better fit with minimal rub against the bikes.
A lot of positive feedback is coming in on the straps. Some comments that have come in so far via the survey include:
I think the straps are a great improvement! Keep em coming! They help with safety, of both my bike, the people sitting near it, and me (since I can sit down if there is space, not be standing while also trying to control a 30lb rolling object).
The straps give me peace of mind that my bike could be left unattended (but watched) and not be a hazard to other riders. I would like to see the straps on every car.
It's a great idea. Thanks! It will make securing bikes to the rail much easier and safer for all.
The bike strap allows for more flexibility and better control of the bike while bringing a bike on BART.
LOOOOVE THEM. Such a simple thing that makes things so much easier and more stable.
BIKE COURTESY
When taking my bike on BART, I use the stairs or the elevator to get my bike to platform level -- bikes on escalators are against the bike rules. Since escalators are narrow, they don't allow as much space for bikes and are a safety hazard if dropped.
At 16th/Mission currently and at the future Warm Springs you don't even have to carry your bike up the stairs because there is a convenient channel to move it along as you walk. Stations where BART is prioritizing installing bike channels include 12th and 19th St. Oakland, Civic Center, Coliseum, Del Norte, Downtown Berkeley and Lake Merritt. My bike-commuting relative says the channel at 16th/Mission is especially welcome if his road bike is under repair and he has to use his mountain bike, which is much heavier.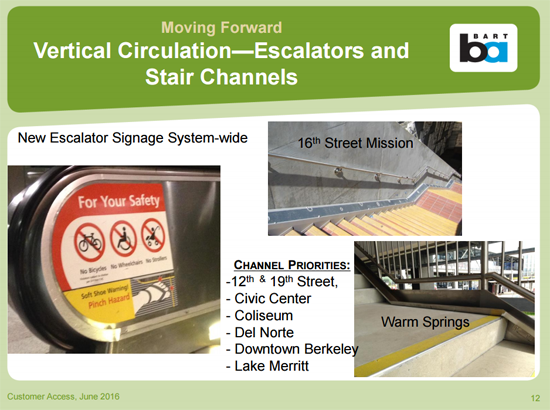 Ideas for more stair channels that were presented at a recent Board meeting
Another helpful courtesy reminder is that bikes are prohibited from entering the first train car so the operator can access their car without obstructions. In the event of an emergency, the operator might have to navigate through crowded cars and a bicycle blocking his/her entry can pose even more of an obstruction. I've tried to keep this in mind while entering from the platform before an operator has to remind me and wait for me to scurry to the next car -- but at least he didn't leave me behind.
If you're interested in learning more about bike policies and programs at BART, consider attending meetings of the BART Bicycle Task Force. You can find out more about them here.
If cyclists and non-cyclists follow the rules, show courtesy and use good judgment, there's a better chance we can all share the ride safely and comfortably -- and keep more cars off our freeways and out of parking lots, improving the enivronment for everyone.
You can also send feedback to bikes@bart.gov