Thousands attend tours of Fleet of the Future trains
11/7/16 Update
Over 4,500 people toured the new Fleet of the Future train and filled out a survey.
96% of respondents approved of the LED, energy-efficient lighting system in the new vehicles.
Ease of getting on and off the trains drew a 96% approval rating and exterior appearance was rated the highest with 97% of survey takers saying it was excellent or good.
Interior layout, floor-to-ceiling poles, seat comfort, and digital screens are among the other features that earned positive reviews from at least 90% of survey takers.
Of the 14 features listed on the survey, none scored below an 80% approval rating.
---
The Fleet of the Future is closer than ever to becoming a reality for BART riders.
Your chance to get an up close look at a test train for the new fleet is coming.
BART will hold a series of FREE open house events in October.
The Open House events will occur on a station platform at these dates and locations:
Saturday, October 15th at Pleasant Hill/Contra Costa Centre Station 11 am- 4 pm
Sunday, October 16th at MacArthur Station 11 am - 4 pm
Saturday, October 29th at Dublin/Pleasanton Station 11 am - 4 pm
*Students from the Oakland School for the Arts Vocal Chamber Choir will hold a flash mob at this event to entertain the crowds. Performances will be held at 12:30pm and 2:00pm on the concourse level of the Dublin/Pleasanton Station. (WATCH THE VIDEO OF THEIR PERFORMANCE)
Sunday, October 30th at El Cerrito del Norte Station 11 am - 4 pm
*A San Francisco location is not possible because it would cause service delays. The test train will be taking up one platform at these stations and in service trains will be single tracking around the events.
Customers who enter the station to tour the test train will receive a hand stamp for free entry and exit.
The first 200 visitors each day will receive a commemorative toy train. The toys were donated to BART courtesy of Intersection.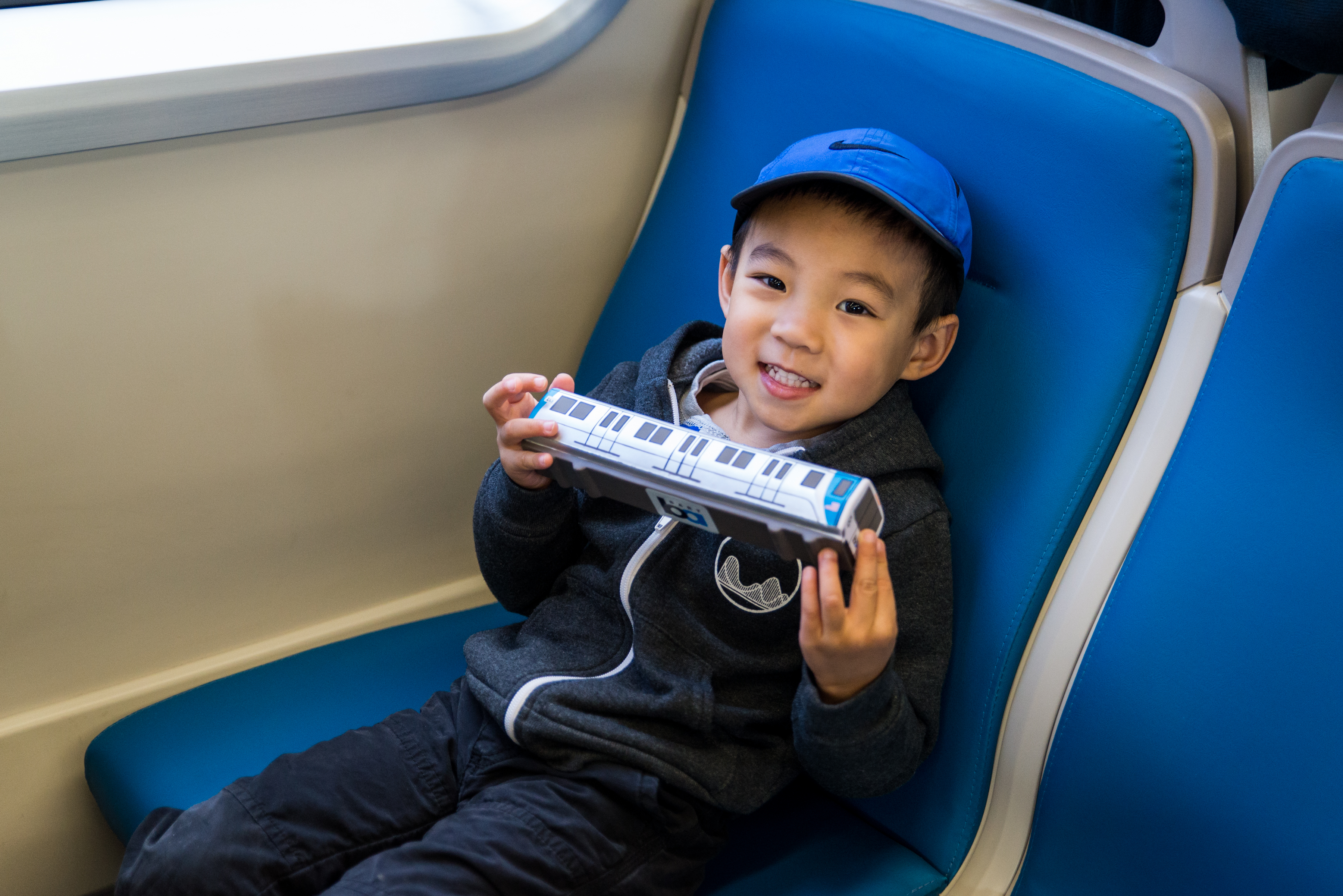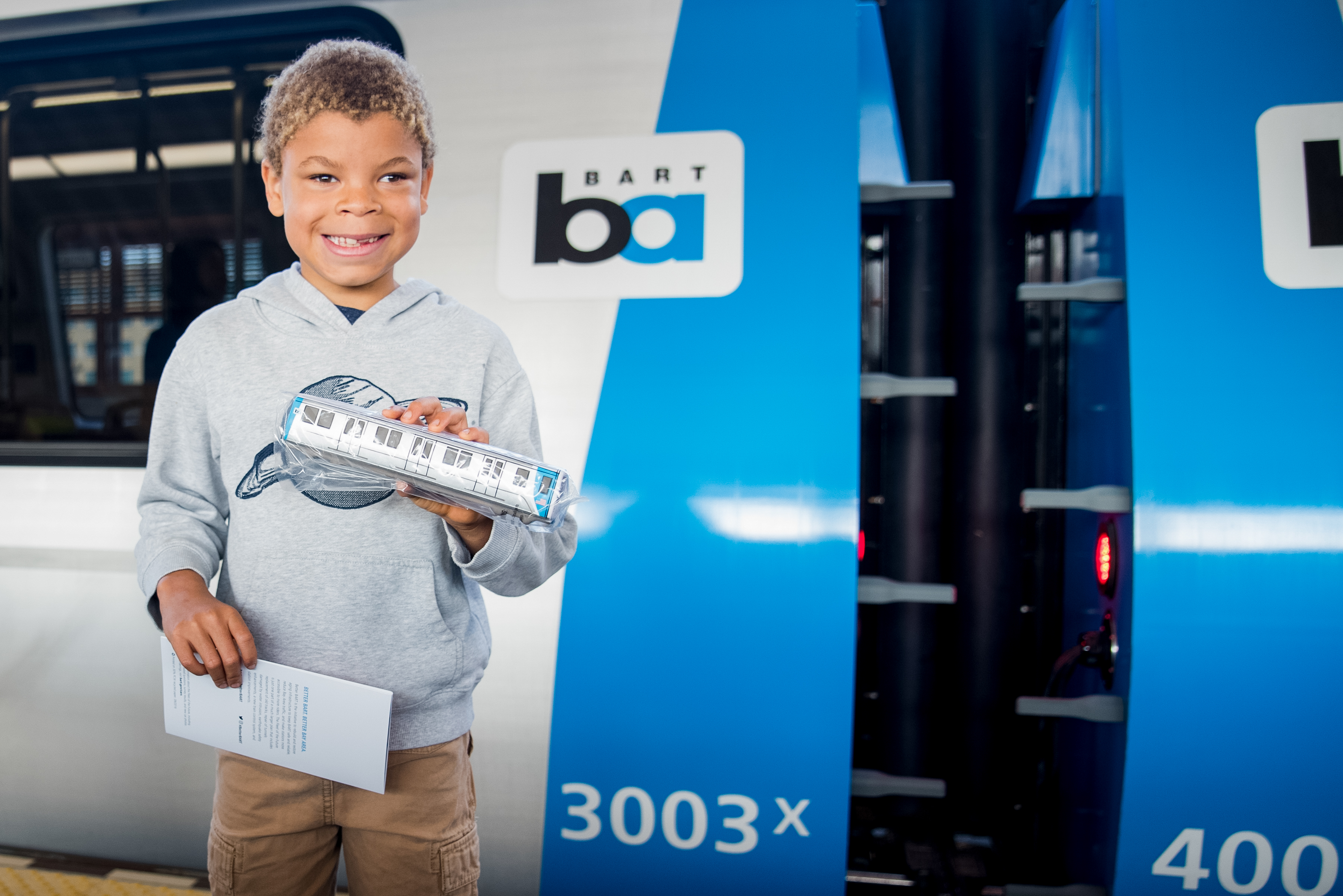 Riders have played a critical role in offering feedback on the new fleet with more than 35,000 customers participating to date.
The first new train will be put into service as soon as testing is complete and approval is given by the California Public Utilities Commission. That testing process is now 82% complete.
The new fleet is part of BART's broader efforts to build a better BART system and will bring several upgrades for riders.
Quieter - with micro-plug doors that help seal out noise and a new tapered wheel shape that provides a quieter ride.
Cooler - with cooling systems that distribute air directly from the ceilings, making it more comfortable for standees on hot days.
Comfortable - with padded seats that have lumbar support, and are covered with wipeable fabric for ease of cleaning.
Easy to use - with routes that are color coded like the BART system map, as well as next stop information via automated announcements and digital screens.
The new train cars will expand the BART fleet and provide much-needed crowd relief. The goal is to order a total of 1,081 cars, which would increase the number of seats in the BART fleet by 49%.
You can also get your Senior Clipper card at the event. If you are at least 65 years old, you can receive a discount on BART and other public transit services with just one card. Bring a government identification card to verify your age, complete the application and we will issue you a Senior Clipper card. If you bring a copy of your children's birth certificates, we will have youth card applications that you can complete. We will mail you a card for each eligible child.
Visit www.bart.gov/cars for more information about the Fleet of the Future.