Tenderness in the Tenderloin: Toy drive beneficiary changes lives of low-income children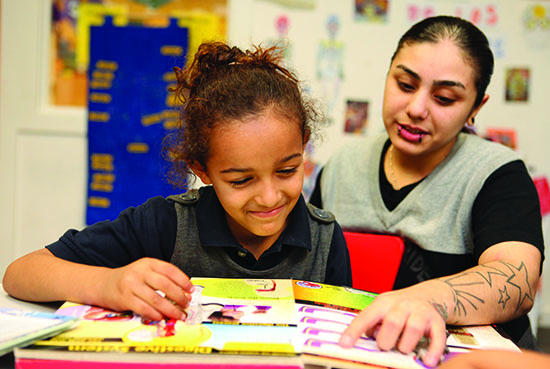 Catalina Ortega, right, works with a child in the Tenderloin After-School Program. Ortega, 25, attended the program herself when she was a child.
(Editor's note: This story uses first names only for program participants to protect their privacy)
By MELISSA JORDAN
BART Senior Web Producer
Wadad walks her 11-year-old son and 9-year-old daughter to and from their after-school program at Tenderloin Neighborhood Development Corp. (TNDC) on a cold, windy December day.
There are people huddled in boxes and under tarps on city sidewalks in this historic neighborhood, where some notice only the liquor stores, massage parlors and sound of sirens.
But there is another side to San Francisco's Tenderloin, which around 25,000 people call home, including more than 4,000 children. This is Wadad's Tenderloin, the one that TNDC has shaped with award-winning low-income housing, commitment to food equity concerns, social justice, community planning and an innovative after-school program that wraps children and teens in a warm embrace, and changes their lives. That is why TNDC is this year's beneficiary of the 10th annual BART employee toy drive.
---
In San Francisco, one of the most expensive housing markets
in the nation, 80% of TNDC's households have annual incomes
of less than $15,000
---
"My kids love it, love coming here, love seeing their friends," Wadad says in the impeccably clean and cheerfully decorated space that houses TNCD's Tenderloin After-School Program (TASP) on Eddy Street. "They get help with their homework, and they have fun."
When Wadad was a child in the same neighborhood, her own parents didn't come from a culture with after-school programs, she says, so they were naturally strict and wary, and she didn't have the same opportunity. "It was school, then home, always. School and home."
Not so for her children, who get to enjoy program services like field trips to parks and museums, arts activities from woodshop to stained glass, and educational enrichment like learning how to code and use technology with volunteers from the City's tech companies such as Twitter, Salesforce and NerdWallet, among the many corporate partners and supporters of the program.
TASP serves around 250 youth a year from ages 7-17, according to its director, Denise Obrero. "We've been here for 25 years," she says, noting the continuity of the program, now serving a second generation of families.
Former students in the program often get part-time jobs working there when they are teens, and some even come back to work in staff positions. Obrero has known program assistant Catalina Ortega, now 25, since Ortega was a toddler.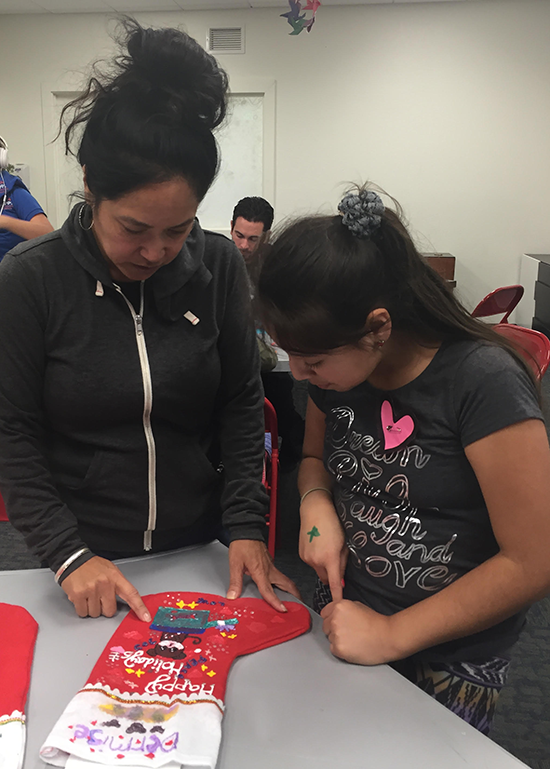 Denise Obrero helps a child who is decorating stockings for the holiday celebration.
"In the beginning, I was just working here for a job," Ortega says. "Then I realized I wanted to work with children for my career." She is attending City College and studying childhood education. "The atmosphere here is very family-oriented," Ortega says. "I grew up here. It was part of my daily routine."
One day last week, kids clambered around Ortega, talking excitedly about the upcoming holidays. In the teen center, a group of boys played pool. In the homework room, kids worked with a volunteer tutor, while in the lively common area, others played computer games and did art projects. In another room, youngsters focused intently on a small-group activity called "King and Queen." This day, it was a young girl's turn to be Queen; each child asked her a question about herself (like her favorite food) and decorated a page with the answer. Later, they would stand up to present their pages, which would be made into a book all about the Queen, for her to keep.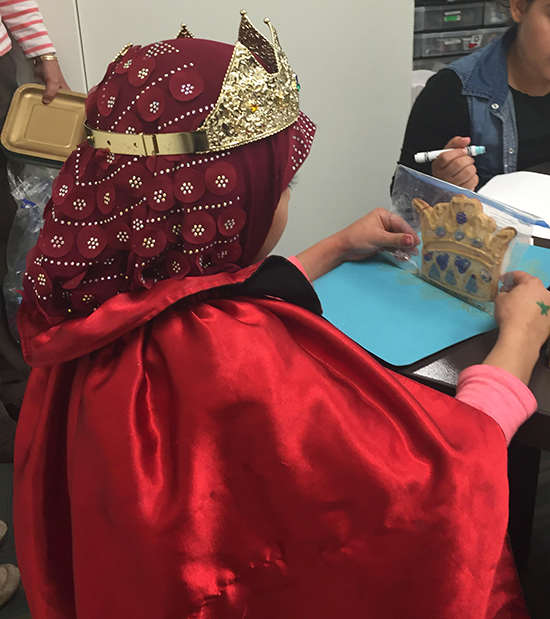 The "Queen for a Day" gets a special cookie along with a book made in her honor.
"The recipients of these books read the pages over and over and over," said activity leader Janice Gonsalves, a volunteer for the past 20 years in the after-school program. "The books seem to have lasting importance. Young adults have told me they still have their books from years ago."
---
The books seem to have lasting importance. -- Janice Gonsalves, 20-year volunteer
---
There was a palpable sense of anticipation among the youngsters leading up to the gift-giving celebration, when they will get special toys all their own to take back to their homes, brightening sometimes meager holidays. TNDC owns and operates around 4,000 units of housing, of all styles (from period buildings restored in line with historic preservation requirements, to architecturally modern jewels). All the buildings house low-income residents – 80% of TNDC households make under $15,000 a year -- and 97% of those residents utilize some of the voluntary support services that are offered. Some 40% of TNDC residents are senior citizens.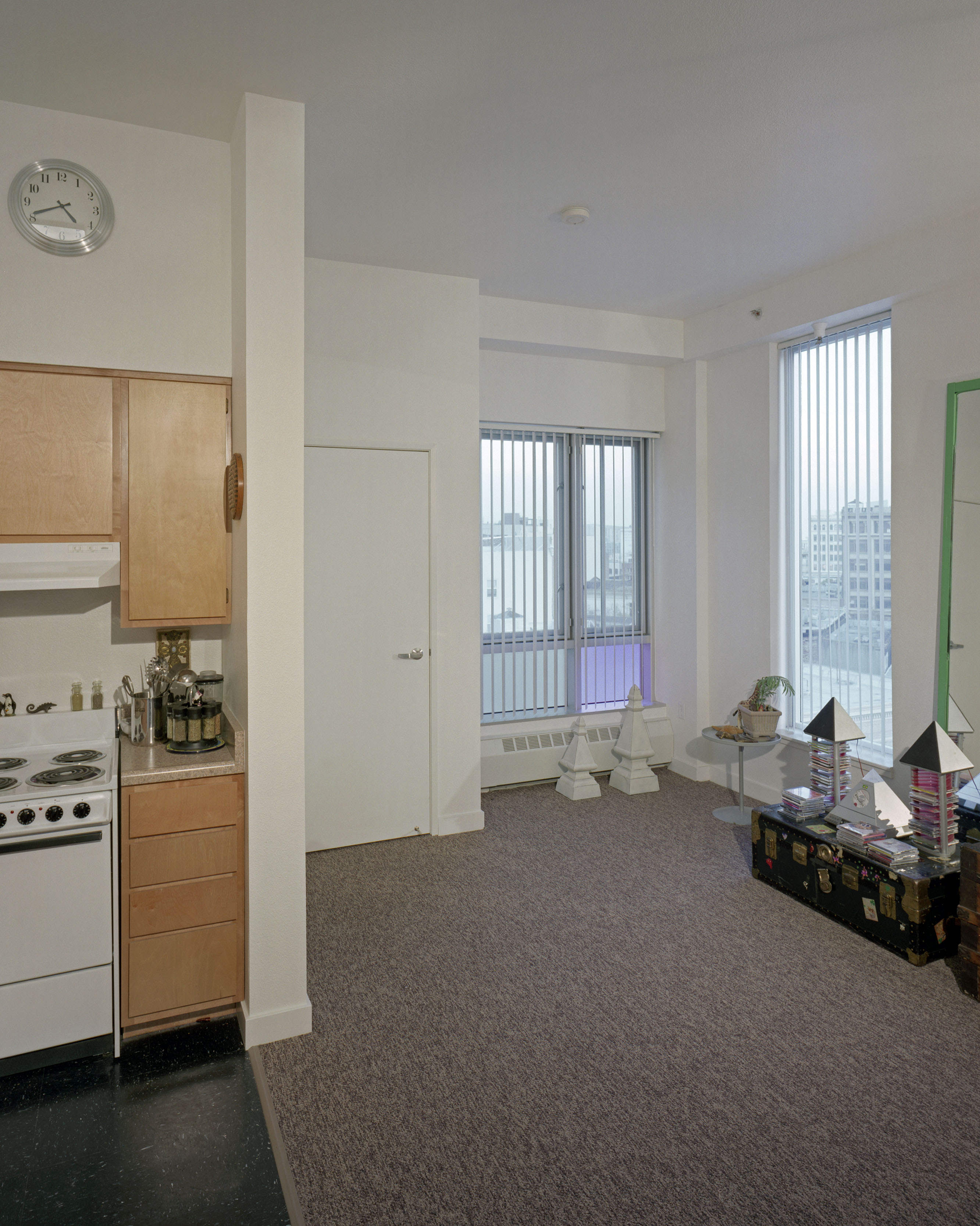 Example of a family housing unit provided through TNDC, with multiple bedrooms large enough to create a home for a family with several children
Units are spacious and have kitchens, but each building also has a common dining area, to encourage community. Health and Wellness staff educate TNDC residents about healthy aging in place and provide weekly cooking demonstrations. TNDC manages the Tenderloin People's Community Garden, located across the street from UC Hastings School of Law near Civic Center BART Station, as a peaceful area for residents who want to grow their own food. Along the the People's Garden, there are four rooftop gardens at various TNDC buildings, creating opportunities in a food desert for healthier eating.
---
There is a clear link between health and housing stability -- Denise Obrero, TASP manager
---
"There is a clear link between health and housing stability," Obrero says.
There are intergenerational activities, integrated health services, fitness classes, culturally-specific celebrations, and, of course, the after-school program that will benefit from this year's toy drive.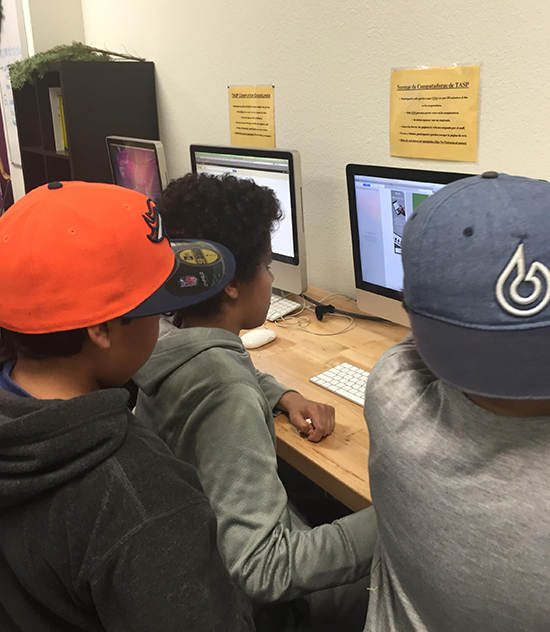 Boys play a computer game at the Tenderloin After-School Program last week
The BART toy drive is a homegrown affair typical of many organizations that sponsor special efforts during the holidays to help disadvantaged children and families. It relies on some longtime core helpers from the Government and Community Relations (GCR) Department, and a partnership with BART Police. Workers bring in unwrapped toys that grow over the month of December into a mountain under a festive tree. The Board of Directors will ceremonially present the gifts to TNDC representatives after their meeting on Dec. 15; BART Police will deliver them later in time for a Dec. 21 holiday party when the kids will open them.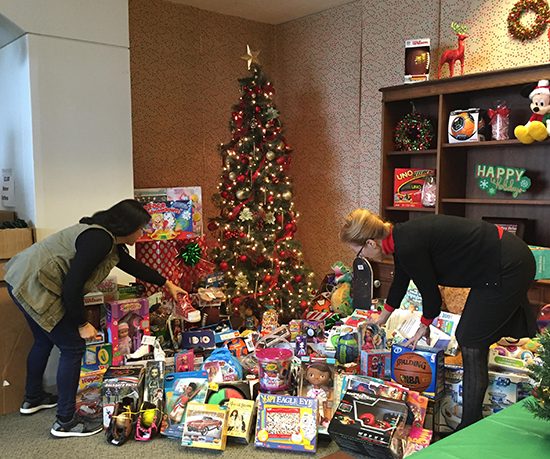 BART Government and Community Relations staffers organize donated toys.
"My kids are counting the days" until the holiday party, Wadad said, in an interview last week at the after-school program.
"We partner with non-profit community-based organizations all year long, but the toy drive is something special that we do each year at the holidays," said Molly Burke, GCR representative for San Francisco City and County. The beneficiary organization is rotated among the three counties that make up the BART District, including Alameda and Contra Costa. This year, Burke helped select the beneficiary.
---
We wanted to give back to the community with some holiday cheer -- Kerry Hamill, BART Assistant General Manager for External Affairs
---
"TNDC is an organization that provides a full slate of resources to people of all ages and backgrounds and needs," Burke said. "Some people are surprised to find out there are so many kids and families living in the Tenderloin neighborhood." TNDC's integrative housing and social service model provides a holistic approach to addressing the needs of its residents.
Kerry Hamill, Assistant General Manager for External Affairs, formerly headed the GCR department and was part of the group that started the toy drive a decade ago.
"We wanted to give back to the community with some holiday cheer, and BART employees have been very generous," she said. Over the years, many thousands of dollars' worth of toys, gift cards and other presents have been shared with community non-profit organizations through the toy drive.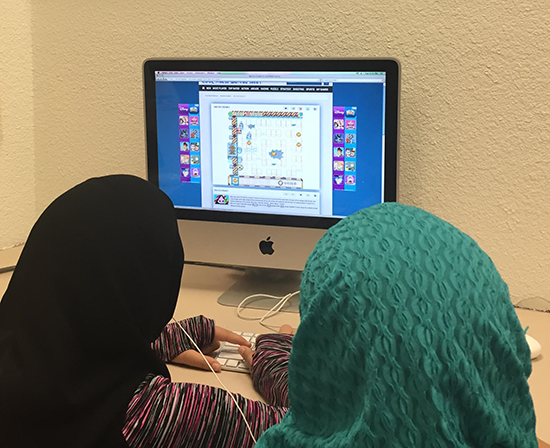 Girls play a computer game at the Tenderloin After-School Program last week.
Burke and Lisa Moland of GCR are among the "Santa's helpers" who collect donations from throughout the 3,000-plus-workers of BART, giving suggestions on what is newly popular each year and on old favorites (dolls, games, books, art supplies, sports equipment, board games, etc.). Employees too busy to shop for and bring in a toy just donate cash and let the volunteer elves shop, resulting in the mountain of toys awaiting their delivery.
Moland, who is retiring at the end of this year, has helped every year in the drive's history.
---
It fills my heart to help an organization that gives toys to kids that may not have much at Christmas - Lisa Moland, BART's Government and Community Affairs Department
---
"Christmas is my favorite time of year at BART," Moland says. "It fills my heart to help an organization that gives toys to kids that may not have much at Christmas. It's rewarding for me and my coworkers to collect as many toys as we can so that every child will have a toy or gift card. It makes me proud to work for BART knowing that our employees really stepped up this year with donations."
TNDC was started in 1981; next year its after-school program will celebrate its 25th anniversary. "We're a huge part of the fabric of the Tenderloin community," Obrero says. "We serve children from all ethnic backgrounds including Latinos, African-Americans, Vietnamese and newly arrived Arabic families." Last week one little girl watched, wide-eyed with curiosity, as other kids were interviewed. Obrero explained she was recently arrived from Yemen and was new to learning English.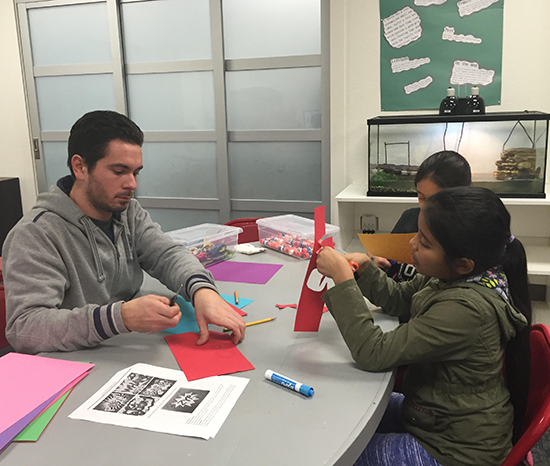 Eddie Freeman, TASP coordinator of program activities, helps kids with artwork.
The program's services for teens include college application help and trips to visit colleges – something not always possible for low-income families, or those where parents did not attend college themselves (most of the participants). In addition to UC and CSU schools, visits have included Historically Black Colleges and Universities (HBCUs) in the Southeast, Ivy League campuses in the Northeast, and colleges in Hawaii. For many, it is their first time flying on a plane or even staying in a hotel.
Services also include jobs for teens who started as children in the after-school program, so they can get work experience and save for college (while earning a little spending money, too). Other teen services include daily tutoring and job career shadowing sessions.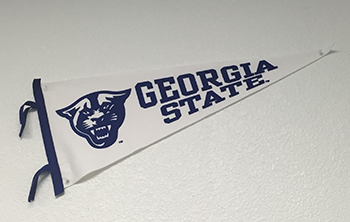 Banners from colleges visited on tours hang in the teen center, like one from Georgia State University, at right.
Nidhi is a proud alumna of the program. She started in middle school, when her family moved from India and, like so many living the immigrant experience, settled where they had a family member, in her case an uncle, living in San Francisco's Tenderloin. It was a culture shock for a young girl from a small village with many deprivations.
"I didn't know anyone and didn't speak English," recalls Nidhi, who is now a freshman at Sonoma State University, planning for a career in some aspect of health care. "Right away, I had friends. I practiced my English in the after-school program and got help with my homework. My family didn't have much money so they gave me school supplies and things. I always felt like I had support and that I was welcome."
---
Without the program, I wouldn't be where I am today -- Nidhi, a freshman at Sonoma State University
---
Around age 15, she got a job in the after-school program, helping other kids. "I had to be a leader to the kids," she says. "It taught me so much. Without the program, I wouldn't be where I am today." She keeps photos of kids that she worked with on the walls in her dorm room, to remind her of home. Having grown up amid the hustle and bustle of the Tenderloin, she finds campus quiet in comparison.
Teens from the program visited her campus recently and gathered around in her dorm room, incredulous at the freedom and opportunity. "They said, 'You're really in college?' and I told them, 'Yes, of course, and you can do it, too,' '' Nidhi recalls.

She'll be back working in the program during her holiday break from college, and will help hand out the gifts at the Dec. 21 celebration.
This turtle has kept watch over the program for its entire history and is an estimated 45 years old. It gives the experience of caring for a pet to children who aren't able to have animals in their housing.
To learn more about TNDC and how you could volunteer or donate directly, visit http://www.tndc.org/ . Photos of Catalina Ortega and interior of housing unit are used courtesy of the Tenderloin Neighborhood Development Corp.