Union City Station transit-oriented development project hits a milestone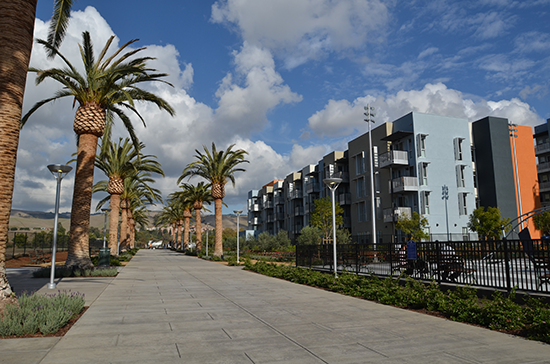 Promenade lined with palm trees leads to housing within steps of the BART Station
By MELISSA JORDAN
BART Senior Web Producer
The latest milestone in the Union City Station District comes Friday, May 12, with a ceremony to mark completion of the new East entrance to the BART station -- an entrance that opens onto a grand promenade that leads to housing, shopping and other transit-oriented development.
The new entrance is washed in natural light from a large skylight. Shiny corrugated metal on the walls gives a sleek, modern feel to a space that will eventually connect directly to the promenade and plaza. (It's accessible now with a two-block walk, but the city is waiting on the Union Pacific railroad to sign off on an at-grade pedestrian crossing that will link the entrance directly.)
"There is a whole new feel" to the Union City BART Station since its makeover, said Mark Evanoff, deputy city manager. "What used to be sort of dark and dingy is now bright and inviting."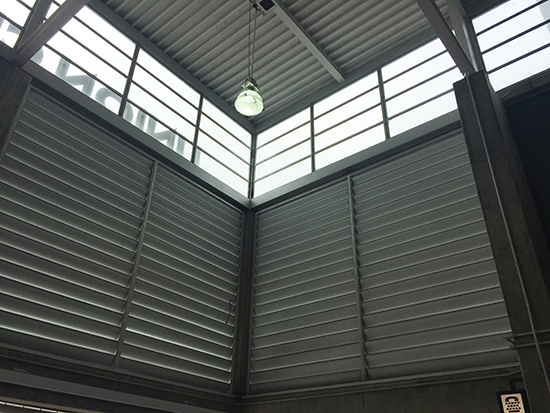 Corrugated metal on the walls and skylights give the building a modern and open feel
Fei Tsen, president of Windflower Properties LLC, is developing housing in the Station District, along with CityView. "Being close to public transit is so incredibly important," she said. "We are true believers in transit-oriented development.
"What's happening is we are building a whole new neighborhood on the East side of the BART station," she said. "Union City has done the right thing by allowing us to build densely, allowing for more units, and reducing the parking ratio" (One parking space per housing unit).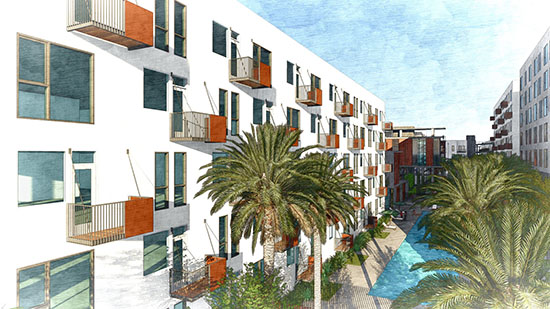 Rendering of soon-to-be completed Union Flats housing complex in the Station District
"There are lots of public spaces, the plaza, the promenade, the tree-lined streets; we wanted to make it beautiful as well as convenient," Tsen said.
INVESTMENT PARTNERS
There has been a total of $161 million in public investment in the Station District. Some $82 million of those funds came from the city of Union City; other funding was secured through grants. Public investment then motivated the private sector to invest half a billion dollars in the Station District for housing, with another $1 billion planned in private investment for additional housing and office space development.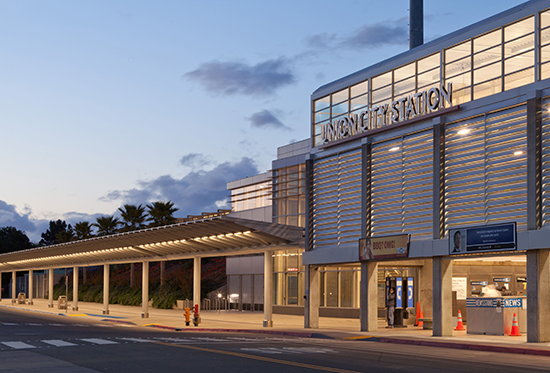 Bus bays are topped with solar panels to help power the Union City BART Station
Phase 1 improvements to the station included relocating bus bays to enable buses to park directly outside the West side of the station under an 800-foot bus shelter topped with solar panels to power the station. Landscaping around the station has brought bright pops of color and lush green spaces. Phase 2 improvements on the East side have resulted in an open, airy layout where pedestrians can pass through the free area of the station from one side to the other.
Eventually, they'll be just steps away from one of the largest additions of new housing units near a BART station, along with amenities including public art and outdoor recreation spaces.
FOUNTAIN FIGURES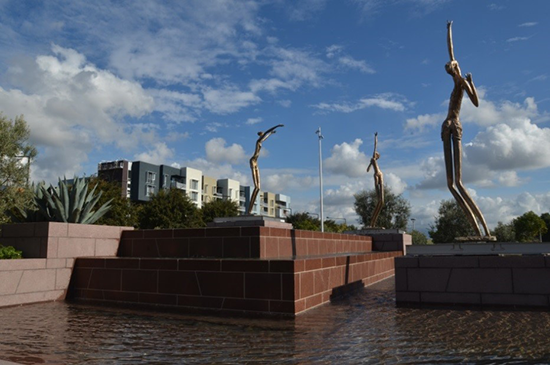 Three dancers by the sculptor Louis Derbre are incorprated into a central fountain
The promenade, lined with palm trees, is centered around a large, multi-directional fountain that provides for different water displays. The fountain incorporates figures of three dancers created by the acclaimed French sculptor Louis Derbre. Landscaping features bright colors and a variety of plants suited for the area, from lavender to olive trees.
HOUSING DENSITY
Beyond, the Station District boasts 1,000 new housing units within a quarter-mile of BART (of which 250 are affordable family homes), a greater concentration of density than many similar projects. Next year, construction will start on an additional 450 housing units. At the Station Center apartments, there are grassy courtyards and benches where parents can sit and watch their kids play on an eye-catching, 35-fooot-high play pyramid, one of only two of its kind in the world. Inside, there's exercise equipment; a computer room; and an after-school activities room.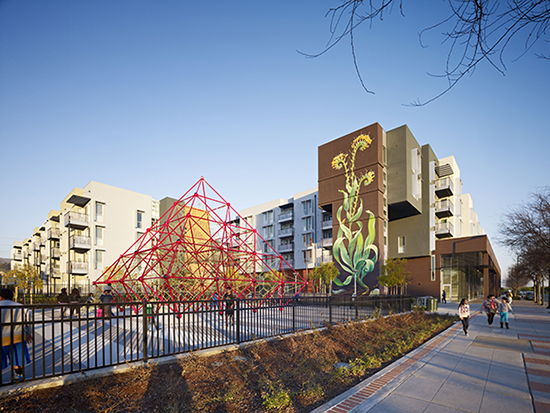 The residents themselves came together to guide one of the more striking artistic elements of the complex; a larger-than-life sunflower is painted up the side of one building. At the base of the painting, the word "welcome" is written in different languages used by residents of the building.
MAKING LIVES EASIER
"This is all about making people's lives easier by improving their transit experience," said Lauren Sugayan, communications and marketing manager for Union City. "By cutting down on time spent in transit, they'll have more time to spend with their families or on activities they enjoy."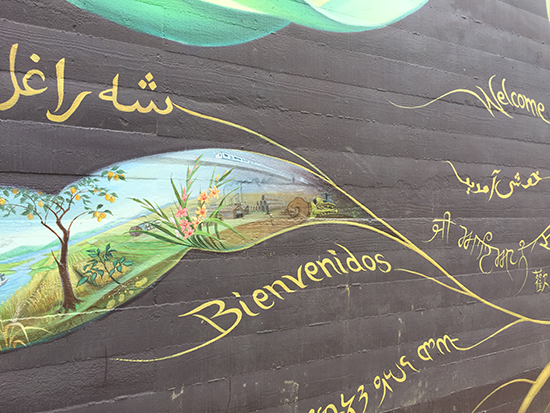 A detail from the mural, which features "welcome" in languages of all the residents
FROM A NEGATIVE TO A POSITIVE
And the city benefits, too. What had been essentially negative-value land -- the contaminated site of the former Pacific States Steel plant, which had once been the city's largest employer -- "is now tax-generating property," Evanoff said. "And a big part of the reason we were able to attract these investments is that they're right next to BART."
The area surrounding the station also is zoned for 1.2 million square feet of office spaces. "It's really about this district being a new, exciting, mixed-use neighborhood," said Kirk Syme, CEO of Woodstock Development, the office space developer.
"We were attracted to this site specifically because of its proximity to BART" and other transit connections, Syme said.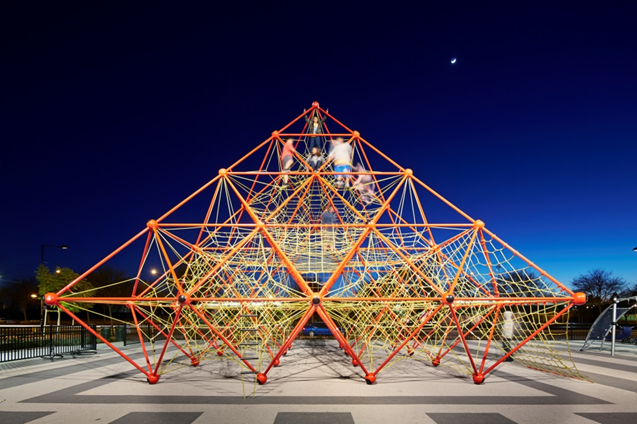 The play pyramid seen at night, with children climbing toward the top of the structure
UNVEILING THE ENTRANCE
Among the dignitaries scheduled to attend the May 12 ceremonial event are Union City Mayor Carol Dutra Vernaci; and BART Director Tom Blalock, whose district includes the Union City BART Station.
Partners and investors in the Station District include: Avalon Bay; MidPen Housing Coalition; Windflower Properties LLC; CityView; Woodstock Development; Union City Redevelopment Agency; California Department of Housing and Community Development; Alameda County Transportation Commission; Metropolitan Transportation Commission; Federal Transit Administration; and Economic Development Administration.
For more information about opportunities and attractions at the Station District, you can reach Union City's Communications & Marketing Manager Lauren Sugayan at (510) 675-5400 or at laurens@unioncity.org.