Gio's Journey: Boy who loves trains gets special BART experience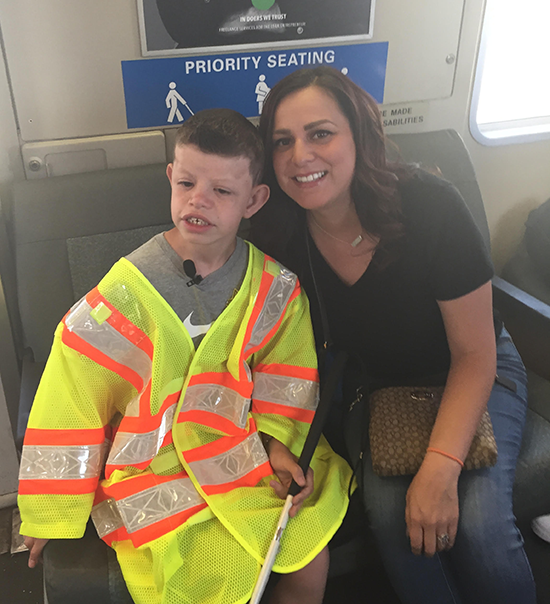 Gio Garrett with his mom, Dianne Linares; they are from Lafayette
By MELISSA JORDAN
BART Senior Web Producer
Gio Garrett is only 11, yet he knows the BART system by heart and his favorite thing to do is ride trains. On Friday, thanks to the overwhelming public response to a social media post by his mom, he got to live out the dream of little boys who love trains: visiting the control center, taking a ride in the front, making an announcement over the intercom, and being cheered by s train full of passengers.
Gio has a rare condition known as Williams Syndrome, a genetic anomaly present from birth that can affect anyone. In some cases, as in Gio's, medical problems can arise -- he required two brain surgeries, one of which left him in a coma for six days and blind. And that's how he first became fascinated by BART, when his room at Children's Hospital in Oakland overlooked BART tracks with the frequent rumble and beep-beeps of passing trains.

"When he woke up from his coma, that's what he could listen to all day and that's how it all began! From that moment on, he was in love. He's learned every stop, every transfer, every fun fact, how long they stop at each stop," his mother, Dianne Linares, wrote in a note to KTVU anchor Frank Somerville who shared the story on his Facebook page.
Linares was hoping to learn the identity of a Good Samaritan whom she and her son met on a recent train ride, to thank him publicly for giving her son a high-value BART ticket.
She wrote, and Somerville reposted:
"My son Gio loves Bart! We take Bart about once a week and go everywhere and explore all stops! With Gio being blind, it just makes sense to encourage him to explore all means of transportation. Well, we were arriving at the 19th street station and Gio's cane kept slipping and hitting a bike. He asked what his cane was hitting and I told him it was a bike. He then loudly asked, 'Where did you ride today?' and the gentleman replied telling us he went on a hike. He then asked how Gio's morning was and Gio replied, 'Awesome! We were on BART all morning!' The guy gave a crazy look and said: 'You've been on Bart ALL morning?' I explained Gio's fascination with BART ... After I finished the story, the gentleman looked impressed and it was apparent he didn't want to stop his conversation with Gio. It was even more apparent that Gio made a new friend. We finally arrived at the Lafayette Bart station and started to get off and Gio shouted 'Bye, have a good day!!' in his usual friendly voice. Before we could exit, the gentleman quickly asked me if he could give Gio a gift, I said yes. As the BART doors started to shut he quickly handed us a card. I looked down and I was in shock - he gave Gio a BART train ticket. But not just a regular old Bart train ticket, but one that had enough money to ride Bart for the REST OF THE YEAR ... It was such a joy to be reassured that there are still good, kind, compassionate, and friendly people in the Bay. And with all of the horrible events that have been happening on Bart recently, it's comforting to know that there are Good Samaritans riding amongst us."
According to the Williams Syndrome Association website, the condition is characterized by medical problems, including cardiovascular disease, developmental delays, and learning challenges. These often occur side by side with striking verbal abilities, highly social personalities and an affinity for music. Williams Syndrome affects 1 in 10,000 people worldwide – an estimated 20,000 to 30,000 people in the United States. It is known to occur equally in both males and females and in every culture. Children with Williams Syndrome tend to be social, friendly and endearing. Parents often say the joy and perspective a child with WS brings into their lives is unimaginable.
Gio Garrett with K-9 Officer Rodney Barrera and Nelli
Gio began his tour Friday at Lake Merritt Station to visit the Operations Control Center, which is the nerve center for BART. He met staff members, including the station agent, a BART Police K-9 unit officer and his partner, Nelli. He also got to meet new BART Police Chief Carlos Rojas. Later, he hopped on a train and got to go up front with the operator and make an announcement over the PA system: "Now approaching Fruitvale Station!" (Which happens to be his favorite station.)
Next stop was Coliseum Station and a ride on the BART to OAK airport connection. With his keen sense of hearing, Gio picked up on the different sounds made by the cable-pulled airport train than those made by regular BART trains. He also commented on the sounds of airplanes taking off and trucks roaring by.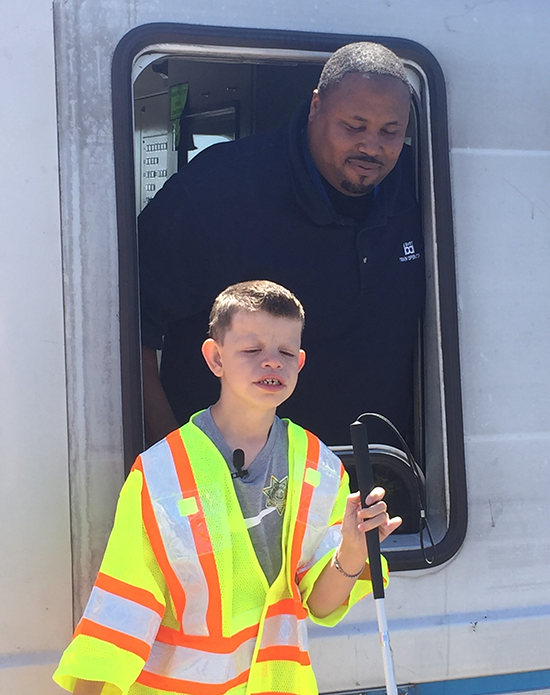 Gio Garrett outside a train after meeting Train Operator Jamaal Cotright
Linares said she lets her son take the lead, and wants him to learn by exploring with all his other senses, rather than focusing on his loss of sight. She has taken him to the Grand Canyon and to Georgia (where he rode the MARTA train system), and declared her goal is to help him visit every state.
And if the Good Samaritan is never identified, she said she hopes others heed his good deed and pay it forward.
"Just be nice to people, even if you don't know who they are," she said. "We need more kindness in the world."
You can follow Gio's Journey on his Instagram or Facebook pages.