Senior citizen field trip shows ease of using Clipper and value of senior discount
By JIAHAO HUANG
BART Communications Intern
As the BART train rolled toward the Warm Springs/South Fremont station, BART's newest station, rider Gwen Roger-Bynes reminisced about her past.
"I used to work for General Motors down here, before the plant became Tesla. Back then, BART didn't extend here. I'm glad to see how much growth and progress the area has seen recently," she said.

Gwen was one of 15 senior citizens on a BART field trip in July, part of a program in which BART Customer Services works with nonprofits and other groups to coordinate outings and sign up seniors for the Clipper Card.
This group, from the North Oakland Senior Center, elected to start their trip at Ashby Station, to the new "end of the line station" at Warm Springs. BART staff focused on explaining the advantages of the Clipper smart card: it can be registered, to prevent against losing funds if it is lost; it can be used on different Bay Area transit systems, cutting down on the number of cards to keep up with; and -- best of all to many -- the senior discount is built right in, to save money.
For this roundtrip Ashby-Warm Springs journey, seniors save more than $6. What is a $10.20 adult roundtrip is discounted 62.5% to $3.80 for riders age 65 and over.
Savings will add up for riders changing from paper tickets to Clipper Cards. Starting Jan. 1, there will be a 50-cent surcharge on each trip with paper tickets.
After being shown a brief demonstration by BART Customer Service representatives Samson Wong and Betty Cao, seniors learned rapidly and were tapping away at Addfare vending machines on their new Clipper cards.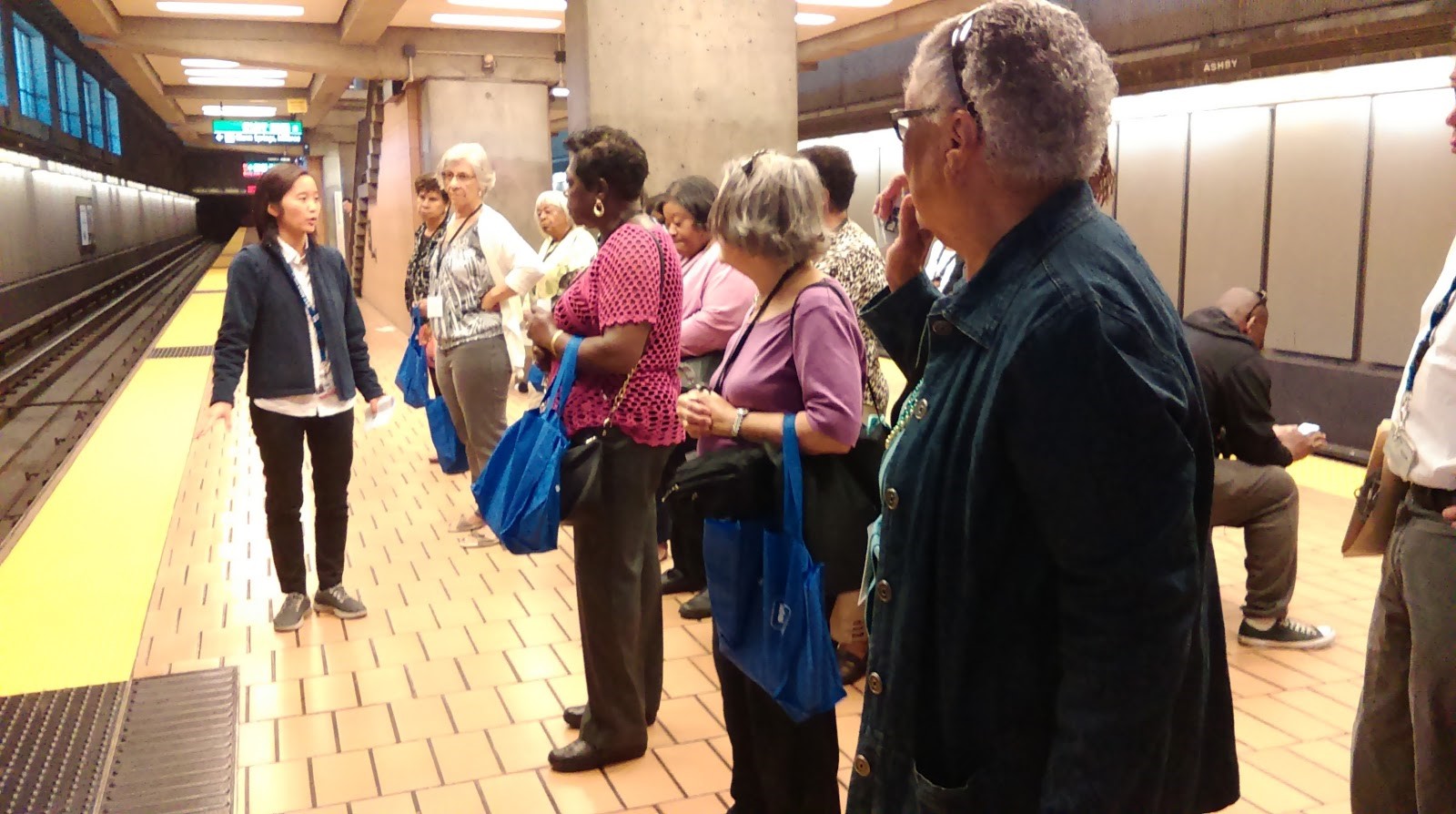 Betty Cao explains the features of the BART platform, including the yellow safety strip
"I love the way Clipper connects with all the transit systems of the Bay Area," said Gwen, the former auto factory worker. "It's also nice to have a relaxing day away from traffic."

Many of the seniors expressed their frustration at traffic congestion in the Bay Area, citing BART as a convenient alternative.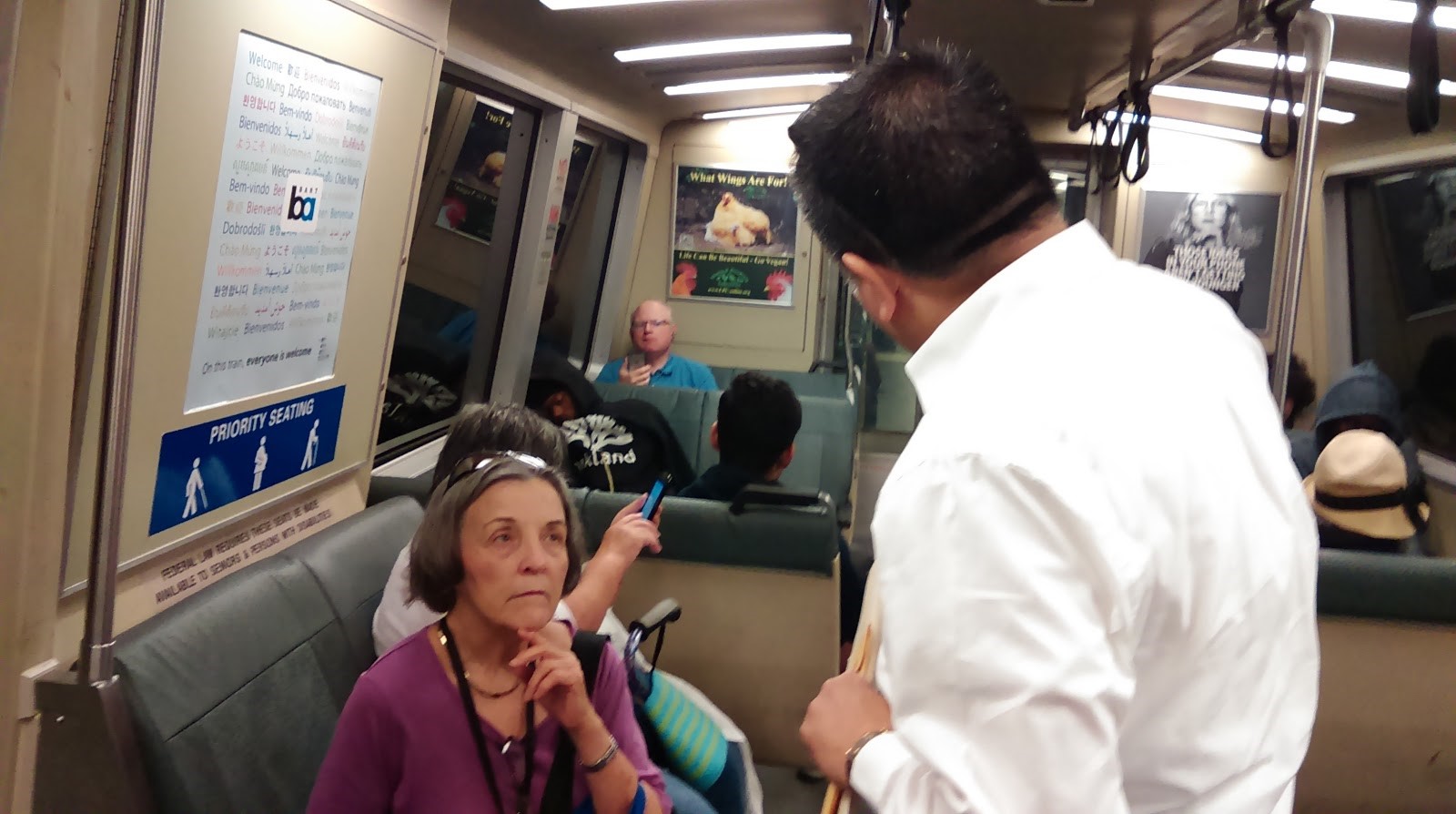 Samson Wong talks with Elena Bunnell, one of the seniors on the field trip, about advantages of BART
"I used to drive to SF, but I just got so sick and tired of the traffic," Elena Bunnell lamented. "Now it's so much cheaper for me to take BART. Parking is terrible in SF, but with Clipper, I can get off BART, take Muni, and get to where I want, when I want."

Along the ride to Warm Springs, the seniors were lucky enough to catch a glimpse of the new Fleet of the Future train cars as the train passed maintenance and training areas at Hayward. The first batch of pilot cars are now being tested and used for training of the men and women who will operate the trains.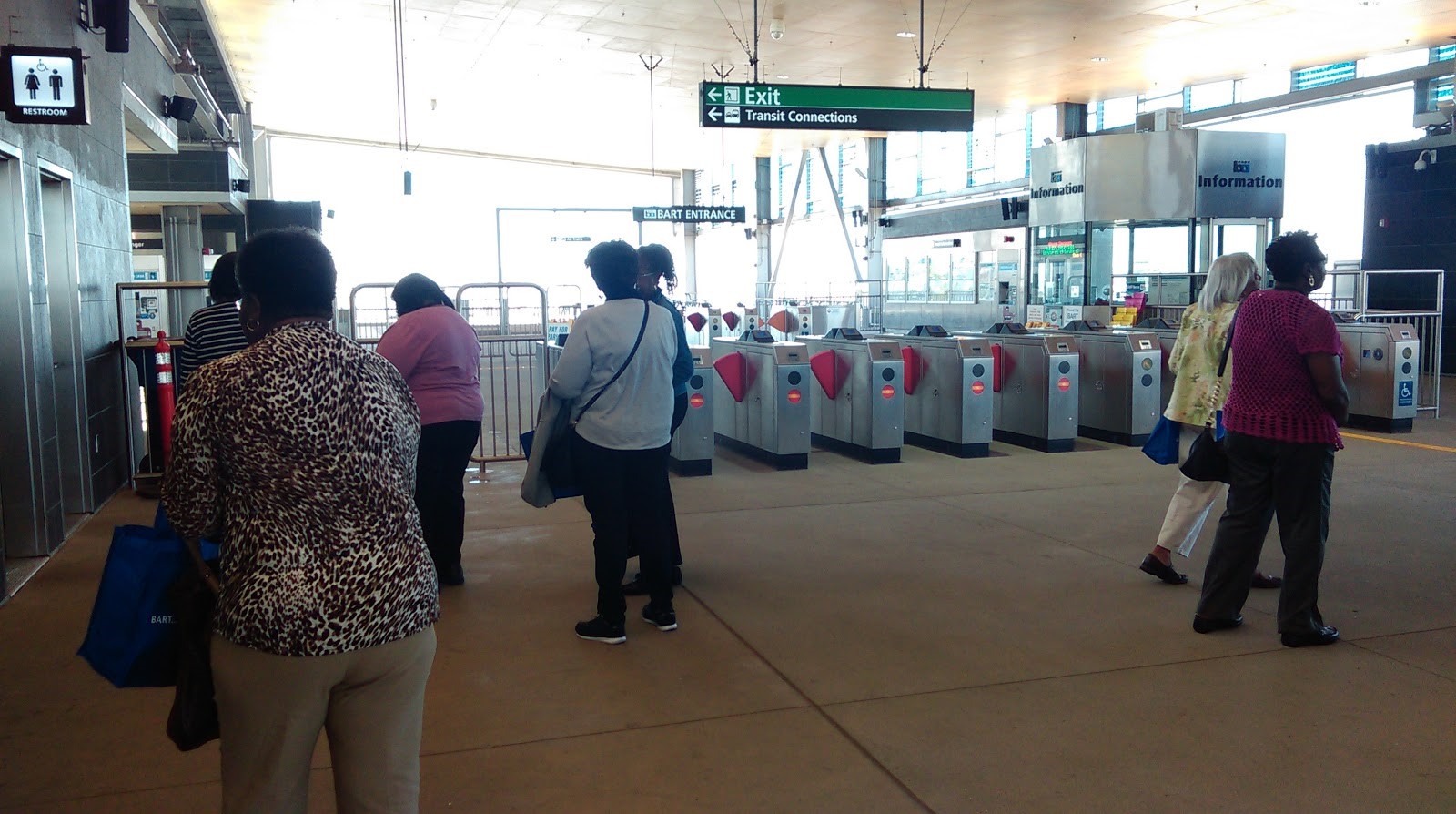 The seniors, exploring the newest addition to BART stations, Warm Springs/South Fremont
The seniors were eager to ride on the new trains, which are expected to be ready to begin passenger service later this year, with more rolling out through 2022 (see www.bart.gov/cars for full delivery schedule). They were also excited to tour the new Warm Springs/South Fremont Station, which is full of innovative environmentally friendly features, including solar panels and electric car charging stations.
Senior citizen field trips are scheduled as staffing and other resources allow. For more information contact BART Customer Services at 510-464-7134
Seniors also receive a BART tote bag with useful materials inside, including the senior discount fare chart and the Learn to Ride BART Guide .
More about BART senior resources like field trips and workshops:
Senior citizens: Using Clipper card is a breeze – and keeps us active and on the move (5/18/16) www.bart.gov/news/articles/2016/news20160518-0
Senior citizens learn about the benefits of BART at transit fair (7/2/15)
www.bart.gov/news/articles/2015/news20150702
Senior citizens learn how to ride BART with confidence on group field trips (6/24/14)
www.bart.gov/news/articles/2014/news20140624
Podcast: Moving oral histories of Tanforan at BART's San Bruno Station (9/9/16)
www.bart.gov/news/articles/2016/news20160909