Small parking lot to close at Coliseum Station starting 9/5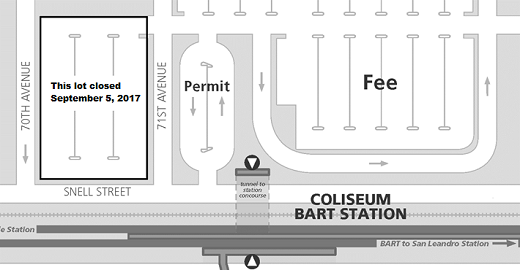 On Tuesday, September 5, we will permanently close the parking lot bounded by Snell Street and 70th and 71st Avenues at Coliseum Station. (See map on reverse). This date is subject to change. Signs will go up in the lot 72 hours before the closure.
We will work with the City of Oakland Economic Development Corporation and UrbanCore Development to build a 110 unit apartment building on the site. 50% of the units in the building will be affordable housing and 50% will be set aside for City workers like teachers, police, firefighters, etc. There will also be 1000 square feet of retail space.
The City will make street parking available to replace the spaces taken for this project. Details will follow.
We appreciate your understanding of these changes.