Beacon of Hope: Davis Street Family Resource Center is this year's BART toy drive beneficiary
By MELISSA JORDAN
BART Senior Web Producer
12/21/17 Update: Today the BART Board of Directors officially handed over 700 toys to the Davis Street Family Resource Center to hand out to families in need this holiday season. Thanks to the many BART employees who volunteered for the toy drive and everyone who donated.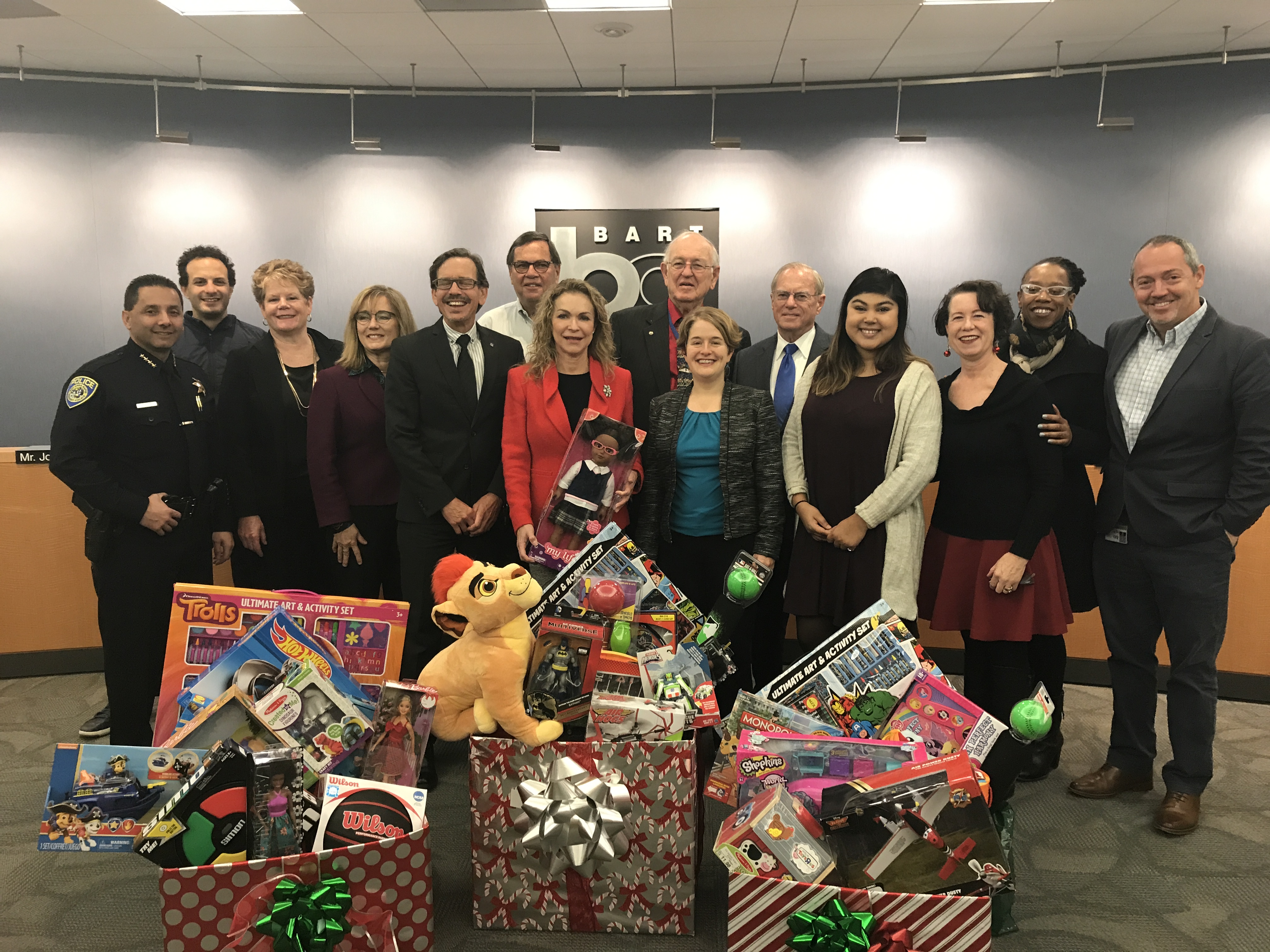 ---
Volunteer Ricardo Martinez hoisted crisp, red apples along with other fresh produce and seasonal canned goods into bags, preparing for the 47th year that Davis Street Family Resource Center has provided holiday food baskets and bags of new toys for families in the surrounding area.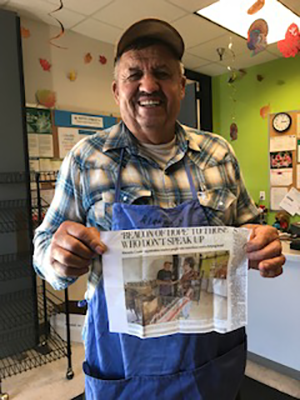 This year, BART is helping fill the toy bags, with Davis Street as the beneficiary of the annual BART toy drive. Each year, employees donate new toys that are collected and presented to one of the many deserving nonprofit organizations in the three counties of the BART District.
"It takes a village to pull this off," said Davis Street CEO Rose Padilla Johnson, who herself has been with the center for more than a quarter-century. That kind of longevity, stability and especially the broad range of services offered made Davis Street an ideal fit for BART's toy drive, said Molly Burke of the Government and Community Relations Department. (Top image: Volunteer Ricardo Martinez holds up an article in which he was featured. He keeps it in the pocket of his apron).
"Davis Street has such an all-encompassing program to meet families' needs," Burke said.
Services include a medical clinic, dental clinic, mental health services, five childcare centers, a food pantry, clothing distribution center, healthy cooking classes, a program for people with developmental disabilities and, of course, the holiday food basket and toy program.
The needs are so great that participation in the holiday program is capped at 1,000 families getting food baskets, and more than 2,500 children receiving bags with three new toys each – so at least 7,500 toys are needed.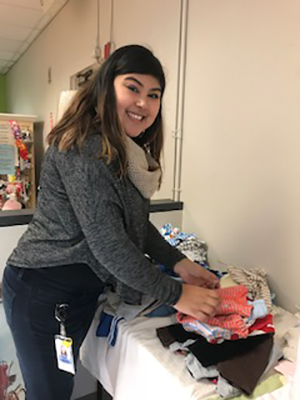 In the last fiscal year, Davis Street served 5,332 patients for medical care and 2,748 for dental. Another more than 1,000 people accessed behavioral health and counseling services. There were more than 21,300 visits to the food pantry and about 5,800 to the clothing room. (Second image: Development Associate Shannon Kumar sorts clothing items.)
The largest single category of funds spent by Davis Street is to help families with the costs of child care through its alternative payment program, which provides vouchers. Amy Chappelle, Associate Program Director, said early childhood education is more than just day care.
"Those years from 0-5 are pivotal for learning, and they lay the foundation for future success," she said.
The learning for the youngest kids isn't necessarily academic, but through playtime and socializing with peers and teachers, the children become prepared to succeed in kindergarten and beyond. "Do they know how to wash their hands? Do they understand sharing and taking turns? Can they listen to a story?" … those are the kinds of things kindergarten teachers expect, and what some kids may miss out on.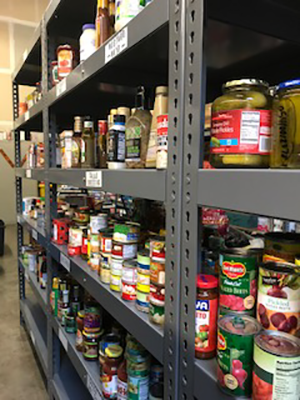 Johnson said that as society's safety nets become more frayed, the role of the Davis Street Center is even more important to help families struggling to make ends meet. (Third image: A view of the food pantry; below, a box of potatoes on the "share table" where clients can drop in and take what they need.)
"A lot of those we serve are the working poor, a silent majority" she said. "They are proud people and they are contributing. Many work two or three jobs, for very long hours. And housing is becoming a bigger and bigger challenge as people are displaced."
In addition, the center serves many immigrant families whose children are English learners and help chart the course for their family's futures. The center recently held a seminar to provide information on the status of the Deferred Action for Childhood Arrivals (DACA) program, for the young "dreamers" whose future is in jeopardy. Some undocumented clients were so afraid to attend that they sent friends in their place to get the information.
There are many success stories along with the struggles.
Some of Davis Center's clients were lucky enough to win lotteries for low-income housing in a new transit-oriented development project near San Leandro B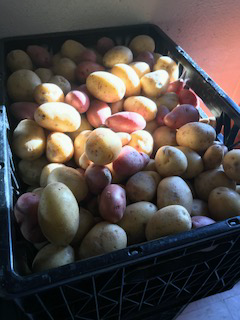 ART Station. Others get along by sharing housing with multiple families; some live from time-to-time in vehicles or become homeless, literally out on the streets with nowhere to go. There's a triage process to help those in direst need first.
Come Dec. 21, when it's delivery day for the toys from BART, the well-oiled machine at Davis Street will be running on overdrive putting all the boxes, bags and baskets together. Families begin lining up at dawn to get their holiday baskets. BART Police will help deliver the toys to the center.
Others pitch in as well. "We rely on the Alameda County Fire Department for (more) toys and the San Leandro Police Association for bikes. The community brings in the food needed to tie our Holiday giving together," Johnson said.
Shannon Kumar, Development Associate and a recent graduate who is pursuing her masters in marriage and family therapy, volunteered at the center before she became an employee.
"It was such an amazing feeling, to see so many people getting help with basic needs that some people take for granted," she said. "We are really making a difference in lives."
Like so many at Davis Street, Martinez, the volunteer who was filling food bags, has longtime connections to the center. Retired now, he enjoys coming in nearly every day to help out. On a recent visit, he pulled out a folded newspaper article from the pocket of his apron from many years ago that featured him in a photograph, and displayed it proudly.
"That's what we are," he said, pointing to the headline on the article. "A beacon of hope."
BART's Burke said it's only fitting for BART employees to contribute during the holiday season.
"All year long we ask our communities for their cooperation, their input, their ridership," she said. "This is our opportunity to give back to those communities."
For more information about the center, visit its website, http://davisstreet.org/