Fare cheats beware, be ready to show proof of payment in 2018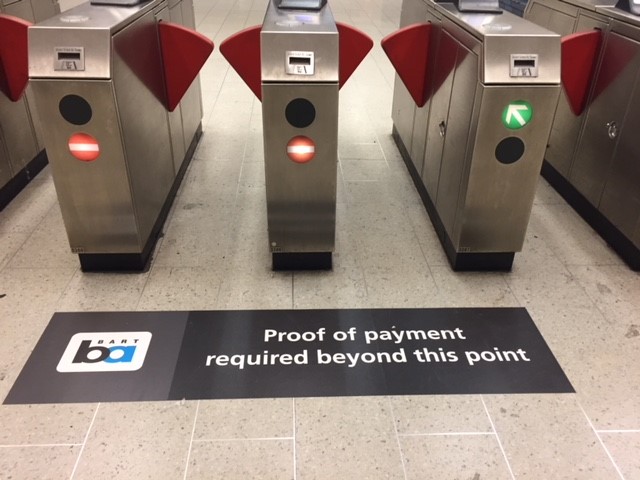 Chinese (在中文) Spanish (En Español)
Starting in 2018, BART will require proof of payment inside the paid area of stations and on-board trains. Any person inside the paid area of BART must be prepared to show a magnetic stripe ticket or Clipper card with valid fare.
The BART Board of Directors passed the proof of payment requirement on October 26, 2017 to crack down on fare evasion. The new ordinance takes effect January 1, 2018. There will be a one month grace period when violators will be warned instead of cited.
Who will enforce proof of payment?
Proof of Payment will be primarily enforced by a team of Fare Inspectors, who are unarmed employees of the BART Police Department (Community Service Officers). Prior to beginning enforcement, the team will receive special training that includes protocol for fare inspections, communication techniques, fair and impartial policing, use of fare media inspection devices, and how to operate body worn cameras, which they will activate during fare inspections.
Fare Inspectors have the authority to issue civil citations but do not have the authority to issue criminal citations. If in need of assistance, Fare Inspectors may contact a BART Police Officer.
BART Police Officers will also enforce proof of payment in certain situations, such as a Station Agent witnessing an alleged fare evasion or checking fare media if a rider has been detained for another suspected crime. BART Police Officers will not regularly carry fare media inspection devices but will have access to a device when needed.
How will proof of payment be enforced?
Fare Inspectors will ask for proof of payment on trains and in stations using a systematic approach to ensure fair and impartial enforcement.
Enforcement by Fare Inspectors
When conducting inspections on trains, the Fare Inspectors must proceed from one passenger to the next nearest passenger and check as many passengers as possible.
When conducting inspections on station platforms, the Fare Inspectors must proceed from one person to the next nearest person, checking as many people as possible.
Fare Inspectors will activate their mobile video recorders prior to the start of any fare inspection.
Enforcement by BART Police Officers
Police Officers may contact an individual and request proof of payment under the following types of circumstances:
If the officer has reasonable suspicion to believe that the individual may have fare evaded into the paid area of BART.
When summoned to a call for service and/or when contacting a person for suspicion of any other criminal act.
What happens to proof of payment violators?
People who violate the ordinance will be issued a citation.
Adults who fail to show proof of payment in the paid area or on a train, upon a first or second violation within any 12-month period, will be issued a civil administrative citation.
A Police Officer may issue a criminal citation to an adult for failing to show proof of payment in the paid area if two or more civil administrative citations have been issued to the adult within the past 12 months.
Juveniles who fail to show proof of payment in the paid area or on a train will be issued civil administrative citations (not criminal) for proof of payment violations.
A Police Officer may issue a criminal citation to any person who knowingly gives false information to a Police Officer or Fare Inspector engaged in the enforcement of this ordinance, or if the person otherwise obstructs the issuance of a proof of payment citation.
What are the penalties?
Civil citation fines will be $75 for adults and $55 for minors. Community service options are available. More information about the community service options will be posted here once they are finalized.
Criminal citation fines are not to exceed $250.
What checks and balances are in place?
An appeal process similar to that for parking violation citations is available for individuals who believe they were wrongly cited.
BART will conduct quarterly audits of enforcement demographics.
Fare Inspector and Officer body camera videos will be randomly selected for analysis and reporting on a monthly basis.
The Office of the Independent Police Auditor will have access to review and conduct spot checks.
Six months after the January 1, 2018 implementation, BART Police will report to the BART Board of Directors the number of:
proof of payment contacts
civil administrative citations
requests for community service
delinquent payments
repeat offenders
criminal citations
Why require proof of payment?
The Board of Directors took the action of passing the ordinance as part of a multipronged approach to reducing fare evasion, which includes education, better barriers between the free and paid areas of stations and better data collection in addition to increased enforcement. BART estimates it loses $15 million to $25 million to fare evasion each year and fare cheaters erode the trust of honest, fare paying customers.
Read the ordinance approved by the Board