Teen spring break checklist: Get Youth Clipper card, save money exploring the Bay!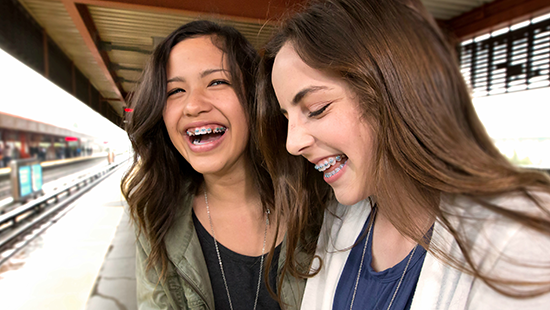 By JIAHAO HUANG
BART Contributing Writer
With many Bay Area schools soon to observe spring breaks in their schedules, here's a tip for something to do with a day off school: get your Youth Clipper© card!

It's not as appealing as a day at the beach or on the slopes, but it could save you enough money to do those, or other activities, next time the chance comes along.
Since a new discount went into effect for teens 13-18 on January 1, 2018, use of Youth Clipper cards has skyrocketed, jumping over 200% percent in a month.
Before the new 50% discount went into effect, youth older than 12 paid full adult fares, and those aged 5-12 got a discount. In 2017, about 8,000 exits each week were made by riders using a Youth Clipper. (Kids 4 and under ride for free.)
As the discount extended, by the end of January, BART was seeing more than 25,000 exits each week by riders using Youth Clipper. With such a simple application process, that's no surprise, as shown by a 236% increase in mailed applications and a 69% increase in emailed applications in the beginning of 2018.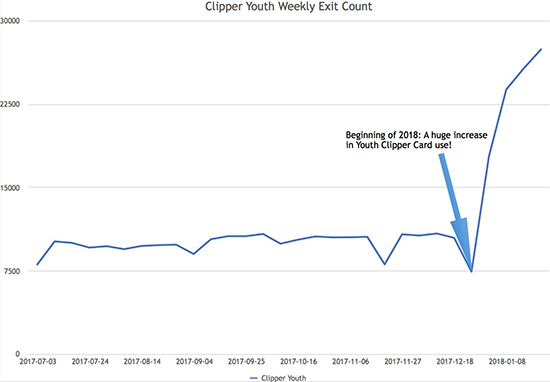 Want to know how to grab a Youth Clipper card yourself? It's easy! Simply pop by the Lake Merritt BART Station Customer Service Center during the center's business hours or a Clipper Customer Service center with proof of age and a Youth Clipper Application
Or, you can mail an application and proof of age to Clipper Youth/Senior Applications, PO Box 318, Concord, CA 94522-0318.
You will need one of the following to demonstrate your proof of age:
Birth certificate or passport

State-issued identification card or driver's license

Permanent resident card ("Green Card")

Matricula consular/consular identification card

SF City ID Card

Student identification card with date of birth

Military dependent card with date of birth

Medical benefit card with date of birth
Once you're equipped with a brand new Youth Clipper card, it's time to save big bucks! For a round trip 19th Street Oakland to Fruitvale journey, for example, the undiscounted fare for a teen would have been $3.90 with a Clipper card last year. Now, with the Youth Clipper discount in effect, that teen would pay only $1.95 for the same ride.
"It's a great way to save money for my commutes", Raymond Y. of Alameda, CA, says. "Fifty percent really makes a difference when you use BART almost daily."
With 95% of youth applications fulfilled within 2 days, it's no wonder that Bay Area youth such as Raymond find Youth Clipper easy to apply for and use.
And, if you're looking for fun things to do during your school break, you can check out this list of 60 destinations near BART stations, produced by our SFBARTable website, with something that's sure to suit every taste.