Two more Clipper outreach events in March: Learn how to save on BART with Clipper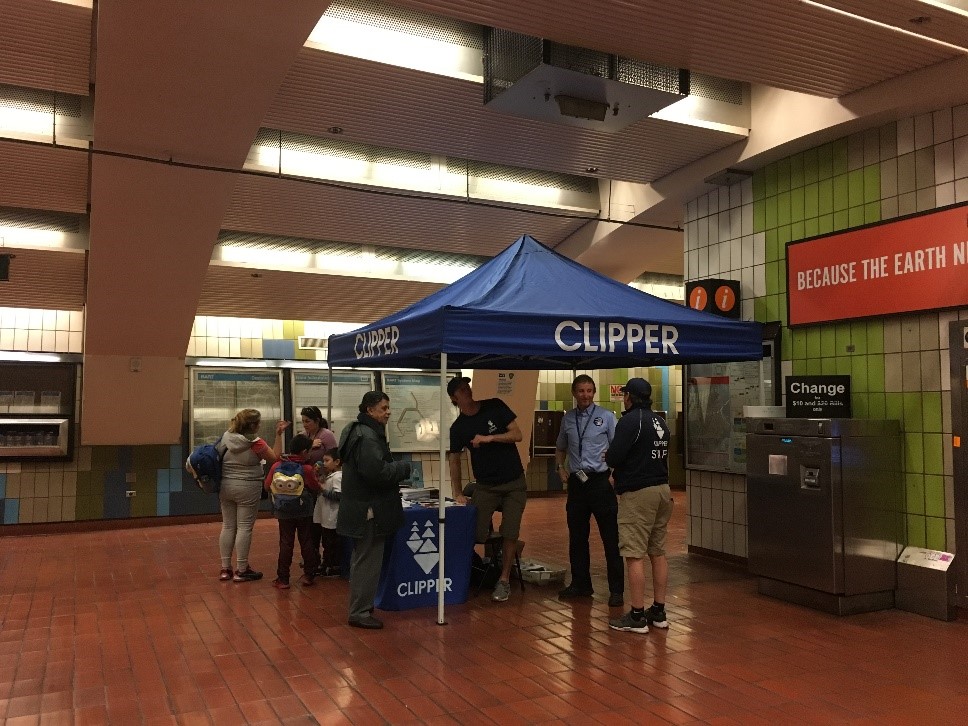 Outreach event held at 16th St./Mission Station in February
Still to come in March are four more outreach events where you can get a free Clipper card and learn how to save on BART by using Clipper. The upcoming events are:
March 25, As vs. Giants Pre-season, 12pm--3pm
March 27, Fremont Station, 4pm--7pm
Dozens of outreach events have been held in recent months, leading up to and since a 50-cents surcharge was added to the fare for each ride using BART blue tickets.
The extra cost charge was added to encourage customers to use Clipper for fare payment. There is no extra cost for Clipper fares. Paper tickets jam our fare gates, so moving more riders to Clipper means fewer jams and less fare gate maintenance.
Meanwhile, the eligible age for a Youth discount has increased to 18. The discount is now 50%; just get a Youth Clipper card for free to avoid the added fare for youth tickets of 25 cents per ride. The Youth discount applies to those ages 5-18. Children 4 and under always ride free. Download the Youth Clipper application form.
Seniors and people with disabilities continue to get a 62.5% discount. Get a Senior/Disabled Clipper card free online to get the discount and avoid the added fare for green or red tickets of 19 cents per ride. Download the Senior Clipper application form. Download the booklet for the Regional Transit Connection Clipper (for riders with disabilities). For more information on all of these programs, visit the Clipper website.
Advantages of Clipper
Clipper has many advantages over paper tickets:
· Clipper is accepted by all transit agencies in the region.
· The loaded value on the Clipper card is secure when you register the card—if you lose the card, the balance can be replaced for a small fee.
· Clipper is reusable and long-lasting, unlike paper tickets that get worn and tattered.
Currently, all BART stations have at least one Clipper card vending machine in the station--some have 2. There are now 56 machines in the system and by 12/31/17 there will be at least 100. These machines will vend standard Adult Clipper cards only. There is a one-time $3.00 fee to get the card.
Clipper and BART have been co-sponsoring outreach events to distribute free Clipper cards to those whom the fee could be a hardship.
You can still add cash value to Clipper at all BART Ticket Vending Machines using cash or a credit/debit card (including transit benefit cards).
To get Clipper online, find in-person locations, or to find out more about how to get a discount card for Senior/Disabled or Youth, please go to clippercard.com.
Once you have your Clipper card, you can add cash value online at clippercard.com or set up Autoload to automatically add value when your card balance is low. You can also register your card for free to ensure your balance is protected if your card is lost or stolen.
How to use Clipper to pay for BART parking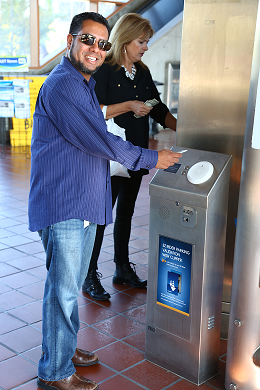 You can link your Clipper card to your BART EZ Rider parking account for a more convenient way to pay for parking. Once you have Clipper, go to https://ezrider.bart.gov/ezrider/ and follow the instructions to link the card to our parking program.