Westbound BART: Singer's new track tells of BART ride that lifted writer's block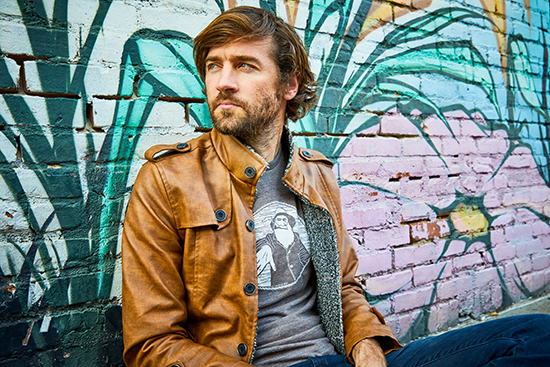 John Craigie. Image by Keith Berson Courtesy of Missing Piece Group
By MELISSA JORDAN
BART Senior Web Producer

A track called "Westbound BART" on singer-songwriter John Craigie's upcoming live album went down pretty much exactly as he describes it in his stage banter.

Craigie was stuck in writer's block when a friend in Berkeley encouraged him to take BART into San Francisco to karaoke night at Amnesia bar in the Mission District, in hopes of shaking loose some new material. In the song Craigie, who graduated with a math degree from UC Santa Cruz, writes:
"On a Westbound BART, dove underwater, and my ears popped, and your eyes watered, and the mascara ran down your face..."
"You got off at 16th and Mission and I did too...
"Til finally you stepped in to the same bar that I was going to..."
"I sang 'Lay Lady Lay' ... you sang 'Bohemian Rhapsody' and everybody sang along, especially on that part that says I sometimes wish I'd never been born at all"
We caught up with Craigie by phone on his way to play at the South by Southwest Music Festival in Austin, Texas. He'll be at the Fillmore in San Francisco on Friday, March 16, opening for jam band Animal Liberation Orchestra.
In "Westbound BART," Craigie sings of going up to the woman in the bar and telling her how much he liked her singing. She responds that she liked his version of Bob Dylan's "Lay Lady Lay."
The song continues:
"You know I don't normally do this karaoke thing, but if I do, I either sing that song or Everybody Must Get Stoned, Rainy Day Women #12 and #35, technically, that's what that song's called."

"You said, 'Yeah, what's with that song title, what's with the 12 and 35?"

"I said 12 times 35 is 420, you know what they say about 420, maybe that's just the math major in me talking."
The excursion on BART broke through his writer's block and led to the song's title.
"Girl, I used to roam around, play my own guitar, sing my own songs, but it's been a while since I've been on the road. You see I lost my muse ...but just today, the most amazing thing happened, I saw something beautiful and I felt the spark of a brand new song that I have not felt in so long."
San Franciscans may know Craigie from his performances at venues like the Great American Music Hall, or from the Center Camp stage at Burning Man.
"My style of music is that every song is a story," Craigie told us. "Westbound BART is very clear, and everything I say in it, did happen." (Full disclosure: "Westbound BART" contains one swear word along with the minor cannabis reference. You can listen to it here on The Boot)
Finally: Craigie, who was born and grew up in the Los Angeles area and now makes his base in Portland, Ore., demurs in comparing LA Metro, TriMet and BART, except to say, "I've ridden BART a lot in my time."