Crucible chronicles: Go behind the scenes to see how welders are helping rebuild BART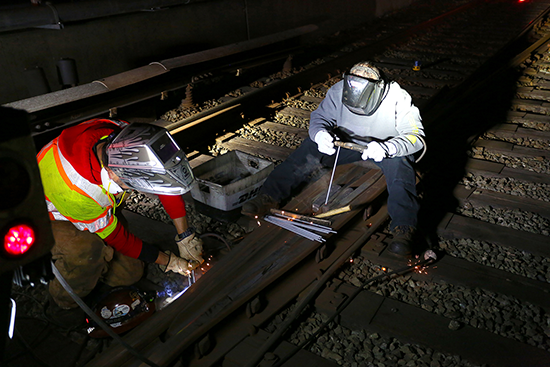 Above: Welders Nick Rosales and Orlando Lozano work on an overnight shift
By MELISSA JORDAN
BART Senior Web Producer

The job of welder at BART requires manual dexterity and mental agility; it's an age-old craft that is important in the modern-day rebuilding of BART.
The American Welding Society marks National Welding Month in April to recognize the "skilled welding professionals working to build the structures and products on which the American economy depends."
Nick Rosales and Orlando Lozano are BART welders who took us behind the scenes one recent night to get a better look at this important job (and one that BART is currently hiring for; visit www.bart.gov/jobs).

ABUZZ WITH ACTIVITY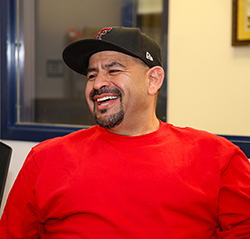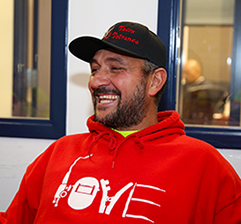 Nick Rosales, left, and Orlando Lozano, just before starting their welding shift
Their shift began at the Oakland Maintenance Shops, which are buzzing with activity at midnight as crews get their work orders and fan out across the system. Rosales and Lozano are assigned to work near 12th Street/Oakland on an interlocking, the signaling apparatus and tracks at a junction or crossing that prevent conflicting movements among train paths.
"I love to create things and I love working with my hands," says Rosales, who has worked as a welder for 23 years. "The craft that we do is not the easiest one, so you need to love what you do. It's not for everybody."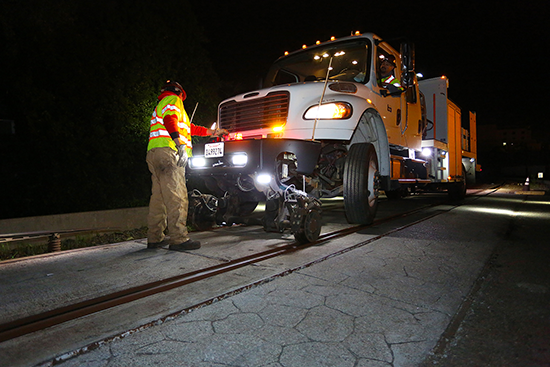 Above, the welding truck goes from the road to be "set on" the trackway
Lozano, who has worked as a welder at BART for two years, says the job also requires a laser-like focus on safety, both that of workers and for the ultimate safety of the riding public.

ALWAYS ON POINT

"We have to be on point all the time because it can be dangerous, working with molten metal," he says. "You have to be alert, and everything you do has to be right the first time."

If you've ever been on a train that feels like it's bumping along a section of track, that may be a job for a welder. They work to smooth out uneven sections, using tools like a hand-held grinder and different types of welding equipment depending on the job. At the Oakland interlocking, Rosales and Lozano trade off doing stick welding, also known as shielded metal arc welding, which uses a fixed-length electrode and electric power to join different metals.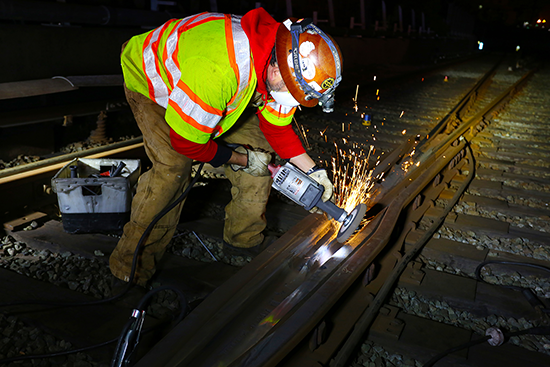 Above, Lozano grinds the rail in preparation for welding on the trackway
They must use proper posture, to protect their bodies as they bend and squat near the rails, and to keep the heavy tools under control. Their welding helmets protect their eyes from flashes so bright they can damage the cornea. Sparks fly at them and an acrid smell permeates the air from wisps of smoke. Double-kneed pants protect their legs and welding gloves keep their hands safe.

A SHORT WINDOW OF WELD TIME

"It's a lot of responsibility, because we have to work quickly and safely," Rosales says. "We have a short window of time to do our work in, and we have to get out so the trains can keep moving on time."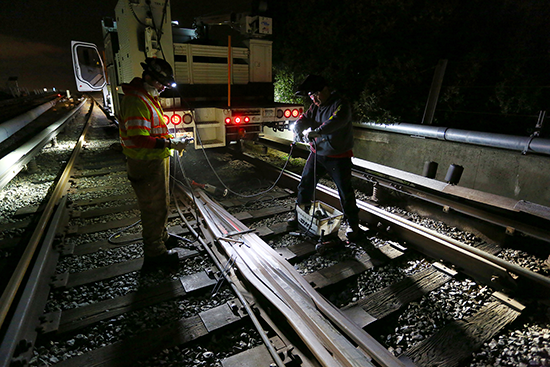 Above, the welders are intently focused on making the most of their "weld time"
The window for "wrench time" (or in the welders' case, "weld time") is vividly illustrated when you spend any weeknight with a BART maintenance crew. Vehicles like the welding truck are lined up at the trackway entrance to move, like ants in a row, the second that the clearance comes over the radio that "the blanket," that period of time with no trains in service, has begun. Time flies during the short hours before all those vehicles and workers must clear out again, before the first trains of the next day.

A GREAT CAREER PATH
Dann Gesink, assistant professor of welding technology at Los Medanos College in Pittsburg, says welding can be a great career path because of the challenges it offers.

"It's a combination of mental and physical dexterity," he says. "You really have to be an expert in what your body can do, and rise to the technical challenges. It's a good fit for people who don't want to sit all day at a desk."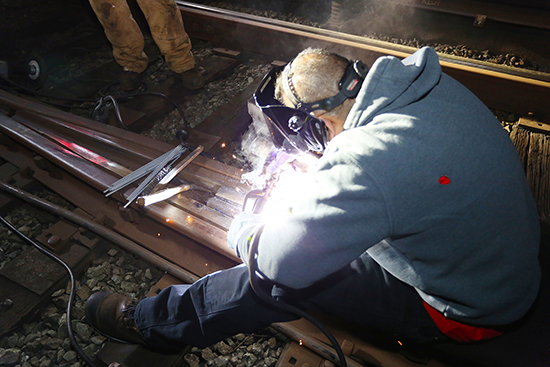 Above, Rosales welds a section of rail, his helmet protecting his eyes
Another selling point, he says, is the relatively short time and modest cost required to get the education necessary to begin in the field.
"We tell our students that if they finish our program, their first month's paycheck alone will pay for the whole thing (of education expenses)," he says.
National Welding Month is intended to highlight the profile of the field, according to Dale Flood, the 2018 president of the American Welding Society and the welding project manager for Tri Tool Inc. in Rancho Cordova, near Sacramento.

MORE WELDERS WANTED
"Many people overlook the importance of welding in the American industry and the large role it plays in the economy," Flood says, noting that there's a projected need by 2020 of another 220,000 welding workers in the United States.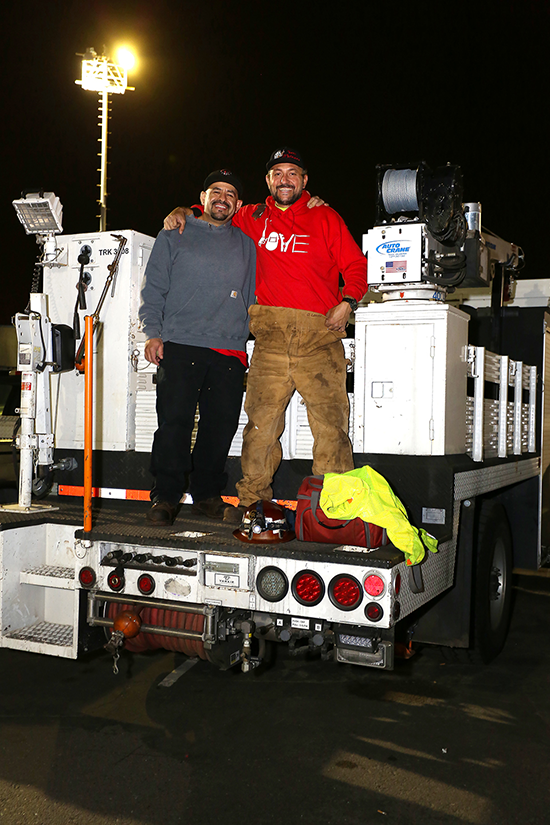 Rosales and Lozano after a hard night's work of welding
Jeff Weber, publisher emeritus of Welding Journal, writes in the April 2018 issue: "The modern world couldn't exist without welding, and yet the process remains largely unknown to the average person."
Welding dates to at least the Bronze Age, thousands of years ago, when craftspeople discovered they could join pieces of metal by heating them until they were malleable and pounding them together.
"It is altogether fitting and natural that we take a little time to appreciate welding — the technology that has made modern life possible and is laying down a workable blueprint for the future," Weber writes.