Blazing the trail: BART employees are at the heart of award for LGBTQ Equality
By MELISSA JORDAN
BART Senior Web Producer
BART will receive an Equality Trailblazer award May 12 from Equality California in recognition of the agency's inclusion of the LGBTQ community.
The Original Trailblazers
The award is especially meaningful to employees like Paula Fraser and Karen Goetz, two of BART's original trailblazers. They were part of an early working group of LGBTQ employees who fought to win benefits for same-sex partners in the aftermath of the AIDS epidemic that ravaged San Francisco and inflamed homophobia even in the progressive bastion of the Bay Area.
"It was a bold, inclusive move by BART," Fraser recalled of the benefits that were ultimately provided starting in 1994, with BART just the second transit agency in the nation to do so. "It was the first time many BART workers were out publicly, speaking for their rights." Fraser joined BART in 1980 and has worked as a train operator, tower foreworker, train controller, manager of Operations Control Center, and line manager; now she is an Assistant Chief Transportation Officer. (Below Fraser is pictured in 1982, when she was a train operator, and today.)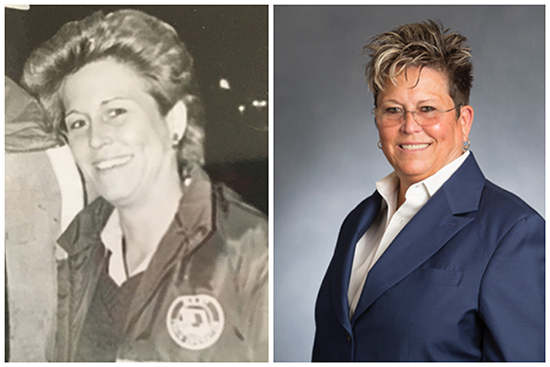 Goetz likewise has had a long career at BART. She started almost 30 years ago on a building maintenance crew and is now a Senior Operations Supervisor Liaison, a job that involves linking in-house project managers, contractors and operations personnel.
"I think that today, there is an institutional acknowledgement that LBGTQ inclusion is part of BART's makeup, and that's a big change," Goetz said. She said the first wave of LGBTQ employees proved their merits working side-by-side with straight people to pave the way for inclusion.
"People are most judgmental of what they know nothing about," she said. "That's the importance of being out."
Kimberly Johnson, who has been at BART 30 years, was also on that leading edge when she joined BART as a train controller. She's now a train control instructor. "There was already the challenge of being a young woman, and a woman of color, in an organization that was mostly middle-aged white men," she said, adding that at first she did not openly identify as LGBTQ. Once she came out, "My community of coworkers was very welcoming, very cool. It's frickin' awesome," she said.
Marshalette Ramsey is an Operatons Control Center (OCC) manager who has been at BART for 22 years, in a career that has included train operator, operations foreworker and train controller, among other jobs. (Operations Control Center is pictured in the undated archival photo below, back when the staff was much less diverse than it is today.)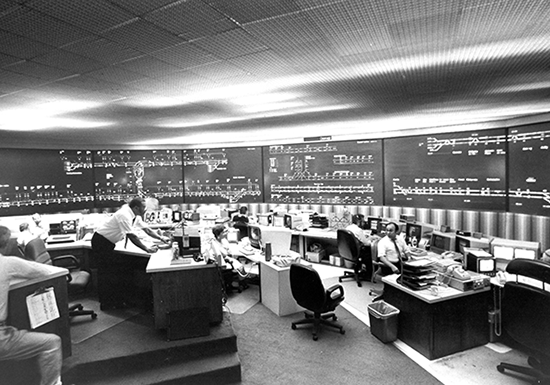 "I can't say that being an African American female who identifies as lesbian has been a walk in the park, but each aspect of who I am has made me resilient, empathetic and driven to succeed," she said. "BART has been a beacon of hope for the diversity that can exist and serve as a model of inclusion. I have experienced tremendous support and found role models to whom I can openly relate working on all levels of BART throughout my employment."
The Next Generation

Employees who joined BART in the new century built upon the work that had been done by early LGBTQ pioneers.
Sarah Cadwallader started her career at BART 16 years ago as a train operator and is now a Power Support Controller at the OCC. She had previously been an airline mechanic, so was used to working in a male-dominated industry. The closeness of the control center's work environment – it can be a little claustrophobic to outsiders; it's a dark, chilly, NASA-like nerve center where a countdown clock ticks down fractions of seconds – was a benefit, she said.
"I've found BART to be inclusive, not only for the LGBTQ community, but just very diverse in every respect," she said. "We all have to work together as a team."
Kelly Beardsley, a train operator who is transgender, started 11 years ago at BART and at that time, was beginning the process to transition from female to male. "They didn't even miss a beat," he recalled. He was able to select the men's uniform, use the men's restroom, and change the checkbox from "F" to "M" on his office paperwork with no problem at all.
A few people had trouble remembering to use the correct pronouns, because they had known him before as female, but with time, co-workers treated him with respect and he was able to be his true self, Beardsley said. An occasional stand-up comic, Beardsley noted that having a first name that could be male or female probably helped. "Having to remember to call me Kevin instead of Kelly might have been too much," he said with a laugh.
"Overall, my ride here has been pretty smooth."
Richard Fuentes, a Government and Community Relations representative who has been at BART five years, said that as a gay man of color he appreciates all those who blazed the trail.
"That first wave really fought to make sure BART was inclusive," he said. "And it's important, because the community we serve in the Bay Area is so diverse. We want to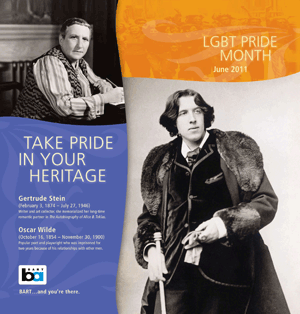 reflect our community, and having LGBTQ employees is one way that we do that." (At right, example of how BART has promoted Pride month with posters found on train cars celebrating LBGT heritage.)
Wendy Salazar, who has been at BART four years and works in System Service, helping keep Civic Center Station clean, credited the trailblazers as well.
"I've never had any problems at BART," Salazar said. "As the media have begun to portray the LGBT community in a more diverse light, we are moving away from stereotypical notions of what it is to be queer. I no longer feel the need to have to explain nor defend my sexuality at work. Yes, I am a queer woman of color. But because of those who came before, I can just be me. I am to my co-workers just Wendy."

Tim Chan, the Acting Group Station Manager with 12 years at BART, said that as a gay, Asian-American man, he has always felt welcome.

"There are lots of opportunities here" for LGBTQ employees to take leadership roles and have a positive impact on the community, he said. "It's just a really nice group of people to work with. No one flinches or makes a face when I talk about my husband."

Leading by Example

BART Director Bevan Dufty, whose district includes parts of San Francisco, said the award from Equality California recognizes not only the work of trailblazing employees, but also progressive policies at an institutional level.
"The expansion of the local business enterprise program is a major step for LGBTQ inclusion in BART's mission," he said. That program adds LGBTQ ownership to bidding preference given to qualified small businesses seeking work on BART contracts. BART's Police Department also broke ground by becoming one of the first in public transportation to establish a policy for interactions with transgender people.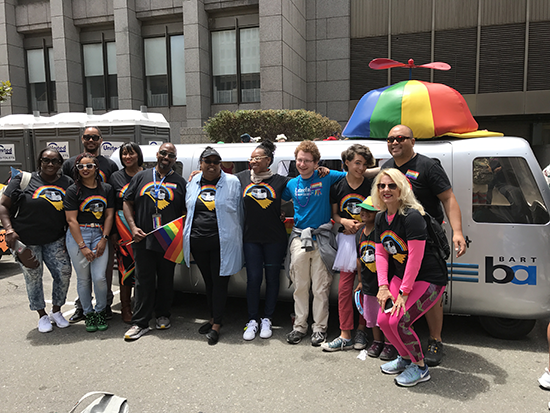 BART employees, families and friends walk in the SF Pride Parade along with the BARTmobile decked out in its rainbow hat.

Dufty said he is pleased that BART is being recognized in conjunction with Equality Trailblazer Award winner LaVerda Allen, whose experience as a pioneering African-American, woman contractor has given her a chance to witness BART history. She started The Allen Group with a vision to uplift local, small, disadvantaged and women-owned businesses and develop a diverse group of professionals to serve public agencies nationwide.
Allen's philosophy is consistent with that of LGBT icon Harvey Milk, who also believed in the interconnectedness of the fight for equality, Dufty said.

"Harvey recognized that the LGBT struggle is in partnership with other groups, whether it was African-Americans' civil rights, the women's movement, disability rights advocates, farm workers," he said. "Progress isn't made singularly; it's made collectively."
Allen said at age 86, she has seen BART's evolution over decades, and she stands in solidarity.

"BART has become much more aware that there are more than just white people that work in and use the system, which has been true all along, of course," she said. "It's a wonderful thing that BART recognizes the importance of all people's rights, including the LGBT community. I've seen a lot of changes," she said, "and a lot more that need to be. We have work to do."
Each advance is one more step along the path to inclusion. Employees like Fraser, who have seen the long arc toward equality, are heartened that their struggle helped clear the way for others.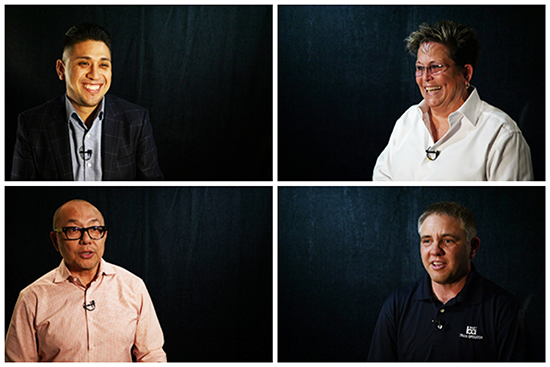 Clockwise from top right: Paula Fraser, Kelly Beardsley, Tim Chan, Richard Fuentes
She described an incident early in the fight for domestic partner benefits when an older, African-American, straight male co-worker told her he was with her and the others pushing to be recognized. He told her he had lived through the civil rights movement in the 1960s and could relate, "that this was another step for civil rights, plain and simple."
Fraser, typically tough as nails, wells up with emotion at the memory. She had originally considered being a teacher, joining the Coast Guard, or other jobs that at the time did not allow gays and lesbians to serve, or kept them in a status of limbo without job protections.
"I wanted to serve the public," she said. "And I discovered that at BART, from early in its inception, workers were protected regardless of sexual orientation. It blew me away. I would like to see protections everywhere, protections that can never be taken away."

Dufty echoed the idea that vigilance is essential.

"I don't think we can take our progress for granted," he said. "We are tied together with other communities under attack. It is a time to be active and to be engaged."

For more information about Equality California, the nation's largest statewide LGBTQ advocacy organization, visit the Equality California website.