BART PD and San Francisco PD team up on joint foot patrols in downtown San Francisco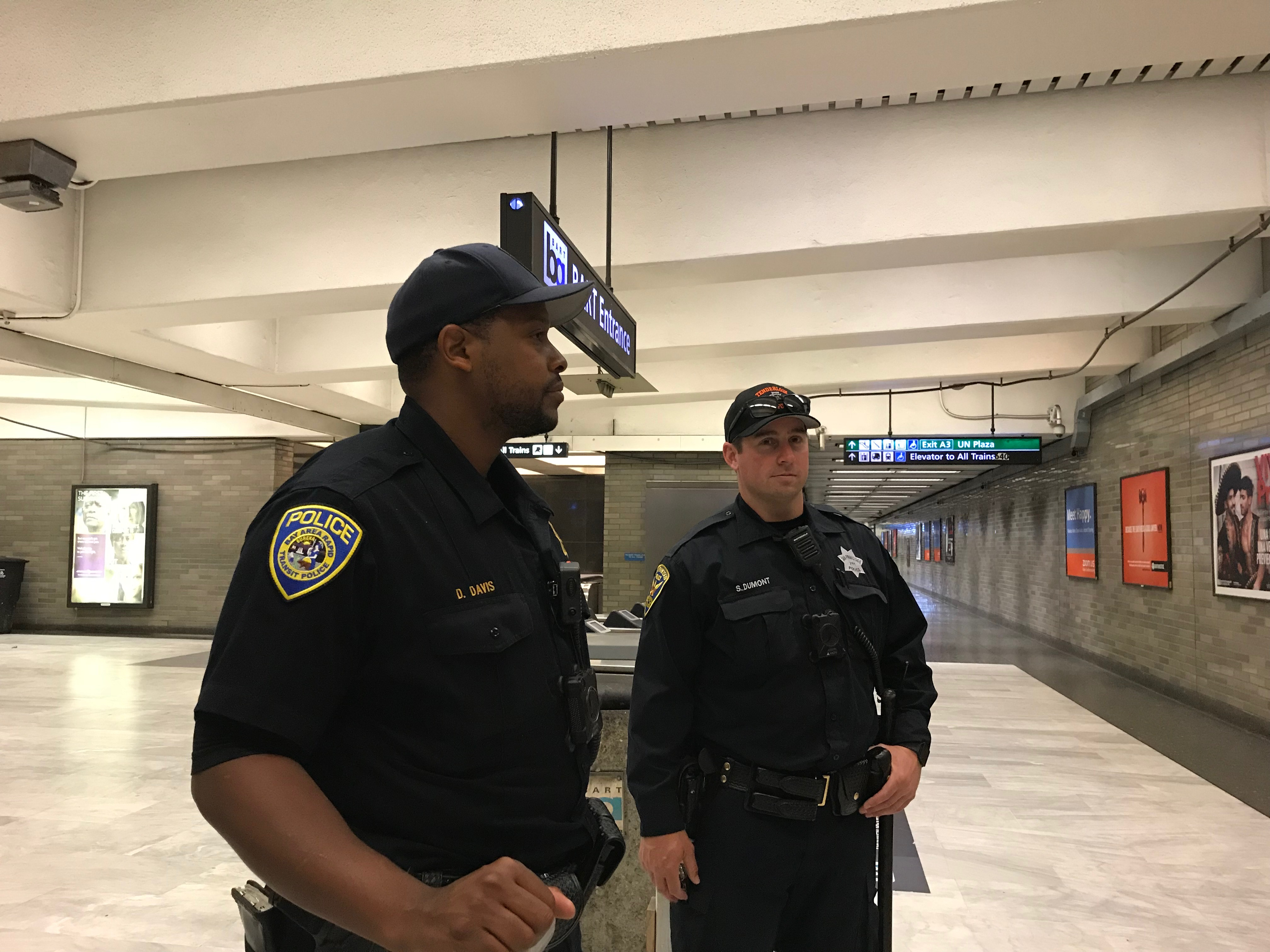 BART PD Officer D. Davis and SFPD Officer S. Dumont on a joint foot patrol
BART Police and San Francisco PD are teaming up on joint foot patrols to address quality of life issues in and around downtown San Francisco stations. The free areas of BART's downtown San Francisco Stations have long been the joint responsibility of both BART Police and SFPD. The homelessness crisis and opioid epidemic have renewed the urgency to ensure joint patrols are re-established.
The timing and location of the joint patrols are not announced in advance, to help police stay one step ahead of drug dealers and other criminals, as well as those who seek out the relatively warm and safe corridors of BART stations to use drugs, sometimes nodding off or passing out and blocking the way for paying passengers.
On Wednesday, BART Officers D. Davis and S. Van Norsdall accompanied SFPD Officer S. Dumont on foot around the concourse corridors and platforms of Civic Center Station and the street-level plaza, where the busy farmers' market buzzed. It was Officer Dumont's first time with BPD officers on a joint patrol, and all three described how such efforts are useful to both departments.
"We're educating each other, getting to know each other's issues," said Van Norsdall, who woke up a man sleeping, barefoot, on the station floor with "It's time to go now, sir."
Officer Davis, meanwhile, gave directions to a dapper couple in formal clothing, on their way to see a matinee of The Color Purple at the Orpheum Theatre.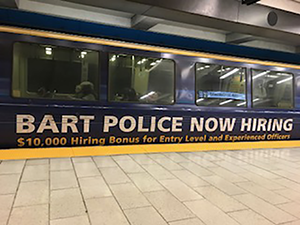 Officer Dumont asked questions about the BART officers' strategies and tactics, and vice versa, as the three walked on patrol. People engaging in criminal activity typically disperse on their own when police are patrolling. BART has stepped up its recruiting and hiring to get more officers on the beat.
The year 2017 was by far the most successful recruiting year for BPD since 2013. In the last 18 months, 22 new officers were hired, with five more candidates in the academy currently. BART is recruiting for another 30 officers. Train wraps, like the one pictured above, are part of BART PD's recruiting push. The unannounced patrols serve as a deterrent.
"When you see a sea of blue, everybody scatters," said BART PD Sgt. Joel Enriquez, who commands the patrols in the downtown zone. Good communication between BART PD and SFPD is important to make sure it's not just a ping-pong match of moving individuals from station to street and back to station again.
The collaboration pays off in other ways, too. Van Norsdall noted that in one recent case, when SFPD shared its briefing books with photographs of repeat offenders still plying the area, BART PD officers recognized one of the individuals and were able to make an arrest on an outstanding warrant.
"What we deal with really mirrors each other," Dumont observed. For the SFPD officers, it's also important to learn the layout and arrangement of the BART stations to know, for example, about third-rail power and other safety issues that could come into play in a pursuit.
"It's important that we are all working together," Sgt. Enriquez said. "These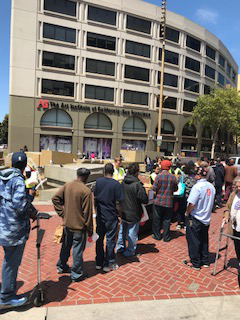 are bigger social issues that are not unique to BART, but we have to be part of the solution."
Another tool in the toolbox is a new effort involving the Salvation Army helping to connect people in need in with services. On Thursday, the Salvation Army gathered dozens of volunteers above Civic Center Station to conduct homeless outreach in and around UN Plaza. (See photo below right.)
The Salvation Army has done this work in the area before, but Thursday was the first time the non-profit coordinated with BART to go into the Civic Center Station to encourage people to come to the plaza to receive food, socks, hygiene kits and information on available resources.
"We are partnering with BART to provide education and services to chronically homeless individuals who are choosing to find refuge in the BART system instead of coming into programs the Salvation Army and other non-profits have where we can address issues adding to their conditions," said Lt. Col. Cindy Foley, divisional leader of the Salvation Army.
For more information on what BART is doing to address these social problems, visit: https://www.bart.gov/guide/social-resources