Cleaning at BART stations gets an overhaul: Walk along with a cleaning inspector
By MELISSA JORDAN
BART Senior Web Producer
Cleaning at BART stations is getting an overhaul: A new zoned structure and program of "station ownership," along with daily cleaning inspections, is showing early signs of success.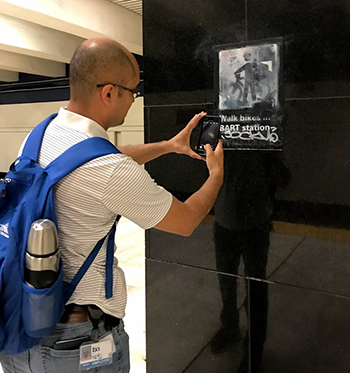 New cleaning supervisors have been hired like Luis Villatoro, who joined BART in January after leaving a position supervising cleaning on the UC-Berkeley campus. Villatoro, pictured at right on his rounds, thought BART would be a big challenge, but also an opportunity because of the new emphasis on accountability.
"I like challenges; I don't back down from them," Villatoro said on a recent walkalong as he inspected downtown San Francisco stations. Five cleaning zones have been created systemwide with hands-on supervisors like Villatoro for each one.

NEW CLEANING STANDARDS
Villatoro walks the platforms, concourses, stairs and elevators, making sure others in his chain of command, from foreworkers to individual cleaners, are meeting new standards that have been put in place to measure cleanliness.
First up, he does an end-to-end walkthrough of Powell Street Station.
He spends most of every shift on his feet, walking the stations to inspect cleanliness. The pattern is random, so workers don't know exactly when he will be checking out their areas. It's a twofold goal: quality control, making sure cleaning employees are performing the necessary duties; and being an extra set of eyes to spot things that need attention.
In the first five minutes at Powell he's made sure some graffiti spotted earlier was scrubbed off (it was); that a filthy spot on the station floor has been mopped clean (it was); and he's seen some strewn garbage that needs picking up, so he takes a picture and sends it along with instructions to a cleaning foreworker, who will make sure it gets dealt with promptly.
He then stops by to inspect a station elevator -- inspections also performed every two hours by rank-and-file cleaning staff, and as another backstop, checked at regular intervals by station agents during their shifts. At Powell and Civic Center, at least, these elevator checks have been overwhelmingly positive in the weeks since a pilot program began to place attendants in the elevators during all business hours.
Once Powell has been checked thoroughly, Villatoro moves on to Civic Center Station, one of the most challenging to keep clean. BART and the city of San Francisco are moving forward with partnerships in a multi-pronged approach to deal with the impacts of homelessness and drug abuse.
Customers are noticing the changes, with much positive feedback on the progress that's being made, such as the tweet below from earlier this week.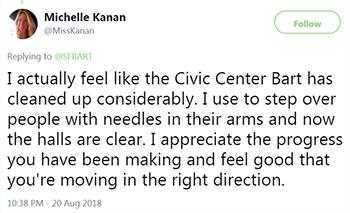 "IT'S ALL OF OUR JOBS"
"We're moving to a system of station ownership, where workers are assigned to a particular zone and station and that's theirs to own," Villatoro said. "It's the worker's job to know the station, know its issues, know where its hot spots are. It's the worker's job to keep it clean. And it's all of our jobs to help." Supervisors assign workers to perform the various tasks of the day, such as scrubbing floors using power scrubbers, pictured below, which apply more pressure and torque to work on stubborn grime.
At Civic Center, Villatoro's eagle eyes peer into even blocked-off closet areas, to see if anything has been discarded inside, and sure enough, he sees a hypodermic needle. He relays to workers to come and remove it. They'll do so using gloves and a sharps disposal container, as they are trained to do for safety.
"My expectation levels are up to here," Villatoro says, holding his hand as high as he can above his head. He listens to the concerns of his employees, and is quick to give them a fist-bump for a job well done. "If you expect a lot, people will rise to the challenge. I also am constantly providing positive reinforcement and telling my workers, 'Thank you for the work that you do; it means a lot to our riders.' "
One such rider is an Antioch woman, sitting on one of the platform's round concrete islands, waiting for a train. She says she doesn't ride often, but has noticed the stations looking cleaner on her latest trip. "You don't smell the urine like you used to," she said. "That means it's cleaner."
ROUTINE DUTIES, SPECIAL PROJECTS
After Civic Center, Villatoro heads to 16th St./Mission Station. Here, he explains, is an example of special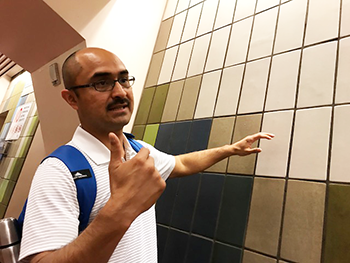 project work. In addition to the routine daily and nightly cleaning punch lists, workers are assigned to special projects that take more focus and time. In this case, it was power washing the yellow tactile safety strips along the trackway and power washing the olive green and tan patterned tiles on the station walls, which get blackened from dust kicked up by the trains.
"As you can see, it's now clean," Villatoro said, wiping his bare hand along the station wall, then turning it around to show there is no dust or dirt upon it – it would pass a "white-glove" test.
He also points out the safety strip, which still looks pristine and bright yellow from its recent power wash.
Waiting to catch the train back to Powell, Villatoro and I walk across a section of platform flooring that instantly grabs hold of our shoes: It's a gunky, sticky mess -- apparently a spilled soda that's half-dried. Shoes pull off the surface like Band-Aids off skin. Villatoro whips out his phone, snaps an image of the sticky space, and texts it to the foreworker on duty so a quick spot mopping can be done to clean it up. Spills, like any safety-related issue, are a top priority.
"Some of these may seem like little things, but little things can add up to make a big difference," Villatoro says. "It is getting better, and we know there will always be room for more improvements."
STEPPING IT UP
"The praise should go to the employees," says David Coggshall, Villatoro's boss and one of two assistant superintendents of System Service, which is the BART term for cleaning staff. "They are stepping up and getting it done."
Coggshall, who previously worked in the hotel housekeeping management ranks, has an office on-site at Powell and also does periodic inspections.
"We want accountability so that it's everyone's job to make sure things are addressed," he said. "Having that many more sets of eyes on it only helps." Data is being collected so that success can be tracked and procedures adjusted if needed.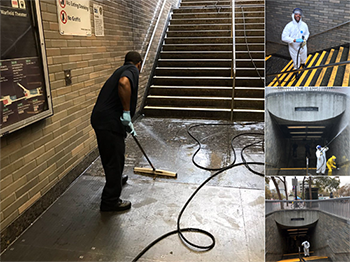 Employees are being provided with more training, not only in how to clean properly but how to protect their bodies with better ergonomics. A new round of integrated training will begin in September aimed at consistency throughout the system. Even entry-level positions require cleaning experience, which is important, Coggshall said, because it takes skilled and experienced workers to get the job done. Photo collage, above right, shows a crew cleaning floors, stairs and walls at Civic Center Station.
CHANGING THE WAY WORK IS DONE
"We're also changing the way the work itself is done," he said. For example, tasks now rotate every two hours, so that workers can bring fresh eyes to the task and avoid injuries caused by repetitive motion.
All eyes are on the steps being taken to raise the level of station cleanliness, which consistently ranks as one of the most important attributes to customers in BART's Customer Satisfaction Surveys and Quarterly Performance Report,
If you'd like to take a deeper dive into the overhaul of the station cleaning program at BART, read the presentation on the new cleaning overhaul that was discussed at the Board of Directors Workshop earlier this year.