A brighter, cleaner, easier-to-use Concord Station is in the works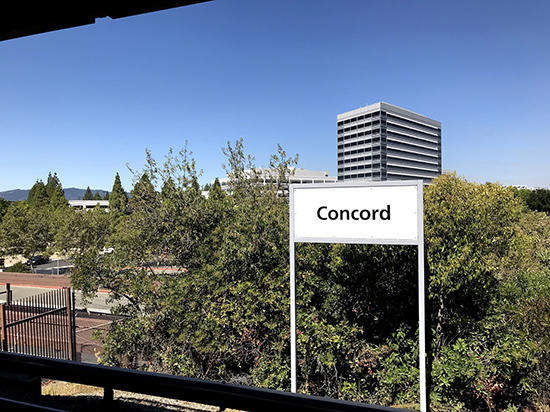 By LIANNE STURGEON
BART Summer Intern

BART is advancing the modernization of Concord Station, one of the busiest BART stations in Contra Costa County, to create a better passenger experience with security and capacity upgrades.
One of the highest-priority items in Phase 1 of planning is a modern, glass-enclosed elevator in the paid area of the station for increased reliability and deterrence to inappropriate elevator use.
"The news is that we've identified the initial funding to move the project forward, so the wheels have started turning," said Ian Griffiths, a Senior Planner at BART.
BART has secured $13 million in State Transportation Improvement Program (STIP) funding to design and construct a first phase of improvements identified in the Concord Modernization Plan.

Concord is the largest city in Contra Costa County, and the station serves around 6,000 riders daily. The Metropolitan Transportation Commission projects that housing will grow by 38% and jobs by 46% in the next two decades, spurring more demand for transit in the region.
The modernization project was developed with input from the City of Concord, transit agencies currently operating at the station, and residents of the area. Riders who gave feedback on the station noted issues such as uneven lighting, difficulty navigating from the station to downtown, and platform crowding.

BART is currently determining which aspects of the project will be included the first phase of improvements. Griffiths said the new elevator will almost certainly make that list. Some of the other likely improvements for Phase 1 are:
Reduce crowding by improving circulation of riders through the station. Fare gates and ticket vending machines will be relocated for better flow.
Add secure bike parking. A bike station is planned, along with rerouted bus loops to promote non-car modes of transportation to the station.
Improve lighting and visibility: Glass panels will replace blocks of cement and new lighting will be added to increase visibility in all parts of the station.

Improve signage and maps orienting riders to the surrounding area. Signs like the one shown below will direct riders to the vibrant Downtown Business District.


As design of the Phase 1 project is being advanced, BART will look to identify additional grant funding for future phases of the plan, which identifies the need for approximately $50 million worth of improvements. Griffiths added that as a capital or fixed-asset improvement in real property, Concord's station modernization could be eligible to receive Measure RR funds in future allocations. Design work will continue over the next 18 months or so with construction to follow in later stages.
"We're trying to create a sense of place and better connections to the community," Griffiths said.