BART updates pricing for electric vehicle charging at Warm Springs Station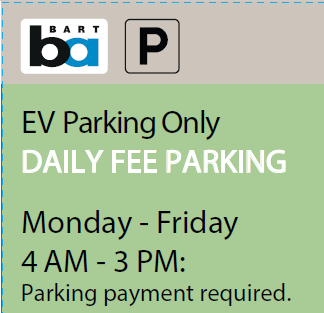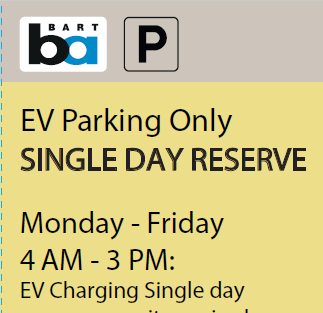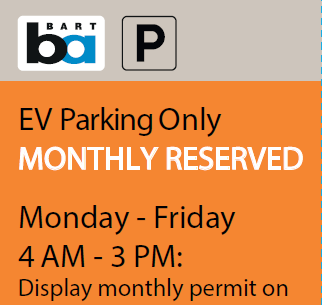 Effective October 15, 2018, BART riders will have more options when using the electric vehicle (EV) charging stations at Warm Springs Station. Pricing will be updated as follows:
Monday – Sunday, All Hours
EVs must be plugged in to use these spaces and only EVs can be parked in these spaces. Electricity costs ($0.13/kWh) will be collected through the ChargePoint charging stations.
Monday – Friday, 4 AM – 3 PM
3 ADA EV spaces are available for first-come first-serve parking ($3 parking fee).
3 non-ADA EV spaces are available to existing Monthly Reserved permit holders* who drive and charge their EVs at Warm Springs Station.
12 non-ADA EV spaces are Single Day Reserve Parking ($6 parking fee).
24 non-ADA EV spaces are available for first-come first-serve (Daily Fee) parking ($3 parking fee).
Note that there will be color-coded signs in front of each parking stall, displayed near the top of the EV charging station, that will specify which type of permit or fee is required for that specific parking space:
This pricing update was based on monitoring and evaluating the effectiveness of this pilot of 42 Level 2 charging stations for the past 18 months. Feedback from two rider surveys from this Spring was also considered. BART will continue to evaluate this EV charging pilot project to refine and seek out ways to improve EV charging for BART riders.
For more information, see the pilot program frequently asked questions (FAQs). If you have additional questions or comments on the EV pilot program, please email BARTEVPilot@bart.gov.
Existing Monthly Reserved permit holders can park in the 3 designated EV charging spaces on a first-come, first-serve basis. There are no separate monthly permits for only parking in the EV charging lot. Monthly permits must be displayed on your front dashboard. Any monthly permit holders found parking in EV charging spaces that are otherwise designated (per the signage in front of each EV charging space) are subject to fines.
Read more about BART's sustainability initiatives in our Sustainability section.