Veterans Day vignettes: BART highlights veterans and the skills they bring to the job

Navy supercarrier USS Carl Vinson in a photograph shared by BART's Tony Cooper

By MELISSA JORDAN
BART Senior Web Producer

As the Veterans Day holiday approaches, BART is honoring veterans on its staff, a diverse group comprised of men and women who served the nation in many different roles and eras.
Since 2013, a Board-approved hiring policy gives preference to military veterans seeking jobs at BART. More recently, the Federal Transportation Administration now requires transit agencies to track the number of veterans that apply for employment and promotion to identify any potential impact on veterans. These efforts will assist agencies in measuring the effectiveness of their outreach to and recruitment of veterans.

Many BART jobs have direct correlation to military service, such as the mechanics who work on trains, the electricians who keep power supplies running and the communications specialists in charge of providing information about train movements.

"We believe we have a sizeable number of veterans here at BART. With the FTA's new requirement, we can hopefully quantify that," said Katherine Tate of BART's Office of Civil Rights. Veterans self-identified for a recognition event on Wednesday that drew a standing-room-only crowd to the BART Board Room, and began with an a cappella rendition of the national anthem by BART Police Officer Joshua Perez.

"Veterans bring a strong work ethic, commitment, confidence and passion to the job," said Yolanda "Jolie" Vega, a retired BART Human Resources employee who was keynote speaker at the event. "If they can't do something, they will do what it takes to learn how and figure out how to get it done."
Vega, who is active in the Gold Star and Blue Star families program for families who have lost loved ones in service or have loved ones still serving, explained in her keynote how the Veterans Day holiday came to be.
Vega has family ties to the military; her father served in World War II and her uncle in Korea. Vega herself worked for World Airways, a key military contractor during the Vietnam War that flew troops and equipment between the war zone and its base at Oakland International Airport. She flew on Military Airlift Command missions to Saigon and Cambodia between 1972 - 1975.
Her elder son, Senior Airman Jonathan Antonio Vega Yelner, was killed in action by an improvised explosive device in Afghanistan in 2008 while driving for a reconstruction team. He posthumously received the Bronze Star and Purple Heart. Jonathan's younger brother, Mathew Vega Yelner, served in the Air Force after his brother's death.
What follows are short profiles of some of the BART employees who self-identified as veterans and shared details of their military service.
BART VETERAN VIGNETTES
---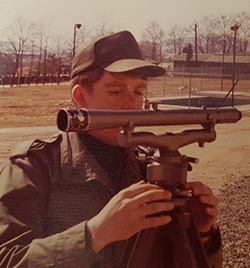 ROBERT ABBOTT, District Right of Way Surveyor for BART, served in the U.S. Army Vietnam Era as a Combat Engineer from 1973 - 1976. "We were called the last of the draftees," said Abbott, who trained with the Army Corps of Engineers in map compilation and cartography. "I was also trained in construction surveying, essentially providing me the career I have today," Abbott said.

Part of his service involved being assigned to the 2nd Engineer Battalion 2nd Infantry Division DMZ Republic of Korea from 1974-1975, during the evacuation of troops and civilians in Vietnam. His assignment was Division Surveyor Headquarters 2nd Engineer Battalion with primary duties, artillery and construction surveying.

He was also tasked with surveying old land mine areas from the Korean Conflict, and surveyed construction of over 400 H-Demountable barracks. At BART, his duties include review and preparation of property legal descriptions, mapping and providing staff with technical survey related assistance on various projects systemwide.

He also directs and coordinates with consultants for surveying services that include Appraisal Maps, Records of Survey, Record Maps of Right of Way and review of mapping for Transit Oriented Development projects.
---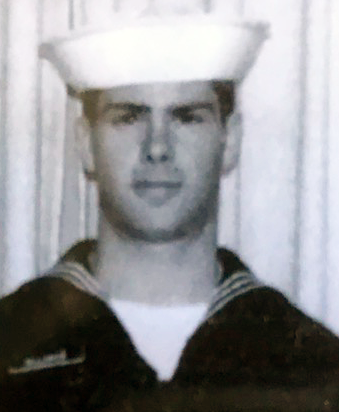 JAMES K. ALLISON, Media Relations Program Manager at BART, served in the U.S. Navy from 1982 to 1987. His position was Journalist, and he had postings at Guantanamo Bay, Cuba; in Honduras; Panama and Italy.

He enlisted shortly after finishing journalism school at Syracuse University, and said the military gave him skills far beyond the classroom. "I got hands-on experience in shooting broadcast-quality video on Betacam," he said, the same technology he would use when he started in BART's Media Center.

Allison said his service taught him a couple of important lessons that he might never have learned in civilian life. "One, that the creature comforts we take for granted in the U.S. are unattainable to many in other countries," he said, like turning on a tap to get clean water or having reliable electricity at the flip of a switch. And second, that people are people, no matter where you go, with the same basic dreams and desires.
---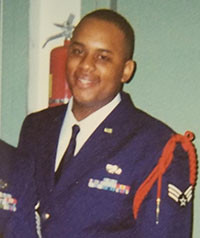 GREGORY ARANHA, an Operations Supervisor Liaison at BART, served in the U.S. Air Force from 1995 - 2005. Aranha was born in the United States but his family came from the Bahamas.

"My father always wanted me to join the service when I came of age," he said. At age 20, he joined the Air Force, where he worked as an aircraft mechanic on the F-16.

His tours of duty took him to Korea, Turkey, Canada and various posts stateside. "So many skills from my service are transferrable," he said, including "communication, teamwork, teambuilding and attention to detail." Before coming to BART Aranha worked at Amtrak.

His BART job involves coordinating with contractors to ensure safety and smooth communication on big projects, and lately he has been working on the Transbay Tube earthquake retrofit. "I'm under water 10 hours every night," said Aranha, who said the work is rewarding because so many people depend upon BART and its safety, particular at critical points in the system like the Tube.
---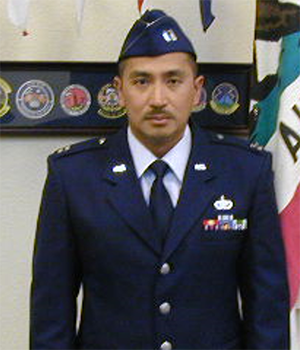 VICTOR AUSTRIA, a Senior Electrical Engineer at BART, served in the U.S. Air Force and California Air National Guard for a total of more than 23 years. He was Officer in Charge of an Engineering Team activated from the CA National Guard after 9/11.

The team's job was to design and build communications cable systems infrastructure for rapid buildup of short-term and long-term military bases, with missions in Qatar, Kuwait, Bahrain, the United Arab Emirates, Afghanistan, Iraq, Guantanamo Bay, and on the atoll island Diego Garcia. Engineering, teamwork, work ownership and communications skills are transferred from his service to BART operations.

Austria, who had only started with BART in April 2001, said he greatly appreciated BART's support of his family during his absence, even sending a Santa Claus to visit his young children the first Christmas he was away. Knowing his family had support at home allowed him to focus on his missions and serve the country during a critical time for national security.
---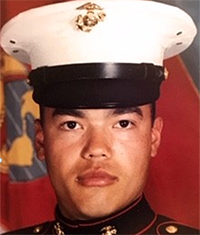 GARY BENNETT is a revenue guard at BART who served in the U.S. Marine Corps from 1991 - 1995. "When the Gulf War broke out, I had just graduated from high school, and I decided to enlist to serve my country," Bennett said.

He served initially at Twentynine Palms in Southern California then did tours in Kuwait, Okinawa and South Korea. He said the work ethic of the military, as well as the skills he gained driving vehicles like the Humvee and five-ton trucks, have been transferrable to the work that he does at BART.

"Military service takes dedication, it's physically demanding, and you have to be ready for whatever comes at you," Bennett said.

Now, he guards BART Treasury staff who service ticket machines and drives a big rig truck carrying fare cards.
---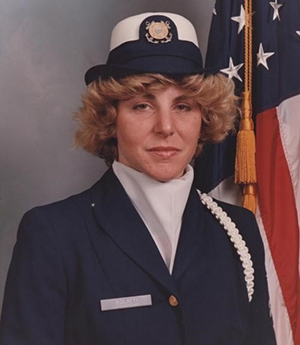 MIMI BOLAFFI, the Manager of Security Programs with BART Police, served in the U.S. Coast Guard from 1984 – 1996 as a Maritime Law Enforcement Officer. She was able to serve in all aspects of USCG's mission including law enforcement, search and rescue, and environmental response.

She was the first woman in USCG history to qualify and run the deck as Deck Supervisor on 180' USCG Cutter.

"The Coast Guard really allowed me to hone my leadership skills," she said. Bolaffi received meritorious service commendations including one for a mission intercepting a ship off in waters off South America, during hurricane conditions, that resulted in seizure of nearly 12 metric tons of cocaine worth over $500 million in street value. She also worked on migrant interdiction missions where emigrants from China were being smuggled on ships in deplorable conditions, having paid some $30,000, a life's savings, to their traffickers.

"My service gave me a chance to travel internationally and learn how to focus on the big picture of the mission," she said. Bolaffi later worked for the Department of Defense and the Department of Homeland Security, giving her invaluable expertise in keeping our country, and particularly our transportation systems, safe and secure.
---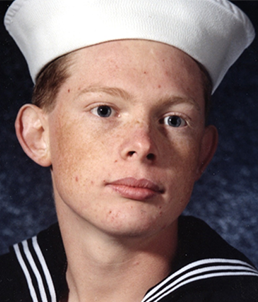 TONY COOPER, an Instructional Design Specialist at BART, served in the U.S. Navy from 1981 - 1989, right out of high school, and trained in Electronics and Electricity, Radar, and Nuclear Power.

He spent the last six years of his enlistment aboard the U.S.S. Carl Vinson.

"While on board I qualified as throttle man, Reactor Instrument Watch, Reactor Shutdown Operator, Reactor Operator, and Reactor Technician for #1 reactor plant," he said. He has used the skills he gained in the military in his work throughout his career at BART.

"I started at BART as an electronics technician, and if it weren't for the training and experience I got in the Navy, I wouldn't have been able to do that," he said. "The military trains you to be calm under pressure and focus on the mission, whatever it might be."
---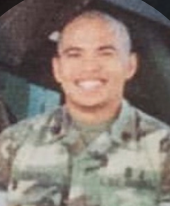 HERSON ENERIO, a BART Police officer, served in the U.S. Marine Corps from 1997 - 2002. His role was as a forward observer for a scout unit for artillery and reconnaissance teams.

"Before I was 21, I had been to Australia, Hong Kong, Thailand, Kuwait, Pakistan, the United Arab Emirates, Indonesia," he said.

"My job was very combat-related, but in terms of skills that transferred to BART, there's the discipline, respect for rank and structure, and being able to work with a lot of different kinds of people,"

Enerio said. He was deployed to Afghanistan for Operation Enduring Freedom right after 9/11.

---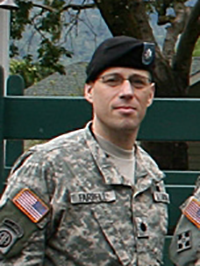 LAURENCE FARRELL, Manager of Construction Engineering at BART, previously served as a Commissioned Army Officer with the U.S. Army Corps of Engineers.

He commanded and led the San Francisco Engineer District, an organization comprised of over 375 military and civilian personnel in six offices, with a $250 million annual program.

Earlier, Farrell served in the U.S. Army and did two combat tours in Iraq and one in Somalia. He also had two deployments in South Korea and many different posts stateside. In South Korea, he supervised the relocation program of all U.S. Soldiers in the 2nd Infantry Division south from the Demilitarized Zone. He planned and executed the movement of 3,500 Soldiers, the closure of seven camps and decommissioning of 150 facilities valued in excess of $100 million.

Farrell's military awards include two Bronze Stars, the Legion of Merit, the Combat Action Badge and the U.S. Army Jumpmaster Badge.

He said skills he learned in service that transferred to BART were "dedication to duty, treating people with dignity and respect, and commitment to the organization."
---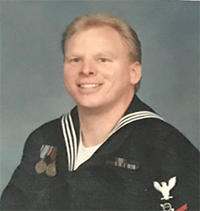 JOE HELWEG, a Train Operator at BART, served in the U.S. Navy from 1986 to 1990, and in 1990 joined the Navy reserves.

He served his first four years on the U.S.S. Shasta, an ammunitions ship, in roles including radio and telephone communications and radar navigation. "On the ship, you're trained to do a job and you go do it," he said, crediting his military training with helping him through BART's rigorous program for train operators.

In both roles, he said, it is important to be a clear communicator and to follow safety protocols. "You have to stay cool and calm under pressure" in both jobs, he said. "At BART, my passengers come first, and I keep them well informed," he said.

Helweg noted that when operating trains in the Transbay Tube, he makes a special effort to keep riders up-to-date if there's any delay, because he knows some people get anxious in that situation.
---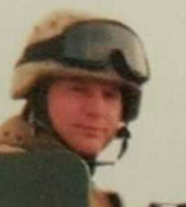 DANIEL JONES is a BART Police Officer who served in the U.S. Marine Corps from 2002 – 2006. He was deployed to assignments in Okinawa, Australia and Iraq.

He joined the Corps soon after high school as a diesel mechanic, seeking the structure and discipline that service would provide. During his deployment to Iraq, he transitioned to serving as Military Police.

Skills he gained that transferred from his service to BART include responsibility, taking initiative and teamwork, he said.

"The biggest thing I gained from the military is an appreciation of what we have in America and the value of life," Jones said. "When you have very real, near-death experiences, it makes you appreciate what you have." Image, right: Jones.
---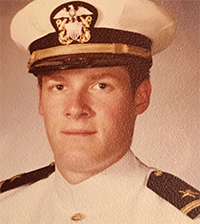 BRUCE KING, a Principal Engineer with BART who is part of the Power and Mechanical Engineering Team, served in the U.S. Navy from 1976 – 1980 as an electrical division officer on a nuclear submarine off the coast of Spain.

"I got a tremendous amount of hands-on electrical knowledge" that has been transferrable to his work at BART, King said. He also learned firsthand about human behavior in times of tremendous stress.

"I didn't have a wife or kids at the time, but for the men who were separated from theirs for long stretches of time, it was extremely hard on them," he said. A crew member might get one or two "familygrams" from home on a 63-day patrol and they were limited, due to the narrow bandwidth of communication underwater on the vessel, to 25 characters – think about that in the age of Twitter. "I love you, kids are well" might be it. There were no major emergencies during his time on the sub, but King remembers once when a deep-fat fryer in the galley had a blocked exhaust duct and caught fire.
---


MICHAEL LEMON, BART's Power and Mechanical Superintendent, served in the U.S. Air Force from 1986 - 2007, starting as an aircraft mechanic, then becoming a flight engineer. His service included deployments in Operation Desert Shield and Desert Storm, as well as humanitarian airlifts during natural disasters and special assignments such as presidential motorcade support. His service took him to every continent including resupply runs for scientists in Antarctica.

"As a flight engineer, you're the systems expert of the aircraft," he said. "While you're flying, you're in charge of the electrical, the air conditioning, the hydraulics. You have to do troubleshooting, fault isolation, risk management, things are coming at you at lightning speed, and you're on a heightened sense of alert constantly." Those skills come into play in Lemon's work at BART, as well, and in the leadership of his teams. "You put so much time into training in the military," he said, "so that everybody can all pull in the same direction."
---

CHRISTIAN MARTINEZ, an Administrative Analyst in BART's Human Resources Department, served in the U.S. Army from 1989 to 1997, including tours in Operations Desert Shield and Desert Storm. "I always had a desire to serve," said Martinez, who followed in the footsteps of his father and grandfather. "The constant training and discipline of service gives you a strong work ethic" when you approach a civilian job, such as jobs at BART, he said.

Martinez said he also wanted to give back to the United States, where his great-grandparents had immigrated from Spain. "The military values of honor, courage, teamwork, that meant a lot to me," he said. "Serving gives you a chance to really test your mettle."
---

JAVIER MARTINEZ, a Project Manager in BART's Maintenance and Engineering Department, served in the U.S. Army from 1995 - 2006. He was an Infantry Office; Military Intelligence Officer; and Special Projects Officer in Charge (Engineering Brigade).

His service took him to stateside posts in New Mexico, Georgia, Colorado and Texas; as well as deployments to South Korea, Jordan, Kuwait and Iraq. "Doing my part and giving back to a country that has given me so much" was his motivation for joining the military. Martinez said the skills he learned in service that have transferred to his work at BART are "leadership, organization and mission accomplishment."
---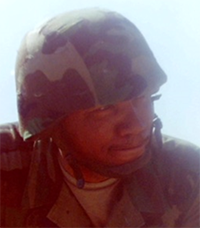 VICK MCCOY, a Transportation Supervisor at BART, served for 23 years in the U.S. Air Force, ending with the rank of Master Sergeant.

He was involved in public service from a young age, starting in high school with the Civil Air Patrol and Junior ROTC.

"I've always been interested in helping people," McCoy said, adding that his military service prepared him well for his position at BART, where he supervises personnel such as Station Agents.

"You really learn leadership, how to lead people, in the military," he said.

"You have to know how to motivate people, and you learn communication skills. Not only that, just the concept of being honest and having integrity, the skills you need to lead a team."
---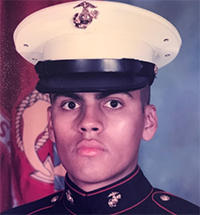 JOSE MORALES has worked for BART for 23 years and is a Station Agent based at Pleasant Hill Station.
He served in the United States Marine Corps from 1985 to 1993, both at Twentynine Palms in Southern California and, while conducting joint exercises with the U.S. Navy in Korea, while based at Okinawa.
"The military gave me many skills I use at BART, from discipline, to people skills, to the ability to react quickly to emergencies and stay calm under pressure," Morales said.
He originally applied to BART to be a Train Operator, but found that he liked the work of Station Agent and the interactions with the public.
His original motivation for joining the military was to give something back. "My family migrated here, and I was very thankful for the opportunities this country game me," Morales said.
---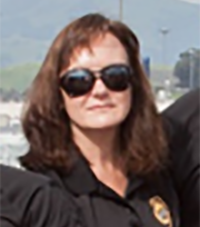 YVONNE RUSTING, a Police Administrative Specialist with BART, served in the U.S. Naval Reserve from 1993 - 2001. She had a history of military service in her family, who were from Ireland, including a grandfather who served in World War I in the Royal Navy.

Her own career background includes working for the Civil Service in Dublin, before emigrating to the United Stations, and working as a storekeeper for the Mattson Navigation Company. "It sounds corny but this country's been very good to me, and I wanted to give something back," Rusting said.

Her reserve time included stints at the Alameda Naval Air Station and the Concord Weapons Station. "It was a very diverse unit, and I learned how to work with all different kinds of people, and that in the end we're all just people," she said.
---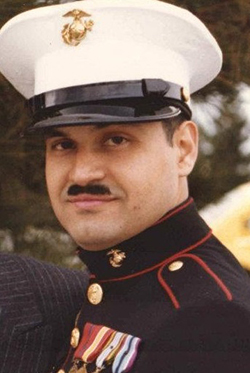 ULISES SANCHEZ, a Transportation Assistant Specialist for BART, handles administrative needs for the Pittsburg/Bay Point and Concord crew offices.

He served for more than 25 years in the U.S. Marine Corps, starting as a Rifleman and ending with the rank of Master Sergeant.

His tours of duty included three stints in Okinawa.

"When I first went over there I was 18 years old," he said.

"Somebody asked if anybody knows how to type, and I was the only one out of about 80 people who raised his hand." The skills of being organized and detail-oriented carried over from this military service to BART, Sanchez said.

After retiring from service in 2000, he was on a BART train heading to a job interview at a company in San Francisco when he sat next to a BART employee, who told him he should get off in Oakland and put in an application at BART. He took that chance, was hired, and has been at BART ever since.
---
BILL SPEARS of the BART Police Department is currently serving with the U.S. Army in the California National Guard, as a Sergeant First Class with 18 years of service. He had just finished his training for service three weeks before 9/11 in 2001. Part of his service was an 18-month deployment in Iraq between 2003-2005 in which he earned the Combat Action Badge; he says that "the best accomplishment was that we were able to bring all our troops home."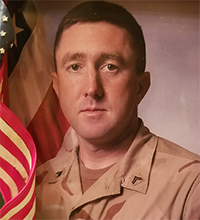 Spears was an Infantry Fire Team leader and worked on joint operations with military units from Italy, the Netherlands, South Korea, Romanian, and Poland. Later in 2005, he was attached to a unit that responded to the devastation in New Orleans in the aftermath of Hurricane Katrina.

His unit had to take over temporary law enforcement powers from two Parish Sheriffs that were trying to overpower each other until federal authorities could take over. Then they were assigned to rebuild schools so that local kids could get back to school.

As for skills that have transferred to BART, Spears said, "I've learned to work through stressful situations and know there is more than one way to complete the assignment." Spears credits BART for allowing employees to continue active service parallel to their regular jobs. "I'm able to serve both BART and Bay Area communities as well as our state and our country, and I am thankful for that," he said. Image, right, Spears.
---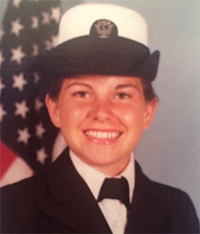 PAMELA WELSH is a BART Station Agent who served in the U.S. Navy from 1981 - 1988 - US Navy. She was trained in Air Traffic Control, was initially based at the Lemoore Naval Air Station in the Central Valley, then sent to Rota, Spain, where she worked in the control tower.

She said her military service allowed her to see different parts of the world and to develop skills that help her work as a Station Agent. "I never would have had so much responsibility at an early age, or to have been able to live in a different country and travel the world, without my service," she said. "I was able to work with a variety of people from all different kinds of backgrounds. It helps in working with the public."

Welsh also credited the training and discipline of the military. "When you get that at a young age, it becomes part of you, and instills a strong work ethic," she said. "I don't know if you realize it at the time you're doing it, but you appreciate it later."

More BART Veterans Vignettes will be added as available. The bios listed above are only a subset of all veterans at BART; the agency is asking veterans to voluntarily self-identify to comply with new FTA guidelines for data gathering.