Rockridge Station
5660 College Avenue
/
Oakland
,
CA
94618
---
Service Advisories
Service Advisories
/
/
Get RSS feed
Sign up for email alerts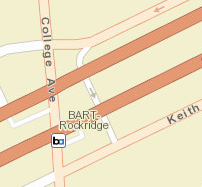 Welcome to Rockridge
Named for local rock outcroppings formed by the Hayward Fault, the Rockridge neighborhood is a vibrant residential neighborhood, retail and commercial district in Oakland.
BART and the Metropolitan Transportation Commission have developed a new carpool program at this station. To learn more about the Scoop to BART program that gives matched participants a guaranteed parking spot, please click here.
Latest News
Get RSS feed
BART 5am service start survey results being analyzed
Rectifier rescue: Measure RR bond funds at work
Lines Serving this Station
Pittsburg/Bay Point SFIA/Millbrae
Real Time Departures
Next trains departing from Rockridge Station:
Parking
Parking is available at Rockridge and there's a $3 daily fee for weekday parking. Other options include Monthly Reserved, Extended Weekend, Carpool, Single Day Reserved and Long Term/Airport parking. See the parking section for details about each program.
Estimated Parking Fill Time: 7:25 AM
Bikes
Bike Racks: Yes
Bike racks are available at most BART stations. Please review the BART Bike Rules.
Bike Station: None


FREE secure bike parking is available at several BART stations. Visit the Bike Section for more Bike Station information.
Bike Lockers: 72 shared use electronic lockers are located at this station. Read more about electronic lockers.
Connecting Transit Routes
Rockridge Station is served by AC Transit.
Try BART's free trip planning service!
For a personalized trip plan with BART and connecting transit, call the BART Transit Information Center. It's fast, it's easy, and it's tailored just for you!
Connecting Transit Trip Planner
Elevator Locations / Accessible Path
Projects/Plans
Learn more about planning activity at this station and throughout Alameda County.
Other Transportation
Car share services are available at Rockridge Station. More information is available at City CarShare and Zipcar..