Downtown Berkeley Station Modernization Plan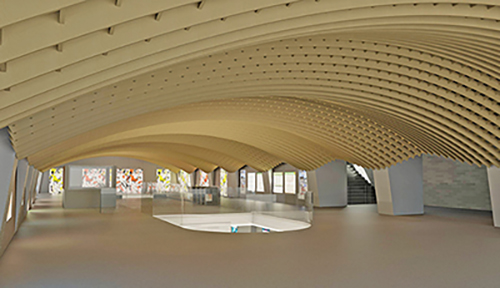 One element of the BART Station Modernization Plan for Downtown Berkeley is an update to the concourse ceiling, walls and floor to "refresh" the station, integrate with the new plaza design and hide utilities. This image shows a possible new ceiling treatment - the pattern, materials and color will be designed by BART with customer input.
---
The Downtown Berkeley Station Modernization Plan aims to create a community-based vision for modernizing the station with a high standard of design excellence, functionality and cost effectiveness. It will identify and prioritize long-term improvements to guide future investment in the station, including fixing and upgrading core existing station and system facilities to keep the station functioning well, as well as other proposed upgrades to improve station circulation, access and customer experience. Further input from the upcoming outreach events and online survey will help BART prioritize the order in which investments will be made as funding becomes available.
This Plan is distinct from, but complementary to, the Downtown Berkeley Plaza Project , which has gone through a separate community planning process in partnership with the City of Berkeley, and will begin construction this fall.
---
Project Status
Upcoming In-station Event
We want to hear from you! Informed by customer and stakeholder input, the proposed Station Modernization Plan seeks further input to refine the Plan during two upcoming events in the station. They will take place in the center of the concourse on:
Tuesday, September 20, 2016, 4 – 7 pm
Wednesday, September 21, 2016, 7 – 10 am
Download the event flyer.
Read about the proposed improvements.
Survey
Your answers to the survey will inform the final Station Modernization Plan and the order in which improvements will be implemented in the future. The survey will remain open until October 5th, 2016.
To access the survey in english, please click here:
https://www.surveymonkey.com/r/DTBerkeleyBART
Para acceder a la encuesta en español haga clic aquí:
https://www.surveymonkey.com/r/DTBerkeleyBARTSpanish
若要存取中文調查問卷,請按一下此處。 :
https://www.surveymonkey.com/r/DTBerkeleyBARTChinese
---
Project Goals
Enhance Downtown Berkeley Station as a gateway to the City of Berkeley and the UC Berkeley campus

Modernize and refresh the station to bring it into the 21st century

Ensure that the station design reflects BART's sustainability goals

Enhance access and connections between the station and the Downtown Berkeley neighborhood

Improve the station's function, safety, capacity and appearance

Incorporate art and community identity into the station

Incorporate station amenities to improve customer experience
---
Project Materials
September 2016 Outreach: Proposed Improvements
October 2015 Outreach: Vision
DTBerkeley_Board_English.pdf (also available in en Español DTBerkeley_Board_Spanish.pdf & 在中国 DTBerkeley_Board_Chinese.pdf).
---
If you need language assistance services, please call 510-464-6752.
Si necesita servicios de asistencia de idiomas, llame al 510-464-6752.
如需語言協助服務,請致電 510-464-6752.
Nếu quý vị cần ðược giúp ðỡ về ngôn ngữ, xin vui lòng gọi số 510-464-6752.
통역이 필요하신 분은, 510-464-6752로 문의하십시오.
Kung kailangan mo ang tulong ng mga serbisyo ng wika, paki tawagan ang (510) 464-6752.