BART free field trips open doors of opportunity for Bay Area students
By Melissa Jordan
BART Senior Web Producer

Filing out of a classroom with sleepy eyes, bulky backpacks and brown-bag lunches, the seniors of Bayhill High School in Oakland were preparing to take a field trip for a college tour, using BART to get there.

Their trip to California State University-East Bay in Hayward was among 40,000 free rides for educational field trips that BART provided as part of its 40th anniversary celebration.
"You still have homework tonight, field trip or not!" a teacher reminded them as the cozy, colorful classroom emptied, study materials left behind for the day: a well-worn volume of Aldous Huxley's Brave New World; an assessment for reading comprehension on Romeo and Juliet.

A SPECIALIZED SCHOOL
Bayhill is an independent high school serving students from around the Bay Area with learning differences, such as dyslexia, attention deficit-hyperactivity disorder, auditory processing disorder and Asperger's Syndrome. It is a WASC (Western Association of Schools and Colleges) accredited, nonpublic school; some students attend through their local public school districts via Individualized Education Plans (IEPs) that have found Bayhill is best suited to accommodate their needs.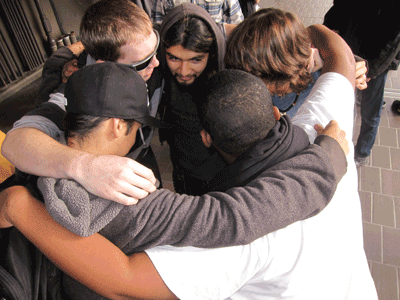 Huddle on the platform. Photos by Marisa Coto-McKenna
"We teach in very specialized ways, visually, kinesthetically, auditorially," said Shelley Lobell, executive director. With about 75 students total, the school is able to provide very small class sizes and individualized attention. "All of our teachers are special ed teachers," Lobell said. "We spend a lot of time getting our kids ready to launch into life after Bayhill."
High school is already a difficult time for many kids, shifting from adolescence to young adulthood, and being "different" in any way, including having a learning difference, can create more challenges.

A FREE OPPORTUNITY

Some of the Bayhill students are looking at four-year colleges; some at community colleges or vocational training programs; some, like any group of seniors, not sure what they want to do next. The trip to CSU-East Bay is intended to show them some of the options available to them, and the free BART rides helped make it happen, Lobell said.
"I don't know that we could have afforded it if we had not been able to access this," she said. "This will give them an opportunity see what college can be like."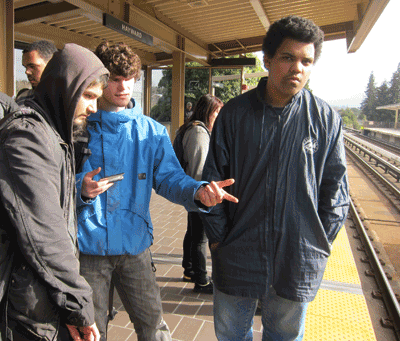 Carlo Rivas, Doug Labat and Edmund Whittaker wait for a train.
The group boarded a bus to BART, then settled in for the ride to Hayward. Student Michael Johnson talked about the commute he made for the last part of his junior year and first part of senior year, getting up at 5 a.m. each day.
"I drove from San Jose to the Fremont BART Station, and took BART from Fremont to Oakland. It could be an hour-and-a-half in the morning and two hours home after school," he said. "But it was worth the effort. I can actually learn here." Johnson now lives with a relative in San Leandro.
Rebecca Field, director of college advising at Bayhill, and Vanessa Brown, transition coordinator, led the students on the field trip.
They have a firm, yet friendly, rapport with the kids, interspersing questions about their day-to-day activities with thoughts about life after high school.
"We get to help them figure out what they want to do next," Field said.

TOURING THE CAMPUS
At CSU-East Bay, tour guide Deshel Thurman, a freshman criminal justice/psychology major, does the walking-backward routine while explaining some of what these students could expect from college life: lecture halls, dorm suites, meal plans, a well-equipped gym for preventing the Freshman 15 (pounds).
Unlike some college tours, however, this one includes a stop at the Student Disability Resource Center, which provides services to students with learning disabilities and other disabilities.

Bayhill's Brown said: "One of the things I try to cover in life skills class is that it's not enough for them to tell the college they have a disability; they have to be specific about asking for what they need to accommodate them."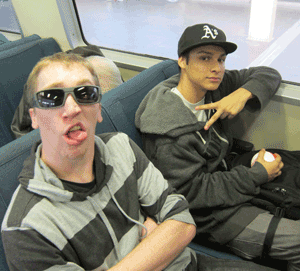 Lowell Roth and Michael Johnson play around on BART.
ACCOMMODATIONS FOR DISABILITIES

For example, students diagnosed with learning disabilities may be eligible for accommodations such as extra time to take tests; help with note-taking; assistive technologies such as text-to-speech software; and loans for adaptive equipment. The students listened attentively; later at lunch, they met up with a Bayhill alumna now attending CSU-East Bay, who told them about the tutoring and other services that are helping her find success in college.
These seniors show a dedication and motivation that should serve them well, whatever they do.

BIG AMBITIONS

Lowell Roth, from Walnut Creek, is another student with a long commute on BART.
"I BART right now pretty much everywhere," he said on the train ride in. "Normally I'd get off at this stop to get to work. I work here at a construction company and I BART every day. I get up at 4:30 to get to BART, walk from my house, get there at 5, hope on the first train and come all the way out here." He wants to be a corporate accountant, and serve in the U.S. Marine Corps, but isn't sure which will come first. He has been accepted at CSU-East Bay and is also applying to St. Mary's and other colleges.

Phoebe Moser, another CSU-East Bay applicant, wants to be a professional singer and musician. She looks admiringly when the tour passes the music building, which the guide says is home to 70 pianos.

HEADING HOME

When their tour was complete, the group headed to BART for the return trip to Bayhill. The closeness of their small group was evident in the way they interacted with one another; a group of boys huddled, arms over each other's shoulders, on the platform; two girls listened to music sharing a set of headphones, one cord and earbud in each one's ear. When the trip leaders informed them they were getting off BART at a different stop to walk back to school rather than connecting on a bus, there was a little grousing, but everyone followed the leaders' instructions, with courteous transit manners.
The school cat, Ruby, was there to greet them upon return, reflecting the warm and homelike environment of Bayhill. A cake was waiting for a goodbye party for a departing administrator. Before long, these seniors will be graduating and leaving, too.
"It's the natural course of things," Field said. "I like that about it … seeing them so excited about what's going to come next."

LOOKING AHEAD
The BART field trip and college tour are also part of that process, she said: "Whether or not they're employed, or going to school, they will be getting around on BART."
The free field trip program for BART's 40th anniversary is now over; however, group sales discounts for school field trips are available. More info on Bayhill High School can be found at www.bayhillhs.org