Plans are kicking off to upgrade 19th St. Station, hub for Uptown Oakland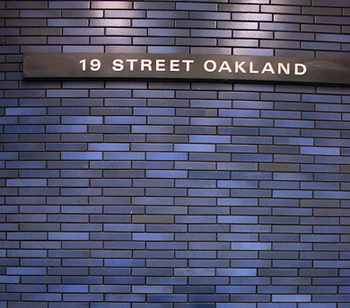 BART's 19th St./Oakland Station, perhaps best known for its blue-tiled interior, will get a modernization, and we're seeking your feedback on what matters most to you.
BART is developing a long-term vision for the station and holding two in-station events on Friday, June 6, from 4 pm to 7 pm, and Thursday, June 12, from 7 am to 10 am. There's also a webpage where you can see proposed improvements and take an online survey to help prioritize the improvements.
The station is smack in the middle of a corridor that is booming and diverse, known generally as "Uptown Oakland" and encompassing entertainment venues such as the historic Fox and Paramount theaters, popular restaurants and nightclubs, boutique shopping and access to scenic outdoor green spaces, such as those around Lake Merritt.
"This area is changing fast and we are hoping to make a number of station improvements that help build on that vibrancy," said Sadie Graham, senior planner and organizer for the in-station events.

On the project webpage you can get a detailed look at proposed improvements, but to name a few, you could see upgrades around:
· General cleaning and repair (replacement of broken lights and tiles, for example);
· More visible and vibrant station entrances;
· Art and placemaking, working with the community for street-level gateways;
· More vendor and retail opportunities at the concourse level;
· Energy-efficiency improvements
· Brighter, more efficient LED lighting;
· Reconfigured and additional faregates to expand capacity;
· Vandalism prevention features;
· New elevators for greater accessibility;
· Real-time multi-modal displays;
· Upgraded signage;
· Reconfigured in-station bike parking, as well as street-level bike station.
Sound good? Join us at a meeting or fill out the survey at www.bart.gov/19th to let us know what you think about these ideas.
Photo of blue tiles by realplastictrees via Flickr Creative Commons