BART seeks public input on Market St. entrances, Civic Center station
As part of BART's Station Modernization Program, we are developing a comprehensive plan to modernize the Civic Center Station and improve the station entrances along Market Street in San Francisco.
The goal is to develop a list of projects to improve station function, safety, security, capacity, access, appearance, and overall customer experience.
Join the conversation by attending one of our in-station open house events (see schedule below), or go to the project webpage to examine the preliminary modernization plan and take an online survey that will help BART prioritize the improvements.
The survey will ask questions about the public's priorities for the station, including possible entrance closures and suggestions for expansions.
Civic Center Station: Tuesday, April 21st, 7am - 10 am
Thursday, April 23rd, 4 pm - 7 pm
Powell St. Station: Tuesday, April 21st, 4 pm - 7pm
Thursday, April 23rd, 7 am - 10 am
Civic Center Station Modernization
The goal of BART's station modernization project is to develop a vision to upgrade and improve the station. This means working with the public to reflect the energy of the surrounding community and enhance the station's existing strengths, streamline access to the station, and promote a safe and comfortable customer experience.
The improvements focus on increasing safety, capacity, sustainability, and appearance. In developing potential improvements for the station, BART has undertaken a planning process to:
Identify existing station deficiencies
Consider impacts of development and growth on station ridership
Understand future access, capacity and operational issues
Consider art & place-making improvements
Coordinate conversation with stakeholders
Engage the community to help identify and prioritize improvements
For detailed information, please click here.
Market Street Station Entrances
Market Street station entrance improvement is BART's latest effort to increase escalator reliability and provide a more welcoming appearance to our stations in the form of a covered structure.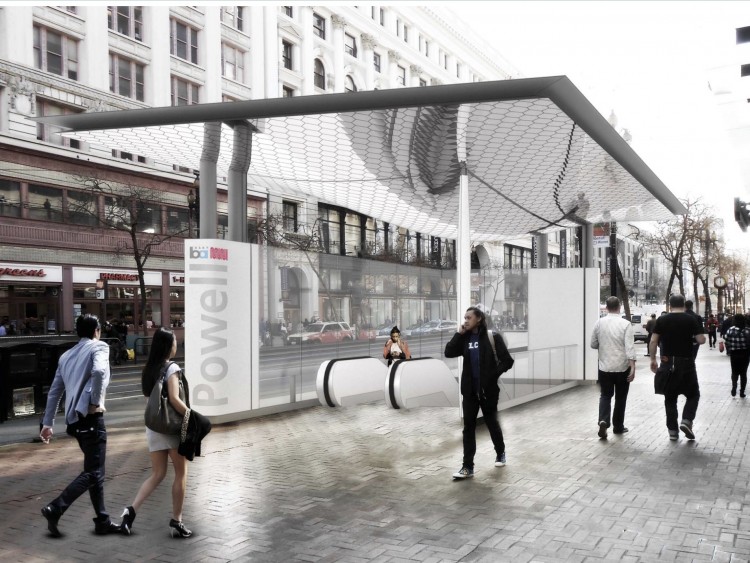 Based on the success of the 19th street station canopy in Oakland, BART has been productively working with the City of San Francisco's Better Market Street project to devise an aesthetically pleasing structural design.
The canopy will be designed with place-making and environmental friendliness in mind, with two sides partially enclosed with glass and sweeping horizontal elements.
While the structural design has been tentatively agreed to, art and design elements will be decided based on public input from the station improvement open house events described above.
As with the Oakland canopy, the Market Street canopies will provide escalators with weather protection and enhanced security, and will allow employees and patrons to enjoy a greater degree of safety. Additionally, real-time train arrival information will be displayed on screens at street level so customers know how soon their train is arriving before entering the station.
The first phase of the project will be funded with $12M in Proposition B funds, which will be used for design and engineering as well as construction of the first three entrances.
The second phase will be jointly funded by $30M in Proposition A funds plus an additional $18M in funds from BART's capital outlay budget, and will succeed in covering the remaining 24 Market Street entrances.
The project is slated for completion by the end of 2017, and is currently in the early design phase.
For more detailed information, click here.