Learn about improvement plans for Embarcadero and Montgomery
You spoke, we listened! During fall of 2014, BART asked the public to weigh in on station improvement options to ease crowding at its two busiest stations – Embarcadero and Montgomery.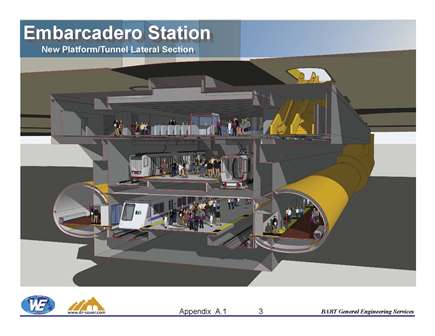 Thanks to the feedback collected from over 4,900 survey respondents and input received from a Technical Advisory Committee, BART has developed a comprehensive station improvement plan to address the increased demand and to modernize the station. For example, proposed short-term upgrades include: deep cleaning the stations, painting, and increasing platform space by consolidating storage and replacing seating. Ultimately, BART could also build new side platforms and new stairs and elevators to provide additional platform space and easy access.

BART is hosting two in-station open house events to unveil the complete recommended station capacity and modernization plan. Join the conversation by attending one of our in-station open house events or go to the project webpage to see the proposed improvement plans.
In-station event schedule:
Embarcadero Station
Date: Tuesday; October 13, 2015
Time: 7 am to 10 am

Montgomery Station
Date: Wednesday; October 14, 2015
Time: 7 am to 10 am
BART's Embarcadero and Montgomery stations account for half of all system-wide peak period trips, and BART's current average of 425,000 riders per week is expected to increase past 500,000 in the next 5-10 years. This level of growth will require significant capacity improvements at Embarcadero and Montgomery stations, which are over 40 years old and also in need of modernization.

For more information, a summary of the public feedback received, and an overview of the recommended plans, please visit: www.bart.gov/SFplatforms