BART is working to improve the capacity of BART's two busiest stations – Embarcadero and Montgomery. While ridership has been growing for several years, BART has been performing several studies to develop project concepts to handle the increasing demand. In addition, BART is identifying modernization needs to improve station functionality, safety, access, appearance, and the overall customer experience. Understanding the concerns of stakeholders and BART riders has been central to the planning underway. BART is now developing an implementation and phasing plan to move forward with the most effective near-term improvements as well as potential future projects to accommodate the increasing number of riders and modernize the stations. These efforts are vital to support the continuing growth of the region and its transit network.
---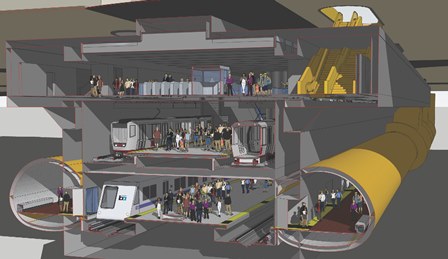 ---
In-Station Open House Events
BART held two in-station outreach events in October 2015 to show you how we have moved forward with the capacity and modernization planning for Embarcadero and Montgomery stations and how we have incorporated your feedback into our plans.

In-station event schedule:
Embarcadero Station - Tuesday; October 13, 2015; 7 - 10 am
Montgomery Station - Wednesday; October 14, 2015; 7 - 10 am
2015 Project Fact Sheets
2015 Project Display Boards
Download project boards
---
Project Details

Capacity Improvement Strategies considered for both stations include:
Create more space on existing platforms by relocating vertical objects, space-efficient seating replacement, platform screen doors, etc.
Improve and increase vertical circulation capacity by constructing new stairs next to existing escalators, elevator upgrades, etc.
Provide real-time information at the concourse level while enhancing the concourse experience (i.e.real-time information displays, improved amenities, lighting upgrades, etc.)
Implement long-term station capacity expansion as funding is available, such as new side platforms and platform screen doors as shown in image.

Modernization Concept Plans and Project Lists are being developed to bring Embarcadero and Montgomery stations into the 21st century. The goals of modernization are to upgrade the station's function, safety, capacity, sustainability and appearance, and improve the customer and employee experience. A distinct visual and functional concept that strengthens each station's identity and performance will provide the framework for a prioritized list of projects to guide future investments in a timely and efficient manner, integrated with the capacity improvements outlined above.

Near-Term Modernization Improvements (small-scale, relatively low-cost and easy to implement) for both stations include:
Station Brightening - cleaning, replacing lighting painting, reducing clutter, etc.
State of Good Repair - Returning facilities and systems to a state of good repair, replacing components and features at the end of their useful life.

Major Modernization Renovations are being studied. Some of the many improvements under consideration include:
For both stations: Improved entries, renovated ticketing areas, real-time information at the concourse level, space-efficient platform seating, etc.

Embarcadero: New concourse ceiling, platform elevator upgrades

Montgomery: Opening up lobby spaces, new lighter-colored platform flooring and integrated lighting
---
2014 Outreach Events and Survey Results
Thank you to all who participated in our survey on potential improvements at Embarcadero and Montgomery stations, either online or in the stations during our outreach events in October 2014. We received almost 5000 survey responses, and are analyzing the results. Below is a summary of the information we learned from the surveys and from the feedback boards.
EMCIP Outreach and Survey Results Report Nov 2014.pdf
EMCIP Outreach Summary 2014 11 24 PPTSlides.pdf
2014 Survey Results by Station
Embarcadero
Montgomery
2014 Outreach Flyers
Download outreach flyer
Descargue el folleto de los eventos de extensión comunitaria
下載宣傳單張。
2014 Project Fact Sheet
---
If you need language assistance services, please call 510-464-6752.
Si necesita servicios de asistencia de idiomas, llame al 510-464-6752.
如需語言協助服務,請致電 510-464-6752.
Nếu quý vị cần ðược giúp ðỡ về ngôn ngữ, xin vui lòng gọi số 510-464-6752.
통역이 필요하신 분은, 510-464-6752로 문의하십시오.
Kung kailangan mo ang tulong ng mga serbisyo ng wika, paki tawagan ang (510) 464-6752.