A new approach to cleaning BART's busiest stations
If you were to see the marble on a kitchen countertop, the graceful interplay of gray, white and black might catch your eye and prompt you to pause and appreciate its natural elegance. But here, on the concourse level of Embarcadero Station, the marble floor is largely ignored by the thousands of customers who trudge across it every day. This marble gets precious little love – except from the folks on BART's special project crews.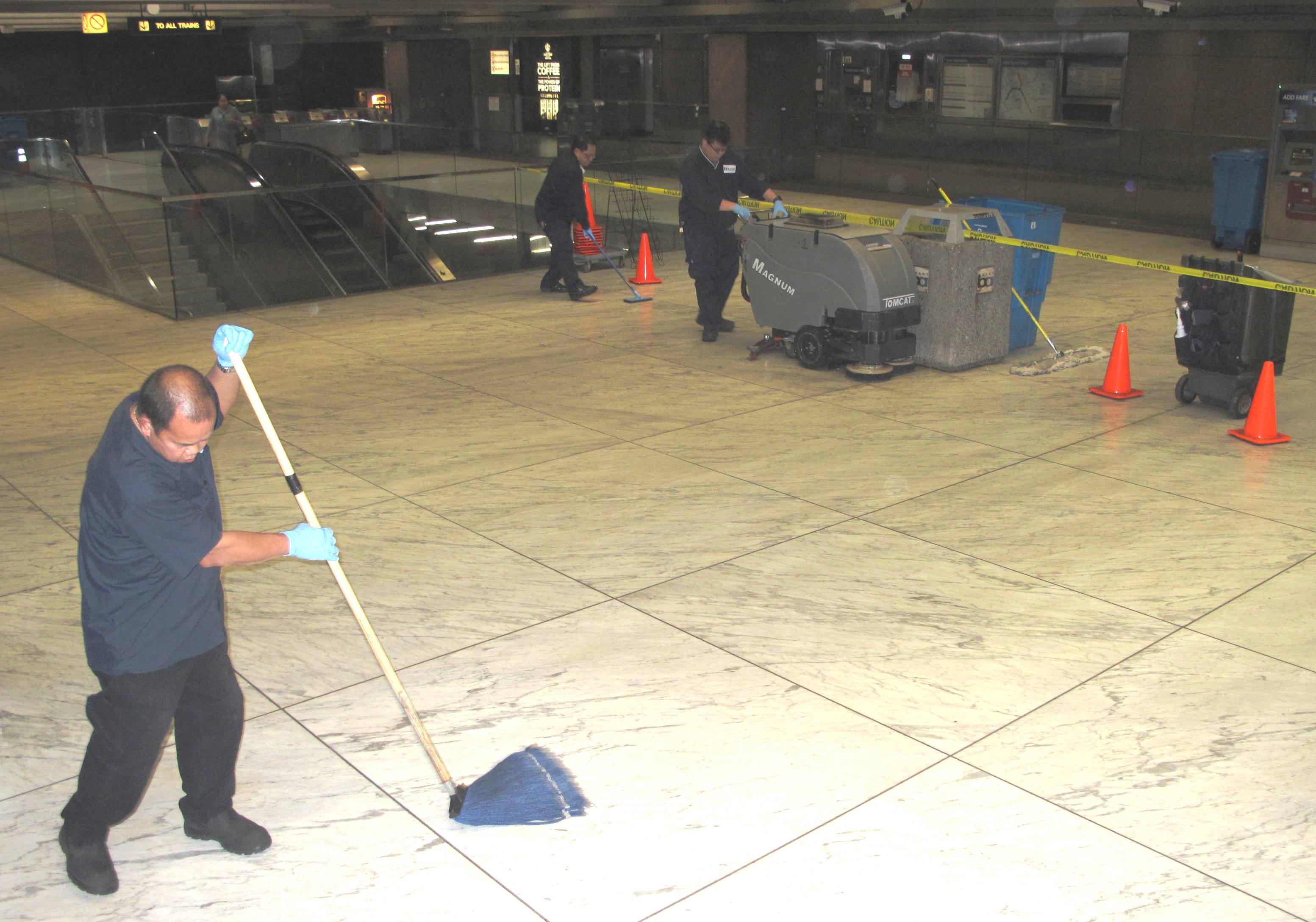 On a recent weeknight, one of the crews descended on the floor like a trio of bees. As Eddie Yoenizaf maneuvered a machine that's a combination scrubber and vacuum over the floor, Dave Zapata took a break from mopping to motion toward Eddie and Mario Esquivel (who was tenaciously scraping gum off the marble) and remarked, "There's no Kobe Bryant here. We're like the Golden State Warriors – all team work."

This is a team of weeknight warriors. They battle grime from 10 pm to 6 am five nights a week, concentrating on the big cleaning jobs that require long hours and the coordinated efforts of multiple workers. Bringing the marble floor back to life is one such job. "An environmentally-friendly stripping solution is used to get underneath the pores of the marble," says System Service Supervisor Sharina Pearson. "We're pulling up old dirt. We want to give it a clean, pristine look. "

It will take several hours to finish the floor. Then, well after all the passengers have left the station, this crew will move downstairs, giving some much needed attention to the platform. Meantime, similar work is being performed at the other downtown San Francisco stations. A special project crew is now assigned exclusively to each of the four busy stations each weeknight.

"It's just part of a new strategic approach to cleaning," says Planning Manager Tim Chan. "In addition to the special project crews, we have entrance crews [profiled in this 2014 story] and high cleaning crews." The high cleaning crews are contractors equipped with special equipment to safely clean areas taller than 7 feet. The overall program enhances the cleaning performed by the day shift system service workers who carry out the day-to-day cleaning tasks familiar to passengers. "Not only are we focusing on the busiest stations, we are combining cleaning efforts with station modernization projects wherever possible," Chan says.

This approach has required a reinvestment in BART's most valuable resource: its people. We hired an additional 15 System Service Workers in December, bringing the total to 137. After being forced to reduce cleaning staff during the great recession, BART has steadily been increasing the number of system service workers – with December's hiring representing one of the biggest influxes. While most are working in the busy downtown San Francisco stations, some of the workers have been assigned to stations in Alameda and Contra Costa County stations.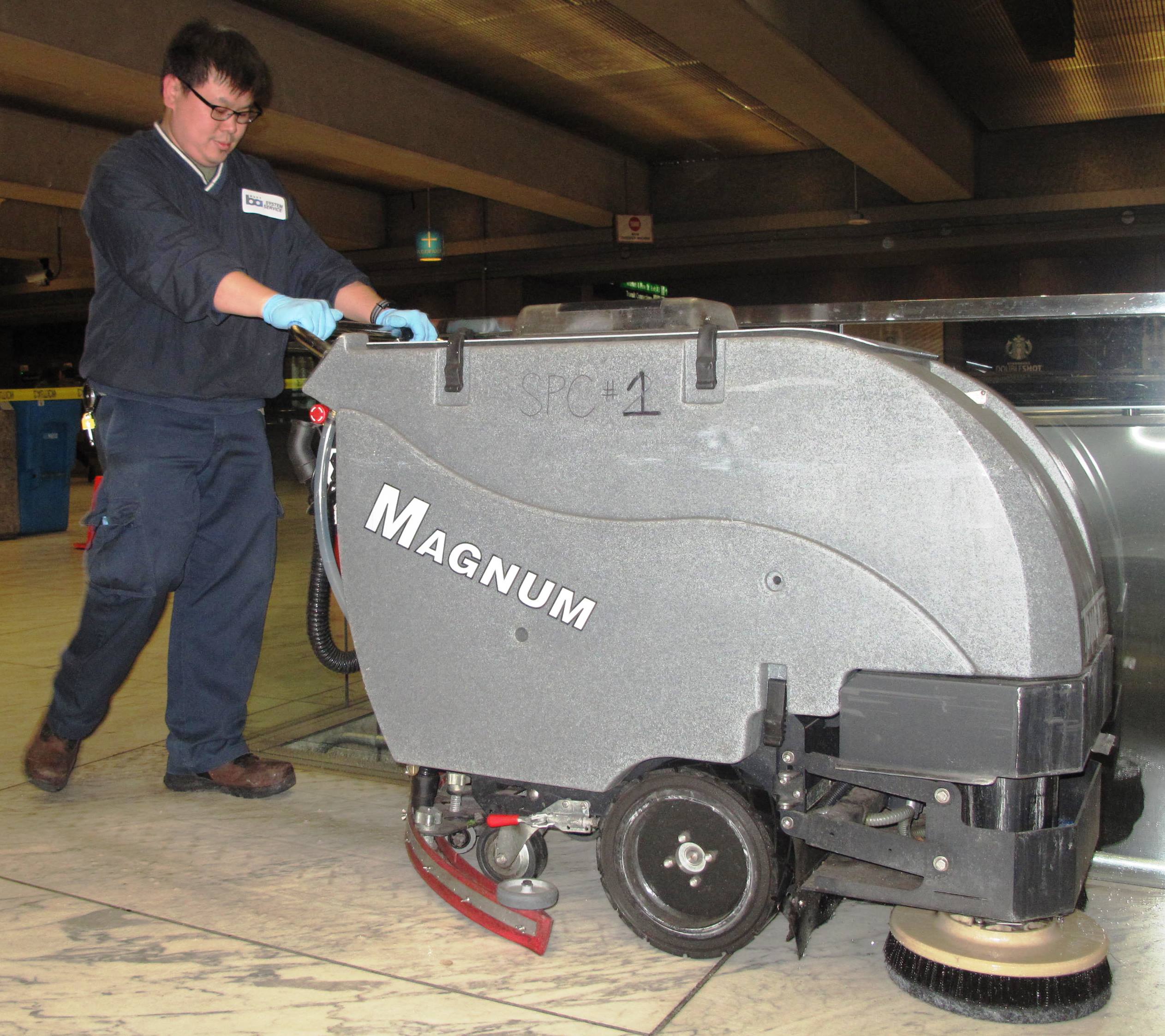 For Concord resident Eddie Yoenizof, who left a job as a restaurant manager to come work at BART, it's a labor of love. "I'm proud of what we do, " Eddie says. "We have an assignment each night, but if I see something else that needs cleaning, I'll clean it too. It's part of making BART a better, cleaner transit system."

It is, however, a never-ending struggle. "It's basically a six-week rotation of cleaning the floors, steam cleaning the walls, the stairs, polishing the metal," says Sharina. "Once we spend six weeks getting everything clean, we start over and do it all again." Far from being discouraged, Sharina and her coworkers know they now have a new game plan and more people to execute it.