You might be surprised by what's BARTable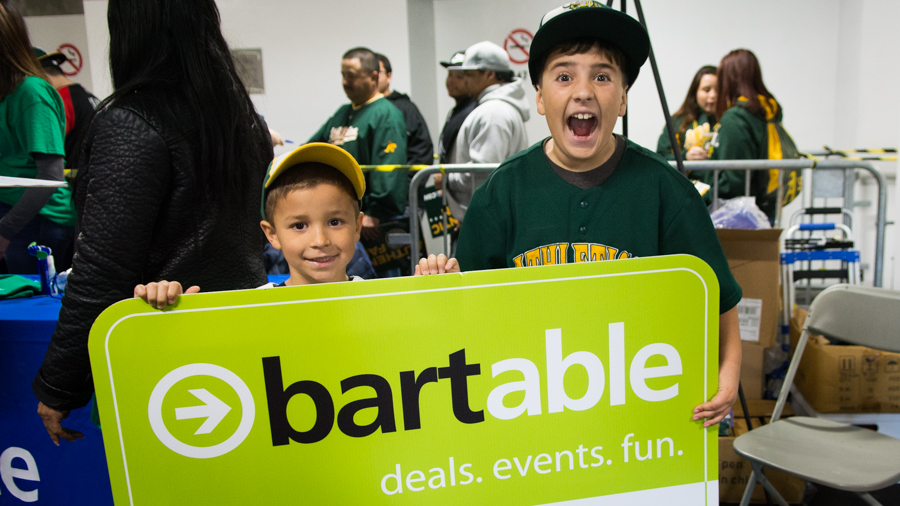 Transcript below:
HOST: "Some call it the fun side of BART.
In our latest edition of "Hidden Tracks: Stories from BART" we learn about all things BARTable. The site has only been around for a couple of years but already it has generated a large following among those interested in fun activities that are just a BART ride away.
Few transit agencies have a campaign like BARTable that shows off all the interesting places people can visit by riding a train during non-commute hours. It's a popular program that has some exciting changes on the way.
In this episode of Hidden Tracks we'll hear from BARTable Manager Andrea Frainier but first I'm joined by BART Marketing Manager Dave Martindale.
I think there's growing interest in BARTable. This is an exciting program for BART. It's a chance to reach out to folks, get more people interested in riding the system in off-peak hours. Describe what BARTable is. How does it work, what does it do?"
MARTINDALE: "BARTable is a way, as you said Chris, for people to discover fun destinations, venues, events that are all just a BART ride away. We partner with hundreds of local venues, destinations, sports venues, museums, concert venues and they're all within a half mile or six block radius of a BART station. So it's very easy to take BART to that destination and simply walk to see your show, see your game, eat a meal here in the Bay Area."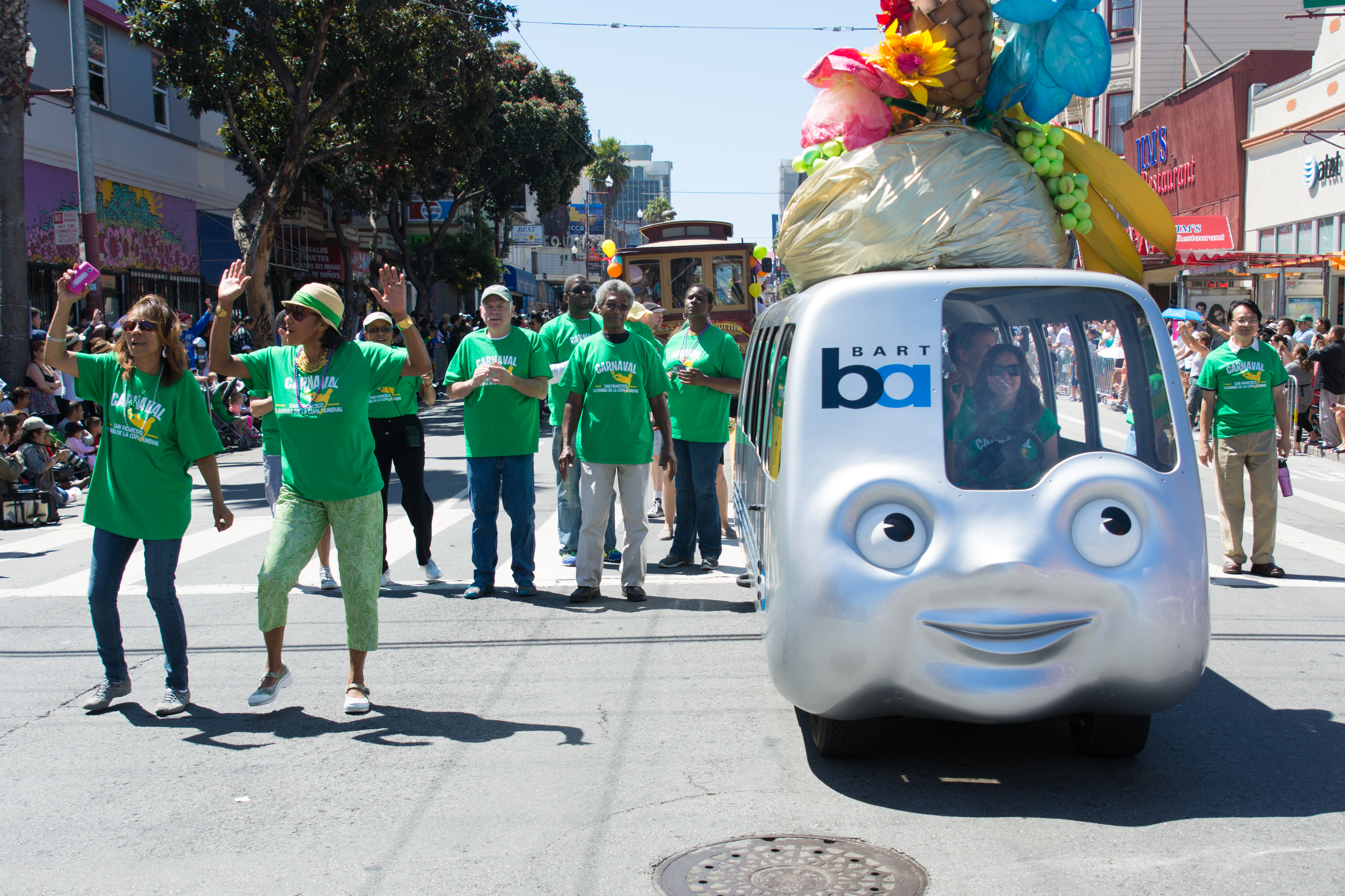 HOST: "And that's one of the neat things too because it really highlights the utility of the system. We have so many folks who take BART for work but really you could take BART to so many things and we may not realize all of those opportunities."
MARTINDALE: "Absolutely. As more and more people are choosing what we call the car-free lifestyle where they rely on public transit, they live near a BART station or bus stop, they ride their bikes they're looking for stuff to do on nights and weekends without having to rely on a car. You avoid parking, you avoid traffic, you take BART and you're there very quickly."
HOST: "It's all pretty new I mean people are still finding out about BARTable."
MARTINDALE: "That's right we hard launched the website in October of 2015. BARTable This Week, our newsletter, launched in August of 2016 so it's still not even two years old, the newsletter. And I should plug the site it's at BART.gov/BARTable. That's our main website. You can also find us on Facebook, Instagram and Twitter. I would start with the website, it's a great place to sign up for the newsletter, which comes out every Thursday at around three o'clock. Great way to start your weekend planning. It's a nice easy read. Four, five or six quick stories including, I should mention, tips on which BARTable contests you can enter. Every week our partners contribute tickets to their great events. So if you want to see a show at Berkeley Rep, an A's game, visit the Asian Art Museum, if you have kids and you want to see a show at the Bay Area Children's Theater every week we've got really exciting contests for our BARTable users.
HOST: "Didn't you have something like you could get first pitch at an A's game, I mean really special opportunities out there?"
MARTINDALE: "Yeah, we've had some very good sweepstakes. We did indeed have our first pitch at an A's game. We've given away trips to Hawaii including airfare and accommodations all provided by our partners. We have a great holiday sweepstakes where you can win shopping sprees at local malls up to $1,000 all contributed by our partners. It's a great way to demonstrate places you can go on BART and a great way to maybe win some fun prizes."
HOST: "One of the neat things about this is the way that we partner, BART partners with various museums, various destinations around the Bay Area and it really is a mutual partnership. In other words those promotions, most of those promotions are not costing the agency any money."
MARTINDALE: "Absolutely. We trade exposure on BARTable and on our BARTable media for exposure in our partners' media. So for instance, in a playbill when you go to the theater you may see something advertising BARTable and in the BARTable This Week newsletter you may see something that says 'take BART to see Monsoon Wedding at Berkeley Repertory Theater' and also our partners contribute, like I said, the tickets for our BARTable users to win and attend the events."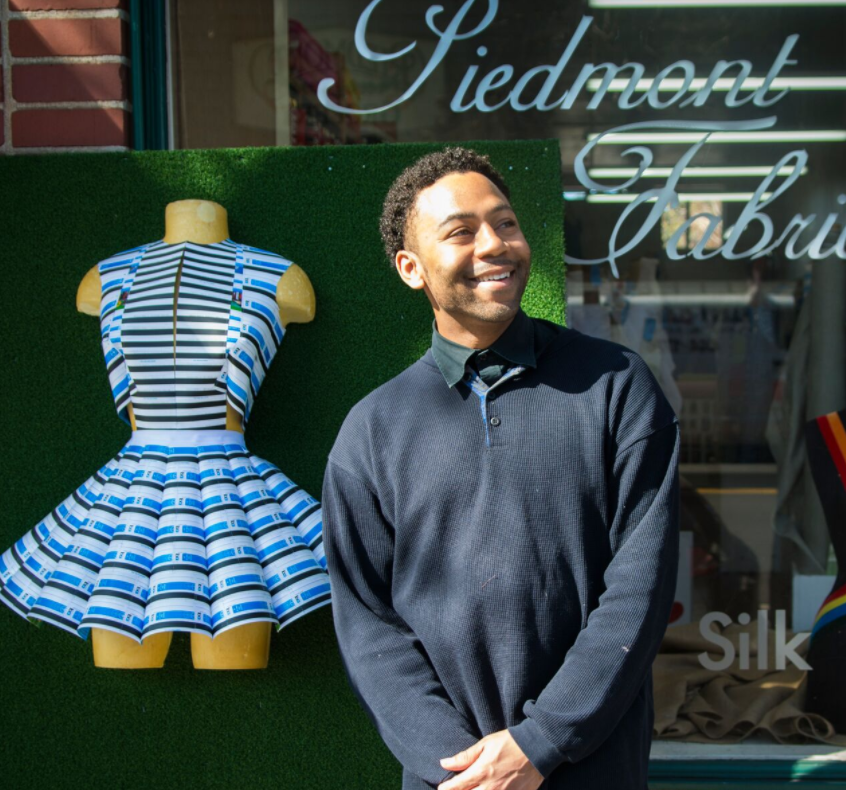 HOST: "Looking at this from just a transportation perspective, do a lot of agencies have this sort of an outreach program or is BART somewhat different in that regard?"
MARTINDALE: "BARTable was definitely the first. We do know of at least one other transit agency, DART in Dallas, that is doing a similar program. But we are fairly unique in transit."
HOST: "And what a great opportunity just being here in the Bay Area. There's so much to highlight here, that really must boost the program."
MARTINDALE: "Absolutely, I mean every week we're adding new partners and it's all sorts of different events. It could be the Chinese New Year Parade, the Pride Parade, Carnival, it could be the California Symphony out in Walnut Creek performing at the Lesher Center. It really is a great way for us to say 'you may live in San Francisco, not all the great things are in San Francisco. Check out a symphony in Walnut Creek or vegan restaurants in the East Bay or bike paths, hiking trips you can make, urban gardens that are BARTable.' We really try and use the site as a discovery tool so people can find out things that they didn't know were here."
HOST: "I'm going to put you on the spot here a little bit. What's your favorite BARTable destination?"
MARTINDALE: "I mean I hate to say it but I did go to the Orpheum Theatre in San Francisco to see Hamilton. It's literally just across the sidewalk from the Civic Center BART Station exit so that's a great one. I am a big A's fan so I love taking BART to A's games. The brand new Berkeley Arts Museum Pacific Film Archive, beautiful new building, very cool spot so there are too many to just pick one."
HOST: "And that's what's cool though because it really does open up a whole world for you in terms of cultural experiences not just in your immediate area but all throughout the Bay Area because BART has such an extensive reach."

MARTINDALE: "Definitely and if you don't know exactly where you're going, if you don't want to worry about parking; you know traffic on the weekends can be just as bad as on the weekdays and it's almost worse because it's so unpredictable. One Saturday you may drive from the East Bay into San Francisco and make it in 20 minutes. The next Saturday you can go and something's gone wrong and you've got an hour, hour and a half and now you've missed the show you wanted to catch, you're late for your picnic in the park, you can't visit friends because you're late so it's really a great way to avoid the unpredictability of weekend traffic."
HOST: "And of course a big issue is capacity and just space on the trains. When you're looking at the weekends, when you're looking at nights once you get past those commute hours it's a different story. There typically is a lot more room on those trains for folks."
MARTINDALE: "Definitely a lot more room. Weekend parking at BART stations is free so you can get to the station however you want whether you bike, bus or park for free."
HOST: "What's the easiest way for people to sign up to get involved and get this newsletter."
MARTINDALE: "I would visit BART.gov/BARTable. It's a fun easy-to-use website. Lots of great content, great photos, you're going to learn a lot. And right there on the front page of BART.gov/BARTable you'll see sign up for BARTable This Week the weekly email newsletter and you'll start receiving it the following Thursday."
HOST: "Now for the second half of our BARTable conversation with Program Manager Andrea Frainier.
I think one of the interesting things is the way it reaches out to folks who may not use BART on a regular basis. In other words you're reaching out to folks who aren't necessarily commuting to work and you get them involved and it seems like it diversifies the ridership and it could really get young people involved in this."
FRAINIER: "Yes, it is a really fun program. I've always said that if you really want to experience the Bay Area, if you really want to explore the Bay Area you have to ride BART and BARTable just connects people with so many different, unique and fun things to do. For our young riders, like you said, people ride BART to and from work but on the weekend there's a little bit of a dip and we found that mostly young riders are riding BART on the weekends so we really try to push out events and things that they would like. We feature festivals and museums and theater shows and sporting events and just really fun, cool things and we give away free tickets as part of it too. So you can go on the website and enter to win a free ticket to see the Asian Art Museum or win a free ticket to go to an A's game and then we send them on their way and they have a really good time."
HOST: "I was looking at the calendar and it's amazing how many events are listed and there's this variety of locations and stuff going on and a lot of it is really timely. I saw that there were a lot of listings related to Earth Day events, there's stuff for Bike to Work. I mean it really is topical isn't it?"
FRAINIER: "Yes it is. We strive for that. We try to be current, up to the moment and letting people know where they can take BART today, tomorrow, this week and we have a weekly feature that's called 'BARTable this Weekend.' So we round up all things that are fun, interesting and mostly free so they're cost effective so people can go out there explore and have a good time."
HOST: "And you were telling me that BARTable is always forward looking. You're looking at some changes and some updates to the website kind of a BARTable 2.0. Tell me a little bit about that."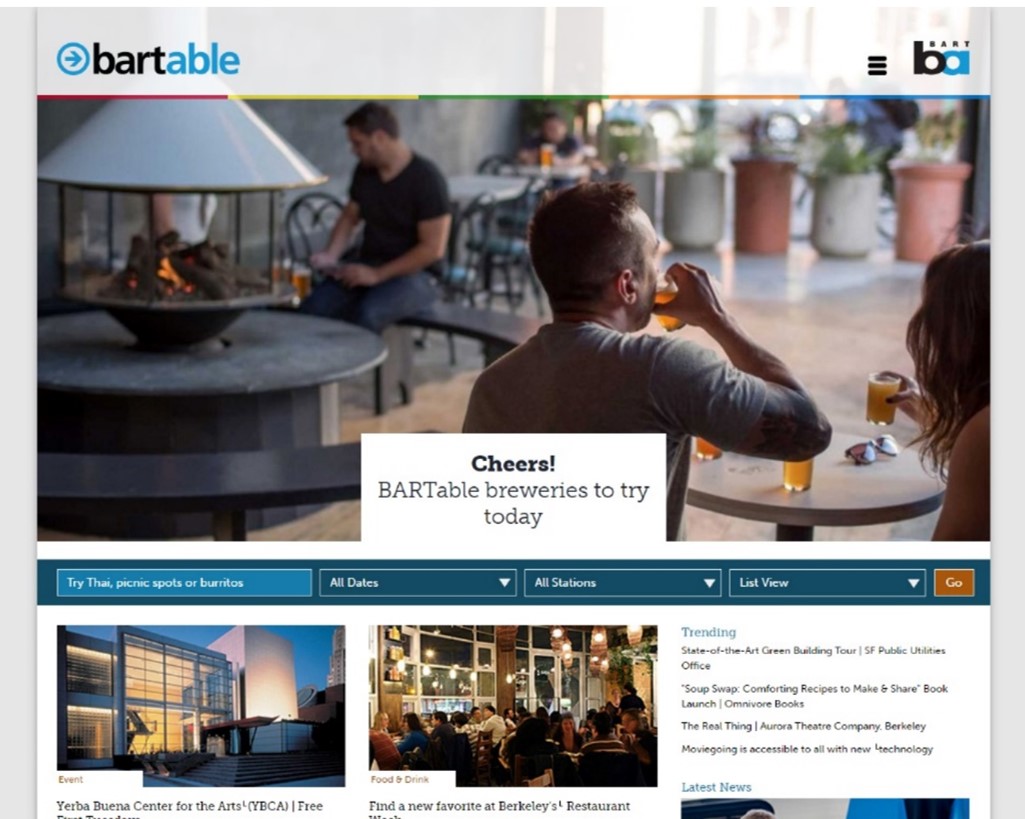 FRAINIER: "Yes we are very very excited for BARTable 2.0. You probably know that the website launched in 2015. We had a bit of a soft launch, testing it out seeing what the reception was and it's been overwhelmingly positive. People have loved it. I've had people say 'I didn't even know this was a government website' this is like the cool someone said it was the 'sexy side of BART' so it's really fun. Because of the success we've been able to come out and design an updated 2.0 version that's going to come out in June, knock on wood because you know how web designs go. Hopefully we'll be able to launch on June 30. The 2.0 version of the website is going to be more responsive so it's going to be easier to look at on your mobile device so if you're riding the BART train you could scroll through it on your phone. It's going to have larger images, it's going to have more robust content so we're really going to focus on having an even more diverse selection of content and really curating it too so really to target the things that people want to read about, what they want to experience. A lot of it has been food so we'll have a lot more food-related articles. Our series about bike riding is popular so we're going to have more about how to take your bike on BART and hit the trails."
HOST: "And I would think that mobile aspect is really important. It adds almost a spontaneity to it. I could go on a BART train, pull it up on my phone and then make my plans from there. That's a pretty cool feature."
FRAINIER: "It is definitely and that's one of our goals. As you're riding the train and stopping at each station you can just go to the website, you can see what's happening at the Rockridge Station, select that website and all the content pops up that's happening around that station. So you'll get all the events, all the contests, all the articles that are related to the Rockridge Station. Same if you're going to San Francisco you could select Powell Street, Mission, whatever and it's all going to be things that are happening within a half mile of that BART station. So you could really just pop off the train and go explore; just take your phone with you and see what the area has to offer."
HOST: "Some of the promotions and some of the giveaways that you guys feature are pretty eye popping, they get attention. You have a really cool one going on right now with staycations. What is that and what's going on there?"
FRAINIER: "Staycations is a really fun sweepstakes. We launched it last year and we went out and we asked hotels and local businesses if they'd like to donate something for the promotion and this is just for our BART riders. So as a thank you for people for riding BART we want to give them something fun to do. A Staycation is you can enter the sweepstakes and win a prize package complete with a hotel stay there will be dining gift cards, gift cards to experience local things. There might be free tickets to a museum or a Segway tour or just play tourist. We did a hop-on, hop-off bus tour which was really fun. The Staycation is going to be launching in July so the sweepstakes will be four or five weeks of promotion and people could win five different packages and it's going to be focused on Oakland, Berkeley and San Francisco. So play tourist, have fun and go out and explore."
HOST: "It really is an eye-opening experience to explore the site. As I was looking at it just the revelation that there are so many things out there and I don't know that we necessarily realize that. So I'm going to put you on the spot all those choices out there, what's your favorite BARTable destination?"
FRAINIER: "My favorable BARTable destination. That is a hard one, it's almost like picking like a favorite child, you can't there's so many fun things to do. Can I have a tie?"
HOST: "Sure!"
FRAINIER: "OK, so I think nothing beats riding BART to the Coliseum on a game day when the A's are playing or the Warriors are playing and everyone is decked out in their team's color and they're so excited and chanting and cheering. So definitely riding BART to an A's game is one of my favorite BARTable locations. And then I'm an East Bay girl, born and raised, I love taking BART to Uptown here in Oakland and getting off the 19th Street BART. You can go to the Fox Theater have a rocking concert time. You can go to Xolo's and have a burrito afterwards and to me that's my perfect BARTable night."
HOST: "So tell me what brought you to this program. How did you get involved in BARTable?"
FRAINIER: "I've been at BART for about three years and when I applied to come to BART there was this job posting that they were looking for someone to launch this BARTable program to encourage people to ride BART on the weekends. I was reading this job posting and it sounded like a lot of fun and I said 'this has to be fake this can't possibly be real' and I actually emailed BART Human Resources and I'm like 'is this a real job' and they were like apparently it is a real job. So when I came here and have been fortunate enough to work on this program it's just every day is so exciting to me and it really is a lot of fun because we partner with more than a hundred community organizations. It's just really neat to see all of the creative people, all of the driven people, everybody that makes the Bay Area so special and to interact with them and see the events that they're putting on and what they're doing and then encouraging our BART riders to go to those events. It's such a cool program."
HOST: "It really does sound like a win-win in the sense that you're promoting ridership for BART but it's also really helping out these destinations they're getting more visitors and they're able to share what they do with the community."
FRAINIER: "Oh definitely. Some of my favorite memories have to be of community organizers or small theaters that email us or call us after the event and say 'wow, so many people came and when we ask them how they heard about it they said BARTable.' It's just so cool to know that we're sending riders to go out and support the community and that they really embrace this program."
HOST: "Thank you so much for talking about BARTable."
FRAINIER: "Thank you."
HOST: "And thank you for listening to 'Hidden Tracks: Stories from BART.' You can listen to our podcasts on SoundCloud, iTunes, Google Play, Stitcher and of course at our website BART.gov/podcasts."