New Police Chief officially sworn in
Carlos Rojas is BART's new Chief of Police. Chief Rojas was sworn into office at the May 25, 2017 Board of Directors meeting.
"It is an honor to have the opportunity to lead the fine men and women of the BART Police Department," said Rojas. "B.P.D. is already one of the most progressive police departments in the state and we will continue on that forward path."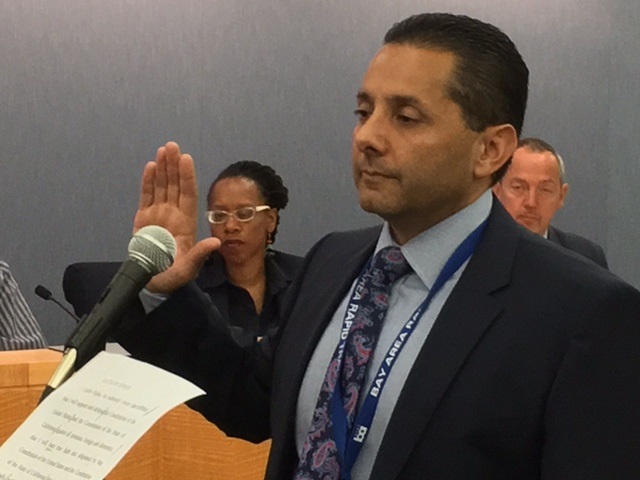 Chief Rojas comes to BART from the Santa Ana Police Department, where he served as Chief for five years and as an officer since 1990.
Rojas brings 27 years of extensive experience and leadership in community policing. He is not only an advocate but also an educator in Community Oriented Policing practices, having trained the discipline to national police forces in Central America and having taught and mentored college students on the subject. He also brings a wealth of Homeland Security expertise and knowledge to the District.
"It will be critical for us to continue offering one of the best training programs for officers in California," said Rojas. "De-escalation, cultural competence and fair and impartial policing are all important concepts of law enforcement in the 21st century."
Rojas is a recipient of multiple law enforcement Medals of Valor, and is bilingual in English and Spanish. He holds a Master of Science in Criminal Justice from Chapman University, and a Bachelor of Science in Criminal Justice from California State University, Long Beach, with additional professional training at the FBI National Academy. He is BART's first Latino Chief of Police.