BART to open at 5am starting 2-11-2019 with alternative bus service provided
Beginning on February 11, 2019, BART's start of service will shift from 4 am to 5 am systemwide for a massive project that will seismically retrofit the Transbay Tube.
About 2,900 riders enter our system in that first hour of service.
BART conducted extensive outreach this past spring which included surveys, in-station outreach, multilingual media ads, community presentations, and meetings with airport employees, hospitality and service workers, business owners and unions.
A summary of the mitigation options and survey results were presented at the July 12, 2018 board meeting. The information has been used to decide what level of alternative bus service to provide during the 4am hour.
At its October 11, 2018 meeting, the alternative Early Bird Express bus service plan for the 5am opening was presented to the BART Board of Directors. Preview the board presentation for information regarding expected times of travel, costs and parking payment details.
The plan will establish 14 new bus lines to run between 3:50 am and 5:30 am in both directions between stops. This includes 7 transbay routes, 5 East Bay routes and 2 San Francisco/Peninsula routes. The bus network will have 13 points of origin, including 12 BART stations and the Salesforce Transit Center in San Francisco. It will serve a total of 20 BART Stations, including 6 stations in San Francisco. Bus trips leaving from East Bay BART stations will arrive at the Salesforce Transit Center at 5 am, 5:15 am and 5:30 am. (The first trains currently arrive from the East Bay between 4:48 am and 5 am). We are partnering with 8 Bay Area bus agencies to operate this network and all fares will be the same as or less than the equivalent trip on BART.
Download the Early Bird Express fact sheet: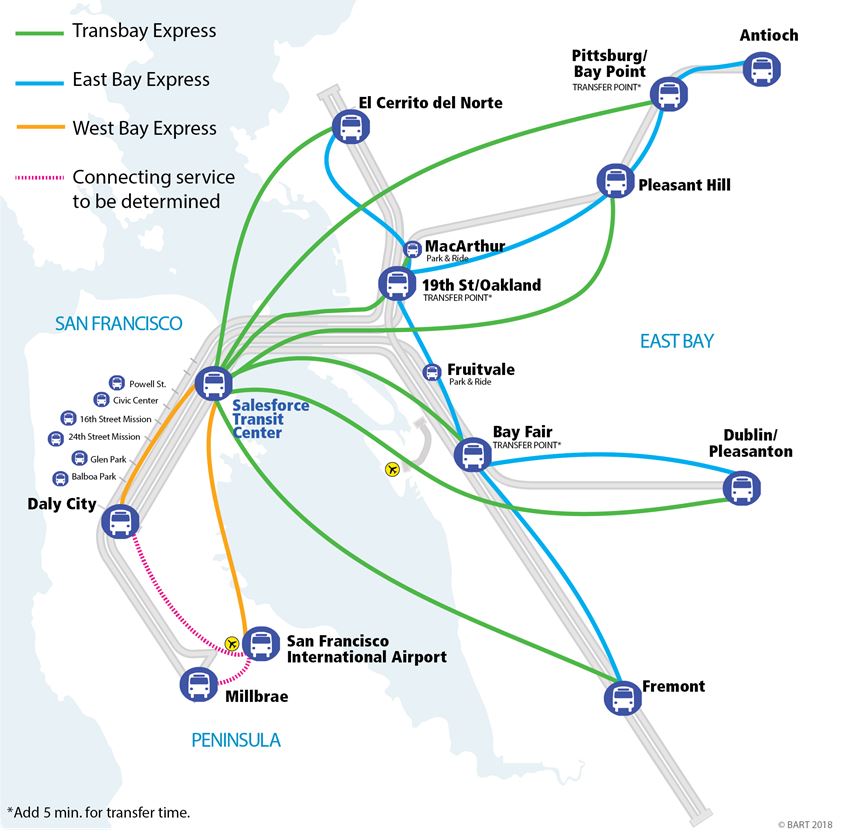 Bus trips will leave every 15 minutes from the Pittsburg/Bay Point, Pleasant Hill, 19th St., Dublin/Pleasanton, Bay Fair and El Cerrito del Norte Stations.
All of these trips will arrive at the Salesforce Transit Center in San Francisco.
Buses will also go from the Antioch Station to Pittsburg/Bay Point every 15 minutes beginning at 3:50 am. Buses from the Fremont Station to the Saleforce Transit Center will leave every 30 minutes beginning at 4:10 am.
The last bus will arrive at the Salesforce Transit Center at 5:30 am. All buses arriving here will connect with service to Daly City and SFO.
Buses will stop at the six San Francisco stations listed on the map (Powell, Civic Center, 16th Street/Mission, 24th Street/Mission, Glen Park and Balboa Park.)
These buses will run from the Salesforce Transit Center every 15 minutes beginning at 4:45am.
Bus service from Daly City to the Salesforce Transit Center will begin at 3:55am and also run every 15 minutes with stops at the same six San Francisco stations.
Once the schedule change takes effect, end of the line trains will begin around 5 am, Trains will also, for the first time, begin around 5 am from midline stations (Concord, South Hayward and Daly City). All of the trains will start service long with the first train arriving at Embarcadero Station at 5:30 am. This change will help trains arrive in the core of the system earlier.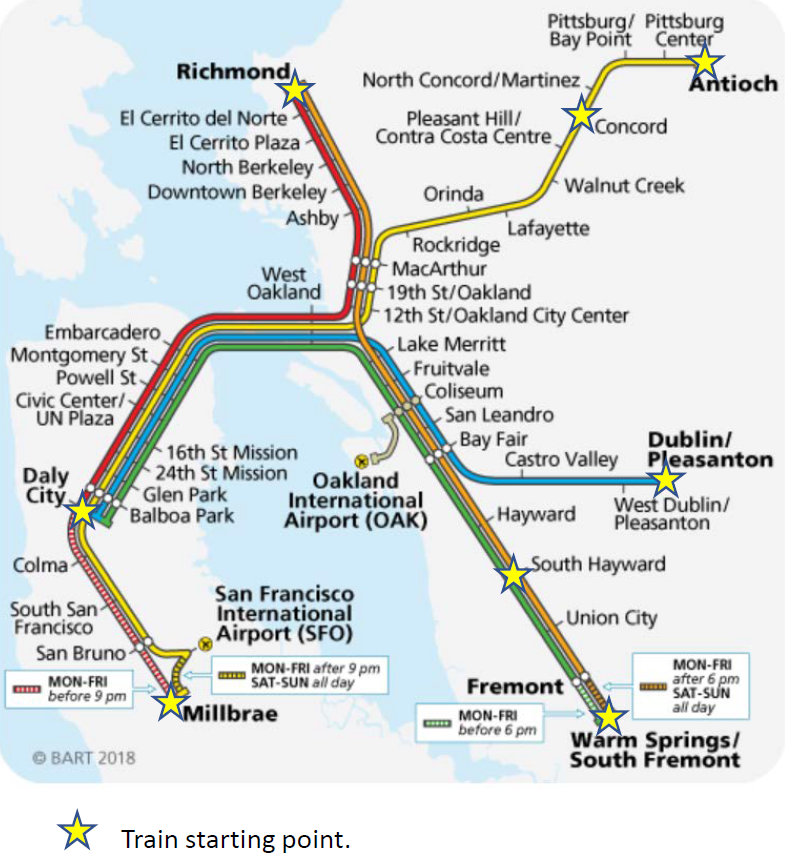 In addition to the later weekday morning start time, BART will be single-tracking trains through the tube each weeknight from 9:30 pm until close of service at midnight. This will allow crews to shuttle in equipment via the closed track. During this time, trains will run every 24 minutes instead of the every 20 minutes they run now.
We will be working on more than just the Transbay Tube retrofit in the 4am hour.
The extra hour will also give our crews more time for systemwide track inspections, preventative maintenance, and Measure RR bond funded rebuilding projects such as power cable replacement through San Francisco and rail replacement. The extra wrench time will speed these projects up by at least 25% and provide a minimum 12% cost savings.
Stay informed about Service and Parking Payment Changes.
Because BART stations will be closed until 5 am, current parking payment methods will not be available for Early Bird Express riders. We have developed two strategies to allow these riders to continue to pay for parking. The first is the Pay by Smart Phone App. BART plans to launch an official app this fall with the parking payment feature expected to be available for early morning parkers only between 3:45 am and 5:15 am beginning February 2019.
For those who would prefer to pay by cash, day passes will be available for advance purchase by mail or at the customer service centers located at Lake Merritt and at the Embarcadero Clipper Card Office.
If you would like to be notified as details are finalized about these upcoming service changes and EZ Rider parking payment changes, you must opt in to these notifications by clicking here and entering your email address.
The Transbay Tube retrofit is critical for the safety of the BART system. We will continue to update this site as work progresses.